13 Jul
Posted By
0 Comment(s)
678 View(s)
Here is the news roundup for the first half of July. We hope it is of use to you! Remember that if you see something that may be of interest, our engineers are always happy to discuss or explain technical details that might be relevant to your projects.

The OMNI-2155-CML: Tapping into Next Generation Performance
AAEON, a leader in industrial PC solutions, announces their latest industrial touch panel PC, the OMNI-2155-CML.
Powered by 10th Generation Intel® Core™ processors (formerly Comet Lake), this innovative solution is able to deliver higher performance, broader I/O features and technological support than previous generations at a lower price point. Read more...
Advantech Announces DS-085 Ultra-Slim 4K Edge Visualization Solution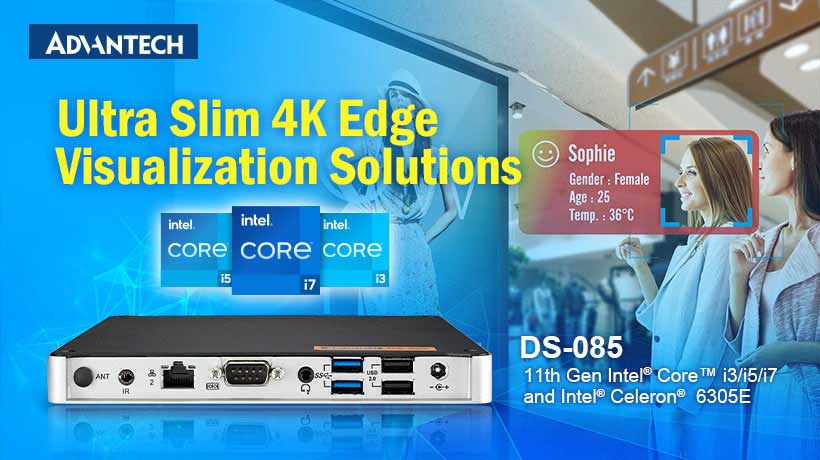 July 2021, Taipei, Taiwan – Advantech, a global leader in embedded platforms, is pleased to announce the launch of DS-085, an ultra-powerful 4K edge visualization solution. This edge system delivers high-impact visual experiences by supporting 4 x UHD displays, and provides AI analytics capabilities powered by 11th Gen Intel® Core™ i3/i5/i7 and Intel® Celeron® 6305E processors with integrated Intel® UHD Graphics. Read more...
Avalue Debuts Full-HD PCAP Multi-Touch Fanless Open Frame Monitor OFT-15W00/ OFT-21W00
July 8th, 2021, Taipei, Taiwan – Avalue Technology Inc. (TAIEX: 3479-TW), a global industrial PC solution provider and an associate member of the Intel® Internet of Things Solutions Alliance. Avalue's new 15-inch and 21-inch multi-touch OFM (Open Frame Monitor) series OFM-15W00/ OFM-21W00 provides easy maintenance and installation due to its open frame architecture, and gives customers more flexibility and room for customization as it can be easily integrated into different computing systems.
IBASE Adds a New Line of Intel® Atom-based Railway Computing Solutions
Taipei, Taiwan, July 1, 2021 - IBASE Technology Inc. (TPEx: 8050), a leading provider of embedded computing solutions, unveils a new range of railway computing systems integrated with the Intel® Atom™ quad-core E3950 processor (formerly Apollo Lake) which offers up to 1.5x CPU and 3x graphics performance over the previous generation Atom™ E3845 CPU. Read more...
Moxa's New All-in-one Industrial Secure Router for Safeguarding Industrial Applications
Taipei, Taiwan, July 12, 2021—Moxa Inc., a leader in industrial communications and networking with a focus on securing industrial networks, has introduced the new EDR-G9010 Series. These industry-certified all-in-one firewall/NAT/VPN/switch/routers act as a robust first line of defense for industrial networks in diverse applications such as smart manufacturing and critical infrastructure. Moxa's EDR-G9010 Series industrial secure routers offer 10-port GbE performance and defense-in-depth security capabilities to fulfill the needs of bandwidth-hungry applications that require field-proven reliability and multi-layered security. Read more...
New Additions to APPC Industrial PPC: Automation Advances in Full Sail

July 06, 2021

As smart factory gaining a strong foothold in the manufacturing sector, the advances of automation has transformed the landscape of production dramatically. Any successful implementation of smart manufacturing will not be a reality without a centralized management system, where a panel PC plays an integral role in data delivery, storage, processing, and analytics, be it an I/O gateway, edge server, or fanless panel PC. APPC xx50T models, the latest installments to NEXCOM's popular APPC series, suffices for multiple roles on factory floors— a mix of value and versatility in a robust package. Read more...
Medical AI Accelerator ACCEL-JS500/JS221/JS241 with SDI Video input

2021/07/08
New release from Onyx Healthcare Inc.: ACCEL-JS500 & ACCEL-JS221/JS241 fully support NVIDIA® Jetson AGX Xavier™ which aims at Medical AI use cases for edge computing.
ACCEL-JS500 & ACCEL-JS221/JS241 equips 512-core Volta GPU with 64 Tensor Cores, octal-core NVIDIA Carmel ARMv8.2 CPU at 2.26GHz, and dual Deep Learning Accelerator (DLA) engines. By using GPU and DLA, Xavier provides 16 TFLOP for deep learning network model, and only consumes maximum 30W power. Read more...