05 Oct
Posted By
0 Comment(s)
85 View(s)
With the Mid-Autumn Festival out of the way, the industry has wasted no time getting back to production. This is an "action packed" news roundup. We hope you find something that contributes to your company's projects and goals.

BOXER-6643-TGU: Compact Industrial System Powered by 11th Generation Intel® Core™
2021-09-28

AAEON, an industry leader in embedded solutions, introduces the BOXER-6643-TGU compact industrial system. With rugged construction, the system delivers the performance and innovative technologies of the 11th Generation Intel® Core™ U processors (formerly Tiger Lake) to applications in tough environments, providing wide operating temperature range and 5G support, to power embedded controller and Industrial IoT (IIoT) gateway applications. Read more ...

FWS-7840: Built for Faster, More Flexible Networks
2021-10-05
AAEON also announces the FWS-7840 rackmount network appliance. Built for higher-bandwidth and greater network flexibility, the system features the Intel® Xeon® W processors (formerly Comet Lake), along with eight RJ-45 ports powered by the Intel® i350AM4 chipset, two expansion module bays, and support for dual SFP+ ports. The FWS-7840 delivers reliable operation for SD-WAN, Next Generation Firewall (NGFW), Unified Threat Management (UTM) and more. Read more ...

Advantech Releases Leading Industrial SQFlash BiCS5 Flash Solutions for Diverse AIoT Applications
10/4/2021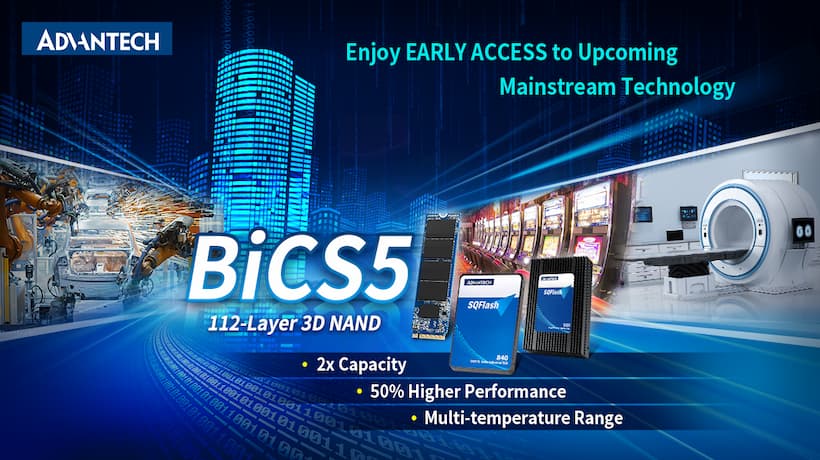 October 2021, Taipei, Taiwan - Advantech, a leading provider of industrial flash storage solutions, is excited to announce the adoption of KIOXIA 112-Layer flash BiCS5 in multiple series and form factors. The new SQFlash BiCS5 3D TLC supports up to 8TB capacity for image/video/massive data operation and storage demands. Similarly, SQFlash BiCS5 provides NAND chips with extended native temperature ranges that ensure reliable operation in extreme environments, and support use in applications that require ruggedized designs. Likewise, these solutions deliver flash speeds and TCG-OPAL compliant designs that enable faster, safer data transmission in 5G, edge computing, gaming, artificial intelligence, and smart manufacturing industries and AIoT applications. Read more ...
ARES-1980 with 11th Gen. Intel® Core™ Processor and Independent Hyper Speed I/O Ports
2021-10-04
Introduction to 11th Gen Intel® Core
The global embedded IoT market leader, ARBOR, launches ARES-1980 Industrial Embedded Controller powered by the 11th Gen. Intel® Core™ processor for a myriad of high-performance applications.
Intel 11th Generation Intel
®
Core™ embedded processors are the latest in Intel's line of embedded processors and built using Intel's third generation 10 nm process node known as 10SF (10 nm SuperFin). The 11th Gen. Intel
®
Core™ processors deliver high-performance CPUs up to 20% faster than previous models,
Read more ...
Axiomtek's Quad-View 3.5" Embedded Board with AMD Ryzen™ V1807B/V1605B Processor - CAPA13S


27/9/2021
Axiomtek is proud to announce the CAPA13S, a high-performance quad-view 3.5" embedded board powered by the onboard AMD Ryzen™ Embedded V1807B/V1605B processor with AMD Radeon™ GPU. This industrial motherboard is designed for operational stability in harsh environments with a wide operating temperature range from -20°C to +60°C. It is especially ideal for graphics-intensive applications such as medical imaging, video surveillance, 3D simulators, optical quality control, digital signage, kiosks, thin clients, and more. Read more...
High-Performance Fanless Embedded System for In-Vehicle NVR and Security Surveillance Applications - UST510-52B-FL
29/9/2021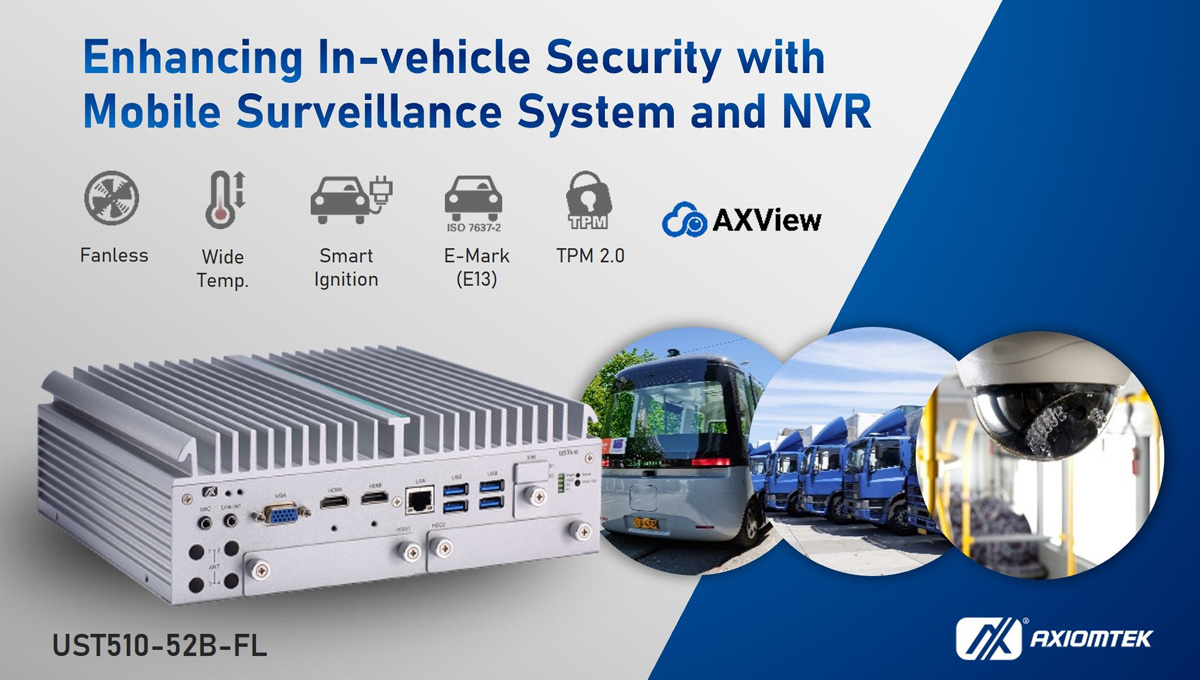 Also from Axiomtek in this edition is the UST510-52B-FL, its E-Mark certified in-vehicle embedded system with a maximum of eight RJ-45 PoE connectors. This all-in-one in-vehicle box PC is powered by the LGA1151 Intel® Xeon®, 9th/8th generation Intel® Core™ i7/i5/i3, Celeron® or Pentium® processor (codename: Coffee Lake) with up to 65W TDP and has the Intel® C246 chipset. It supports Smart Ignition power control for the protection of vehicle battery from unstable voltages. The UST510-52B-FL is ideal for in-vehicle applications, including NVR, onboard security surveillance, vehicle controls, fleet monitoring, and onboard passenger infotainment systems. Read more ...
RPAC-2658M – Redundant PAC
2021-09-27
New product release from ICP DAS: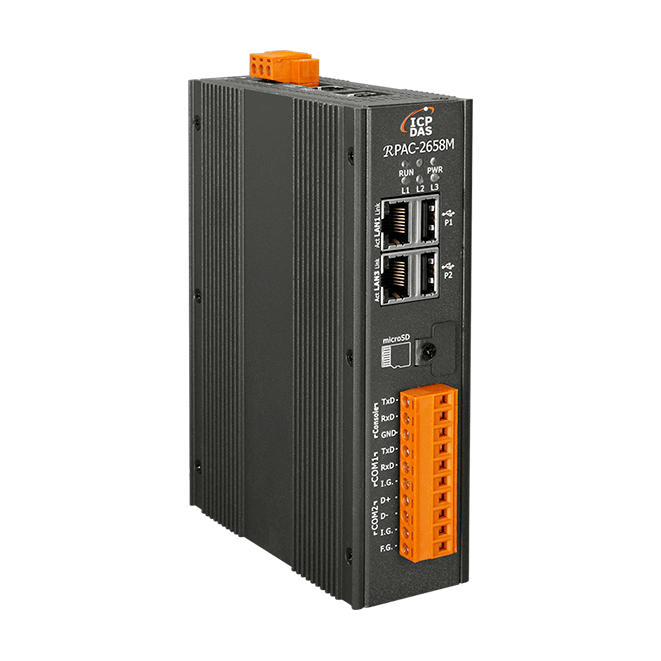 The RPAC-2658M is the new generation Linux based Win-GRAF PAC (Programmable Automation Controller) from ICP DAS. This PAC is equipped with a Quad-core Cortex-A9 CPU (1 GHz) and running a Linux operating system. Using the built-in microSD, the RPAC-2658M can save application programs, files, and data. Read more ...
3.5" Single Board Computer with AMD Ryzen™ V2000 Processors
Taipei, Taiwan, October 5, 2021 - IBASE Technology Inc. (TPEx: 8050), provider of industrial motherboards and embedded systems, has rolled out the IB952 3.5-inch SBC that is based on AMD Ryzen™ Embedded V2000 processors built with innovative 7nm process technology and featuring up to 8 cores and 16 threads to provide the computing performance and power efficiency for today's IoT market. With the integrated AMD Radeon Vega graphics, the board can support four displays in 4K resolution through the onboard interfaces - dual DisplayPort, an eDP, and a 24-bit LVDS dual-channel interface. Read more ...

Innodisk Announces the First Industrial-Grade PCIe 4.0 SSDs — Turbocharging 5G and AIoT
2021/09/24 | Press Release
5G and AIoT need more speed and more capacity. And PCIe 4.0 delivers, doubling the speed of PCIe 3.0 and providing the much-needed performance boost to keep pace with innovation and industry trends. Not only speed and capacity, but tolerance of wide-range temperature is also crucial. Consumer-grade products aren't tough enough to withstand the high temperatures of outdoor and industrial settings, so Innodisk is introducing the first industrial-grade PCIe 4.0 SSDs built to handle those challenging conditions.
PCIe 4.0 increases the maximum capacity to 4TB, doubles the bandwidth, and raises the speed to 16 GT/s which is twice that of PCIe Gen3.
Taipei, Taiwan, September 23, 2021 – Jetway, a world-leading Industrial PC (IPC) manufacturer, is pleased to release the MF05 series Industrial Embedded Mainboard with 11 th Gen Intel® Tiger LakeUP3 CoreTM Processor, deliver industry-leading performance for applications requiring high resolution, HDR output with AI capabilities.
The MF05 series is Jetway's first 3.5" SBC based on the 11th Gen Intel Tiger Lake platform, supports 4* 4K HDR independent displays or 1* 8K SDR display by 2* DP. Read more ...
Catch It All with the NViS 1482 Desktop NVR Platform
October 05, 2021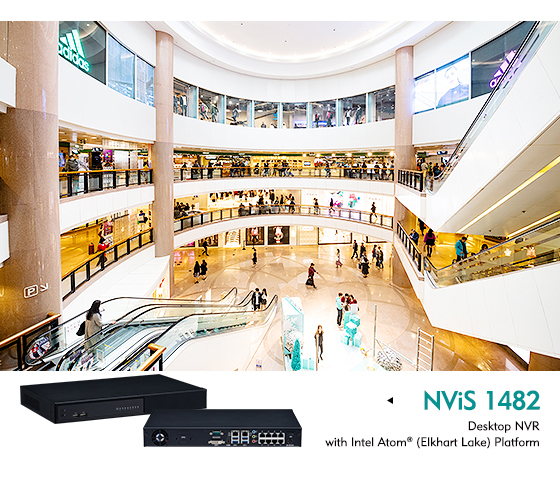 NViS 1482, NEXCOM's newest desktop NVR, promises big things in a small package. Integrating Intel's latest, top-of-the-line 8th Gen (Elkhart Lake) CPU and 11th Gen UHD GPU, the entry-level NVR appliance is the perfect companion to IP cameras for recording high-definition digital surveillance. Using Intel's latest technology means it supports a whopping 32GB DDR4 3200 MHz memory, so that jobs are much faster! Easily plug in up to eight IP cameras via 10/100 IEEE802.3af/at PoE ports, quickly upload data to the edge or cloud through the onboard Intel® 2.5GbE port, and effortlessly view information via HDMI or DVI-I displays. Read more ...

Neousys Technology Announces Their Latest Intelligent Supercapacitor-based Power Backup Module, PB-2580J-SA
Taipei, Taiwan – September 30th, 2021 – Neousys Technology, an industry-leading provider of rugged embedded systems, today announced their latest intelligent supercapacitor-based power backup module, PB-2580J-SA. Being a cost-effective and industrial-grade power backup module with 2500 watt-second capacity, it can operate in harsh environments from -25 to 65°C and has a long operating life lasting up to 10 years or 500,000 charge-discharge cycles.