30 Nov
Posted By
0 Comment(s)
259 View(s)
Here is the latest news roundup. Not as much happening as previous periods, but worth a look to see what's going on!

COM-TGUC6: Compact Solution with 11th Generation Intel® Core™ Processors
2021-11-17

(Taipei, Taiwan – November 16, 2021) – AAEON, a leader in embedded computing solutions, announces the COM-TGUC6, their latest COM Type 6 board, featuring the 11th Generation Intel® Core™ processor. The COM-TGUC6 offers developers and users a significant increase in performance over previous generations of COM boards, with faster memory speeds, greater display support, and higher bandwidth connections. The COM-TGUC6 also delivers rugged design to work wherever it's needed. Read more ...
Avalue Launches ARC Series Ruggedized Touch Monitors
Available in 10.1" to 21.5" sizes: waterproof, dustproof, shockproof, and thermally resilient

November 18th, 2021, Taipei, Taiwan

– Avalue Technology Inc. (TAIEX: 3479-TW), a global industrial PC solution provider and an associate member of the Intel® Internet of Things Solutions Alliance. Avalue is pleased to announce its ARC series of ruggedized touch monitors available in 12.1", 15" and 17" screen sizes with 4:3 square ratio, and 10.1", 15.6" and 21.5" screen sizes with a widescreen 16:9 ratio, offering a wide variety of sizes, brightness and resolution options. All monitors feature front IP65 protection and a wide operating temperature range from -10 ºC to 50ºC (option -20 ºC to 70ºC for 12", 15", 17", and -10°C to 60°C for 15.6").


IEI Launches the Latest 24" Medical Panel PC — POCi-W24C-ULT5
Nov 23, 2021
The POCi series is a medical panel PC featuring AI, edge computing with rich expansion functions. It is ideal to work in many kinds of medical scenarios such as radiology, telemedicine, endoscopy system or surgical working station. The highly expandable PCIe x4 slot makes the whole system more flexible and easily meet the individual needs from different applications. Read more ...

IEI Releases the New AI Box PC: HTB-210-Q470
Nov 24, 2021
The HTB-210-Q470 has a professional heat dissipation system designed for the internal GPU card, enabling high-performance AI computing in a small chassis. It is different from other products that are large, difficult to clean, and with cabling issue due to their too simplified functions that need connection with other external peripherals. The simple outlook of the HTB-210 makes it more suitable for integration in various medical environments. Read more ...
SANYO DENKI Develops SANMOTION C Motion Controller That Can Control 7-Axis Articulated Robots
Nov. 30, 2021
SANYO DENKI CO., LTD. has developed and launched a high-performance, compact SANMOTION C S500 series motion controller.
It can control the motion of a variety of robots, contributing to the in-house robot motion planning for your system.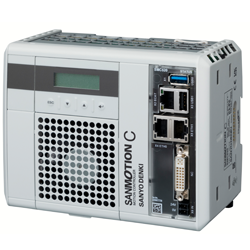 Features
1. Abundant Robot Control Functions
This motion controller can control industry-leading(1) 15 robot configurations, including complex 7-axis articulated robots.
Functions such as trajectory control and interpolated operation can be done with ease, contributing to the in-house robot motion planning.
Read more ...
Winmate Stainless Panel PCs and Displays Solution for Food Packaging Automation
Increasing efficiencies in food processing with Winmate's hygienic and easy to clean solutions
25 November, 2021
The urgency of the global low-carbon circular economy impacted the food and drinks industry. Pushing the manufacturer to innovate while increasing their productivity and improving production. Such as using a device to visualize the production status and pass the information to the cloud with edge computing capabilities. Also, it must meet the food production hygiene and safety standard.
Read more ...