21 Mar
Posted By
0 Comment(s)
91 View(s)
Welcome to our latest Industrial PC news roundup - another two weeks of the industry's continuing advancements.


FWS-2277: Compact Network Solution for Small Office Deployments
2022-03-16
AAEON, an industry leader in network white box solutions, announces the FWS-2277 compact desktop network appliance.
Not much larger than typical consumer grade network switches, the FWS-2277 delivers the performance and functionality to bring network functions to Small Office/Home Office (SOHO) deployments, including Unified Threat Management (UTM), VPN, and Next Generation Firewall (NGFW). With many offices and businesses incorporating Work from Home and Small Office network deployments, many service providers are in search of a compact solution that can power modern network functions while remaining unobtrusive and within their clients' budgets. The FWS-2277 solves this by delivering exactly the features needed to power SOHO networks, Read more ...
Small size, huge performance- ANR-C246E1 rackmount network appliance
15 Mar, 2022, New product release from Acrosser.


The ANR-C246E1 rackmount network appliance is equipped with a powerful Intel® 8/9th Gen and Xeon E, Core™ i7/i5/i3 processors in smaller rackmount chassis of 430(W) x 44(H) x 200(D)mm dimension. This design can provide customers with a more flexible choice in rackmount servers.
With Acrosser support, the
ANR-C246E1
is very friendly to budgeted buyers. This machine is designed to be easy to use for small to mid-range network needs. With a shorter chassis, ANR-C246E1 can be deployed almost anywhere. The ANR-C246E1 features eight built-in LAN ports and a NIM slot, supporting up to 16 LAN ports in total.
Read more ...


ADLINK Launches NVIDIA Jetson Xavier NX-based Industrial 4-channel PoE AI Vision System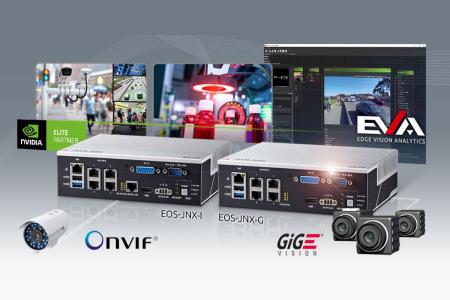 Next-Gen AI vision system leverages new NVIDIA module for easy maintenance as an optimized development platform that simplifies AI to the edge.
Summary:
A vision system with the NVIDIA® Jetson Xavier™ NX supporting 4-channel PoE cameras, optimized PoE capability and Digital I/O for industrial AI inference.
Smart PoE, PoE loss detection function and WatchDog indicator design reduce maintenance effort with easy management
Dedicated GigE bandwidth (

EOS-JNX-G

) and optimized OS with 100m cable validation, secures capturing performance for non-stop operation and surveillance monitoring
Easy integration into existing surveillance system with Uplink port, the

EOS-JNX-I

is designed as an AI PoE hub to easily enable AI on existing surveillance systems.
ADLINK exclusive

EVA SDK

support realizes fast AI application deployment with an intuitive GUI and rich plug-in options to speed proof-of-concept and reduce time to market Read more ...
Edge Network Appliance SCB-7910 powered by Intel Denverton Processor
21 Mar 2022
AEWIN is proud to announce the edge network appliance powered by Intel® Atom C3000/3000R processor Processors, the SCB-7910. Benefited from increased Cores up to 16, faster DDR4 memory, and enhanced/faster/flexible I/O of Denverton compared to previous generation, the SCB-7910 is with good performance, rich I/O, yet low power consumption, compact size in 1U rackmount, and extreme short depth of 268mm which can be easily deployed in any locations.

Apacer's Latest Industrial PCIe Gen4 x4 SSD Blows Away the Competition
Mar 16, 2022
5G's rapid deployment is spiking demand for large amounts of data storage. Emerging 5G applications such as telemedicine, smart healthcare and smart poles require storage devices that can offer high-speed, low-latency and stable operation during high-quality, high-resolution image data transmission to permit AI image recognition and auxiliary diagnoses. Luckily, Apacer's latest PCIe Gen4 x4 SSD is stepping up to the plate. It adopts the latest BiCS5 112-layer 3D NAND Flash memory technology. This means ultra-high performance and reliability, a stable supply and – crucially – a more competitive cost per unit. Read more...


Axiomtek Rolls out New Series of Rugged Touch Panel PCs in 21.5-inch, 18.5-inch, and 15.6-inch for Harsh Environments - GOT321W-521, GOT318W-521, and GOT315W-521
!0 March, 2022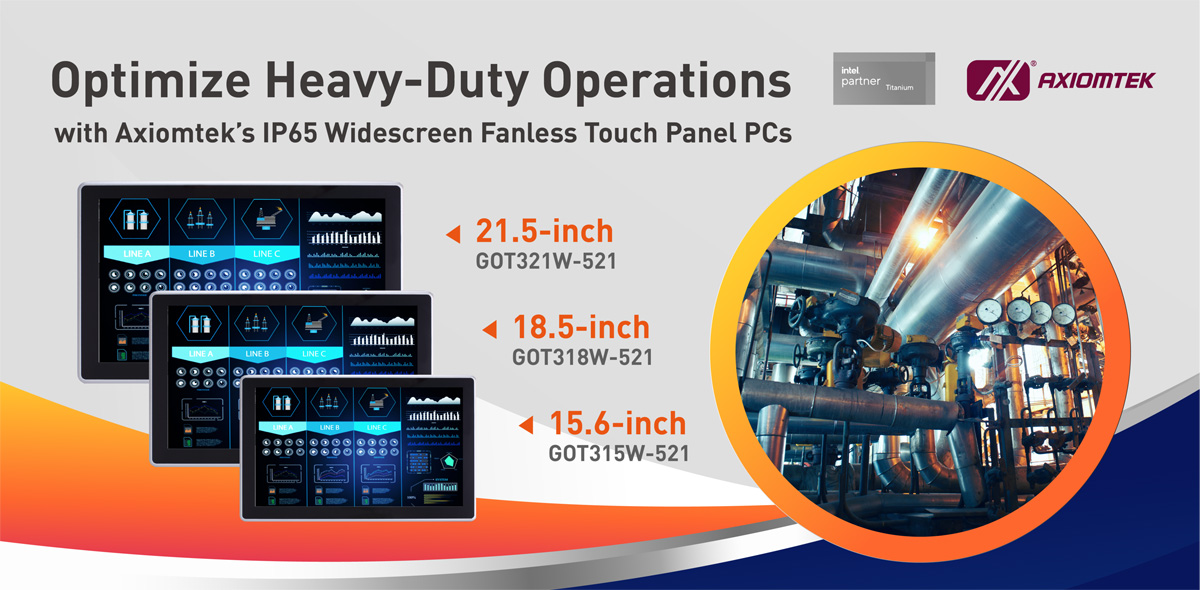 Axiomtek is pleased to introduce three new heavy-duty fanless touch panel computers, GOT321W-521, GOT318W-521, and GOT315W-521, in 21.5-inch, 18.5-inch and 15.6-inch widescreen with 16:9 ratio. Offering a wide variety of sizes, brightness and resolution options, these panel PCs are powered by the LGA1151 socket 9th/8th generation Intel® Core™ i7/i5/i3, Pentium® processor Gold or Celeron® processors ...Read more ...


Cincoze's Latest Sunlight Readable Display Modules — The Cornerstone of IoT's Evolution
16 Mar, 2022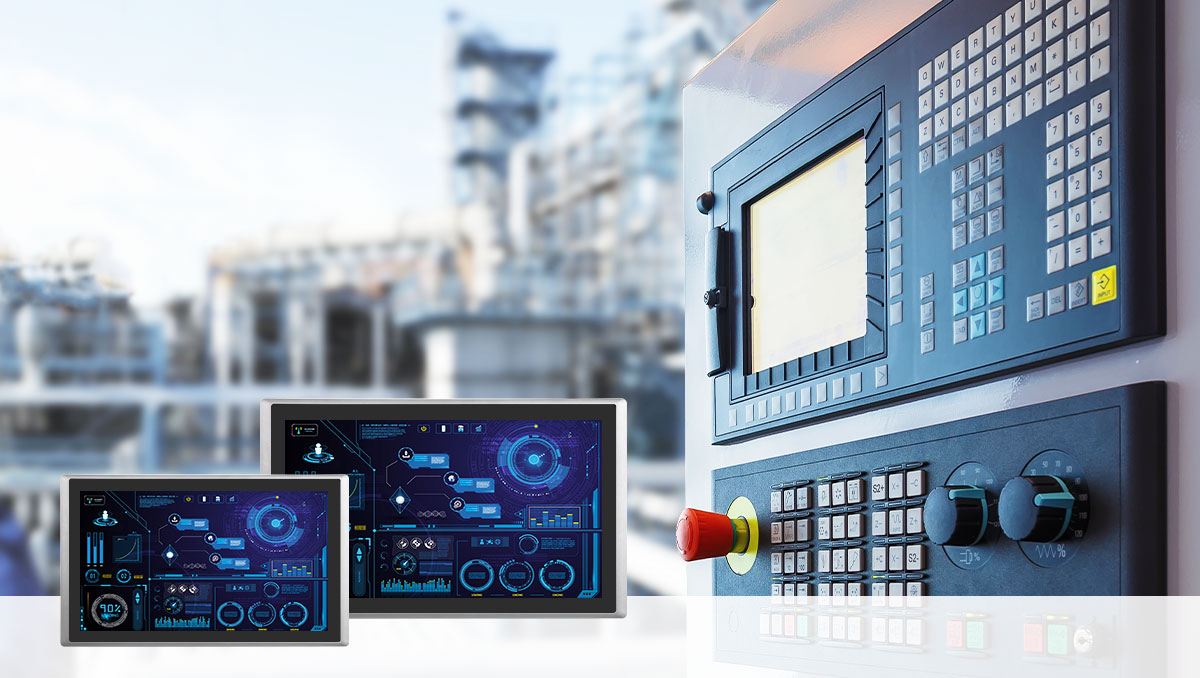 Cincoze has recently added to its Display Computing - CRYSTAL product line with 15" (CS-W115FHC), 21" (CS-W121C), and 24" (CS-W124C) 16:9 wide-screen high-efficiency sunlight-readable display modules with a robust design for industrial automation and other industrial applications. The CRYSTAL display modules can be combined with the P2000 or P1000 embedded system modules to make a panel PC or the M1000 series display modules to make an industrial touch monitor. In any combination, the CRYSTAL product line provides the high brightness, high resolution, high modularity, and high strength needed for applications in harsh outdoor environments. Read more ...

New Releases from ICPDAS:
17 Mar, 2022

PCIe-S142i – PCI Express, 2-Port RS-422/485 Communication Board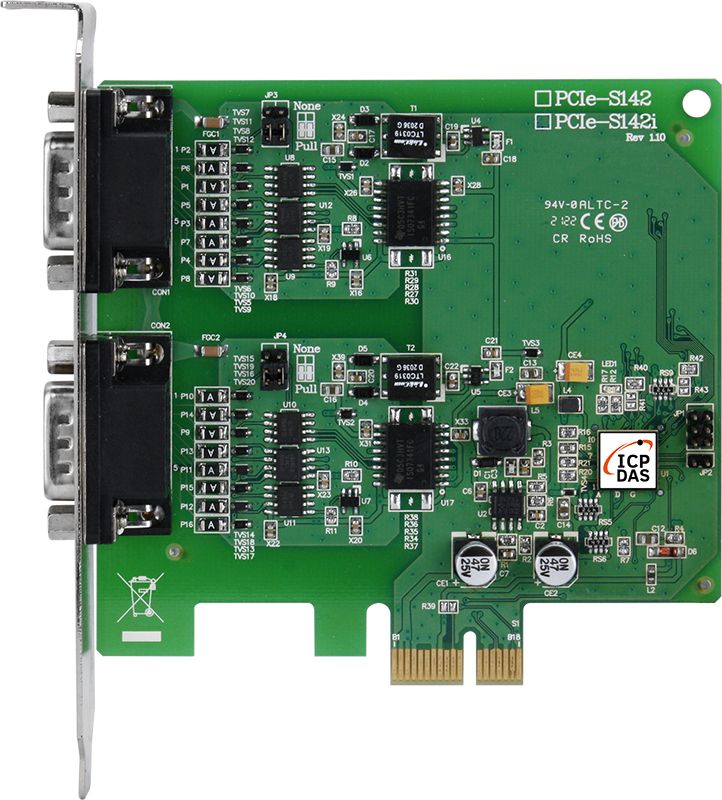 Introduction:
PCIe-S142i communication card provides 2 RS-422/485 serial ports. Each port is equipped with a 256-byte hardware FIFO, and offers speed up to 921600 bps. The PCIe-S142i card support drivers that allow to choose an available COM port number automatically.
In harsh industrial environments, the on-board ESD protection component diverts the potentially damaging charge away from sensitive circuit to protect the computer and equipment from being damaged by the sudden or momentary electric current.
The serial communication card is designed for use with intelligent devices like bar code reader, serial printers, intelligent sensors, instrumentation equipment, computers and almost any device with an RS-422/485 port.
Read more ...
DL-100TMS-ZT – ZigBee Temperature and Humidity Module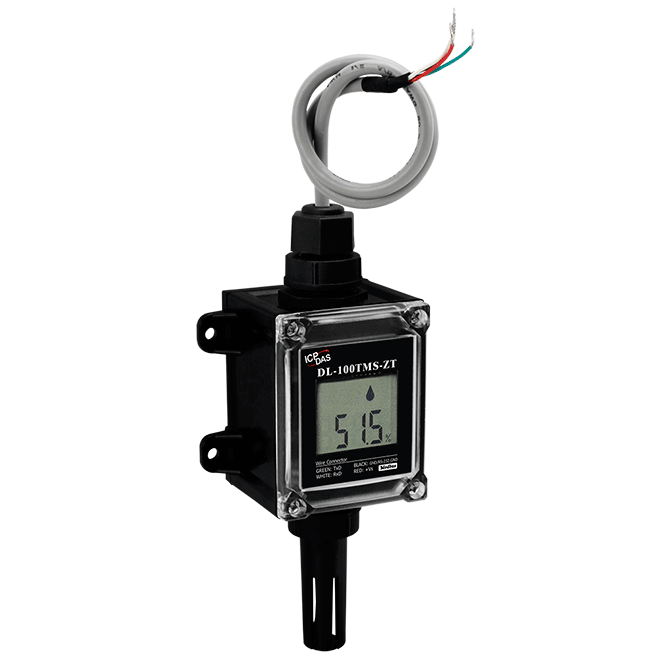 Introduction:
The DL-100TMS-ZT is a one-channel temperature and humidity data logger module. It contains a ZigBee communication interface and an LCM to display the module ID, temperature and humidity data, and allows you define the log time interval depending on your application.
The DL-100TMS-ZT supports the Modbus RTU protocol. We also provide software Utility that can be used to retrieve log data and display it in a chart on your desktop, and allow you to save the log data into an Excel format file.
Read more ...
PISO-CAN200U-FD-D/T, PISO-CAN400U-FD-D/T – CAN FD Universal PCI Card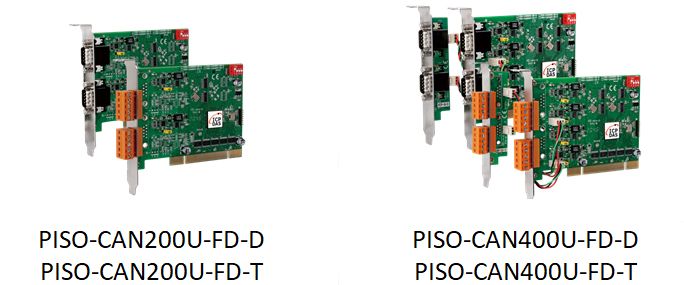 CAN FD (CAN with Flexible Data-Rate) is a newer extension version of the CAN 2.0 protocol. It was developed by Bosch and was released in 2012. It has been significantly improved during the standardization process and is nowadays in ISO 11898-1:2015. The CAN FD speeds up the data transmission and packs more data into each message.
PISO-CANFD series board (included PISO-CAN200U-FD and PISO-CAN400U-FD) is a very powerful and economic solution for an active CAN board, it features two/four CAN channels that cover a wide range of CAN applications. It uses Microchip CAN FD controllers and TI TCAN1042HG series transceivers, which provide features of bus arbitration and error detection it also provides auto-correction and re-transmission functions. The PISO-CANFD series can be installed in either kind of Universal PCI bus. Read more ...
I-7531-FD-G – Two-channel Isolated CAN/CAN FD Signal Repeater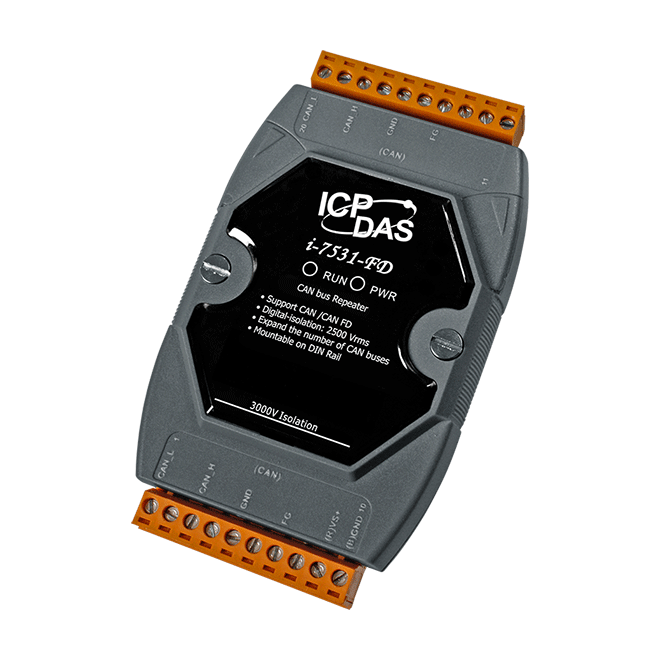 Introduction:
The I-7531-FD is a CAN/CAN FD signal repeater, which can connect two or more than two CAN networks with the same baud rate. Based on the signal repeat function of I-7531-FD, users can implement tree or star CAN network topology by using different numbers of I-7531-FD, and when there are too many devices on the CAN network, using I-7531-FD can increase the driving force of the CAN signal to drive more CAN devices. In addition, the I-7531-FD features digital isolation 2500 Vrms at the CAN side, and 3000 V DC-DC isolation protection at the CAN side and the power, which can effectively isolate the noise interference amount CAN networks ,and achieve protection of a specific CAN network.
Read more ...


Innodisk DDR5 Raises the Bar for Workstations

11 Mar, 2022
Innodisk has announced the debut of their new industrial-grade DDR5 memory in workstations, which are powerful computers intended for specialized technical and scientific use cases. Bringing this new technology to market now gives early adopters the chance to demonstrate the real-world speed, and performance gains that were promised during the hype surrounding the announcement of DDR5 in 2021. Now, as Innodisk begins mass production, the new technologies that DDR5 introduced, such as double bank groups, same bank refresh, on-die ECC, and dual subchannels are being utilized in workstations that push the limits of speed, capacity, and reliability in professional environments. Read more ...


DRC-180 Series: 180W DIN Rail Type Security Power Supply
11 Mar, 2022

MEAN WELL DIN rail type security power supply DRC-40/60/100 series have been widely used in safety control, fire protection, information communication, automatic control, and other fields for many years. In order to fulfill higher wattage requirements, we are releasing the new 180W DRC-180 series. This product is suitable for installation in the TS-35/7.5 or TS-35/15 rails inside the power distribution box. Read more ...



iR-ETN40R Ethernet I/O module
16 Mar, 2022, New product release from Weintek