18 Apr
Posted By
0 Comment(s)
68 View(s)
Welcome to our latest Industrial PC news roundup - another bi-weekly summary of the industry's continuing advancements.
Powerful credit card-sized COM Express Type 10 Computer- Acrosser ACM-TGLUE0
11 April, 2022

The ACM-TGLUE0 is a credit card-sized Computer-on-Modules platform based on the 11th Generation Intel® Core™ Processor Family (formerly Tiger Lake UP3). This COM Express Type 10 board is a mini form factor (84 x 55mm) and is perfect for ultra-small embedded solutions in all industrial applications.
It supports up to 16GB LPDDR4x memory with in-band ECC, up to 64GB PCIe NVMe SSD, and offers two SATA 3.0 interfaces, 2.5GbE networking, DDI and eDP video outputs, as well as ten USB ports and four PCI Express x1 interfaces. Read more ...
ADLINK's Ampere® Altra® Developer Platform suffices all-around cloud-to-edge computing with up to 80 Arm v8.2 64-bit cores
7 Apr, 2022, Taipei, Taiwan
A unique COM HPC reference system that meets developer needs across several markets: cloud, software development, 5G, and embedded
Summary:

ADLINK COM HPC Ampere Altra Developer Platform

is available in a variety of configurations, including 32/64/80-cores.
The Ampere Altra development system is based on an

Ampere Altra SoC

, using the Arm Neoverse N1 platform, designed to empower developers with the combination of server-class computational prowess and extreme scalability. The system supports up to 80 Arm v8.2 64-bit cores, 2.6GHz, and has a power demand of a mere 150W TDP.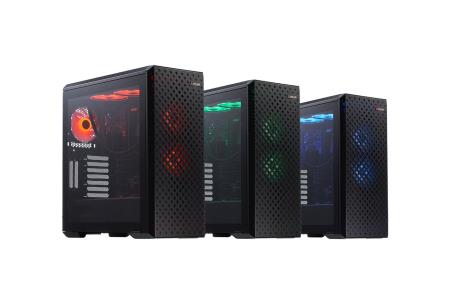 ADLINK Technology Inc., a global leader in edge computing, announces the availability of the Ampere Altra Developer Platform based on the COM-HPC Ampere® Altra® module, the world's first 32/64/80-core COM-HPC based server type module with head-turning performance and scalability necessary to drive a variety of use cases across the cloud-to-edge development communities. Examples include real-time applications that require reliable and predictable processing of the most computationally demanding workloads like medical imaging and robotic surgery, stationary and mobile robotics, autonomous driving, test and measurement to multimedia broadcasting, and more. Read more ...



Aetina SuperEdge Powered by NVIDIA A2 GPUs Completes NVIDIA Certification to Deliver High Performance at the Edge
13 Apr, 2022
Aetina SuperEdge AIS-D422-A1, with high-level GPUs, can be used as an AI training platform in different fields including smart cities, smart factories, and smart retail. The platform powered by the NVIDIA A2 Tensor Core GPU has been certified by NVIDIA as an AI inference platform that delivers superior performance at the edge.

The SuperEdge AIS-D422-A1 brings various advantages to its users. It has a rich I/O interface to support a variety of peripherals and can be integrated into many types of AI applications. Besides running AI training and inference tasks, AIS-D422-A1 enables its users to monitor multiple edge AI devices with Aetina's EdgeEye, a type of remote monitoring software; after installing the software on AIS-D422-A1 and edge AI devices, the users are able to view system status of the edge devices through EdgeEye dashboard. Read more ...
Avalue Launches EPM-1607 3-in-1 M.2 Expansion Card
Plug-And-Play With 4 RS-232 High-Speed Ports PCIe 2.0 I/O
13 Apr, 2022, Taipei, Taiwan

Avalue Technology Inc. (TAIEX: 3479-TW), a global industrial PC solution provider and an associate member of the Intel® Internet of Things Solutions Alliance. Avalue Technology's latest peripheral product EPM-1607 with PCIe 3-in-1 M.2 2280/2260/2242 may be split according to requirements, can expand four independent RS-232 serial ports, and provides excellent performance, ultra-low power consumption, and is durable and highly reliable. As a cost-effective solution, it is ideal for applications in public transportation, HMI and machine vision in industrial automation, manufacturing industry and intelligent control.
Axiomtek Unveils AIE900-XNX Fanless AI-Powered Box PC Using NVIDIA Jetson Edge AI Platform for 5G and AIoT Applications
13 April, 2022
Axiomtek is pleased to introduce the AIE900-XNX, its new edge computing system that adopts the NVIDIA® Jetson Xavier™ NX platform which has a powerful 6-core NVIDIA Carmel ARM v8.2 (64-bit) processor and 384-core NVIDIA Volta architecture GPU, delivering up to 21 TOPS accelerated computing performance for running modern AI workloads. The advanced edge AI computing platform supports high-speed networking capability functions such as the 5G module to drive AIoT innovation. The NVIDIA Jetson Xavier NX-based AIE900-XNX is suitable for vision AI applications including computer vision, vision guided robot, autonomous mobile robot (AMR), intelligent roadside unit, workplace safety, obstacle detection, traffic management, etc. Read more...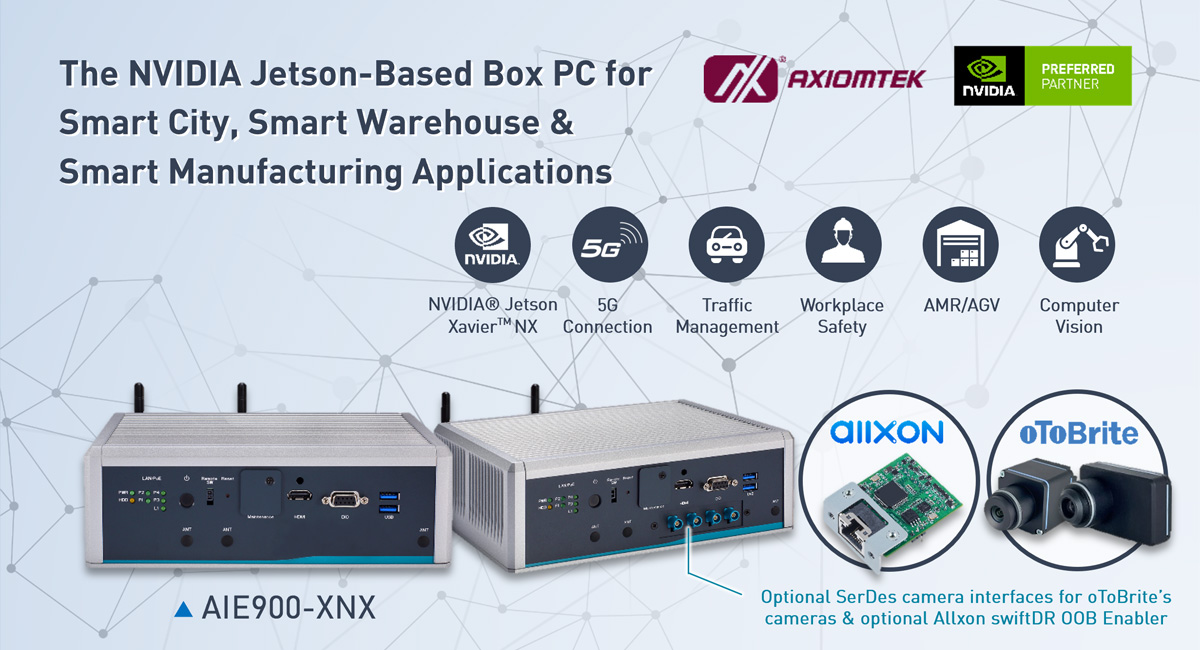 New DDR5 Industrial Grade DRAM Modules
13 Apr, 2022
Cervoz Announces New DDR5 Industrial Grade DRAM Modules for Diversified
Industrial Applications
The new industrial-grade DDR5 memory modules,
DIMM
and
SO-DIMM
8G~32G, feature enhanced capacity, stability, and power efficiency for high-bandwidth industrial applications such as data centers, AIoT, and machine learning.


New product launches from IEI:
12 Apr, 2022

New ATX Motherboard Featuring 10th/11th Gen Intel® Core™ CPU and AI Capability – IMBA-H420
The IMBA-H420 is an ATX motherboard powered by 10th/11th Gen Intel® Core™ processors. With the support of multiple expansion slots and feature rich interfaces, it offers a variety of functionalities and capabilities for the applications that require accelerated computing, blazing-fast transmission, seamless upgrades, and high reliability. Read more ...
PCIE-Q470 PICMG 1.3 Full-Size Single Board Computer Featuring Latest 10th/11th Gen Intel® Core™ Processors for Performance-Demanding Applications
The PCIE-Q470 is a full-size PICMG® 1.3 single board computer with scalable CPU options of 10th/11th Intel® Generation Core™ i9/i7/i5/i3, Pentium® and Celeron® processors and Intel® Q470/Q470E chipset, supporting up to 10 cores. With IEI's comprehensive passive backplane and industrial chassis options, the configurable system can offer increased computing efficiency and flexible I/O expandability through PCIe x16, PCIe x4 and legacy PCI signals, allowing more industrial add-on cards Read more ...
New product releases from Winmate:
18 Apr, 2022
W24IM3S-GCA2
23.8" ARM A53 G-WIN GC-Series Front IP65 PCAP Panel PC
KEY FEATURES
ARM A53 Quad Core 2.0GHz CPU
Fanless cooling system and ultra-low power consumption
Front IP65 for protection against water and dust
A true flat, easy-to-clean front surface with edge-to-edge design
Plenty of I/O, including 1 x Micro USB, 2 x USB 2.0; 1 x RS232/422/485; 1 x RJ45; 1 x Micro SD Slot; 1 x Micro HDMI (Optional)
For more details and to see the whole range of new panel pcs, click here.