16 May
Posted By
0 Comment(s)
51 View(s)
Welcome to our latest Industrial PC news roundup - another bi-weekly summary of the industry's continuing advancements.
Acrosser releases 4 new COM Express modules for Industrial AI/ IoT applications
4 May, 2022


COM Express, a computer-on-module (COM) form factor, is a highly integrated and compact computer that can be used in a design application much like an integrated circuit component. Each module integrates core CPU and memory functionality, the common I/O of a PC/AT, USB, audio, graphics (PEG), and Ethernet.
Today, the COM Express module is a small but powerful tool that can be applied to various kinds of industries. This quarter, Acrosser Technology came out with 4 brand-new COM Express systems on modules for customers to develop their AI/IoT applications.
All Acrosser COM Express modules are built-in with high-speed and powerful performances that are suitable for applications that are in need of multi-tasking, multi-threading, or video rendering.
These 4 different COM Express modules are:
ACM-XE21B6 -- COM Express Basic Type 6 module is powered by Intel Core i7/Xeon D which can offer rich features and up to 24 PCIe lanes Expansion, high graphical capabilities, and design flexibility to help facilitate quick deployment.


Advantech to Launch the Industrial-Grade SQFlash SATA 650 Series
4 May, 2022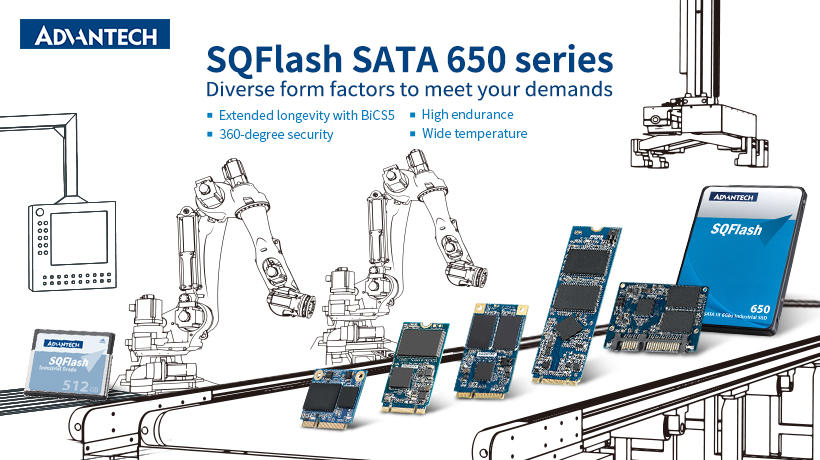 Advantech, a leading industrial flash storage solutions provider, is excited to announce the SQFlash SATA 650 Series with KIOXIA BiCS5 3D Flash. This series supports up to 2TB capacity and multiple temperature ranges in diverse form factors. Adhering to SQFlash's commitment to security and technology, this TCG-Opal compliant series with management tools delivers safe SSD user experiences. Read more...
ASRock Launches AMD Radeon™ RX 6950 XT/ Radeon RX 6750 XT/ Radeon RX 6650 XT Graphics Cards
TAIPEI, TAIWAN, May 10th, 2022 – ASRock, the leading global motherboard, graphics card and mini PC manufacturer, today launched the new OC Formula, Phantom Gaming and Challenger series products based on AMD Radeon™ RX 6950 XT, AMD Radeon RX 6750 XT and AMD Radeon RX 6650 XT GPUs.
The new graphics cards leverage the breakthrough AMD RDNA™ 2 gaming architecture, include process optimizations and software and firmware enhancements, and offer high-bandwidth, low-latency AMD Infinity Cache™ memory technology and ultra-fast 18Gbps GDDR6 memory. They also support Microsoft® Windows® 11 and Microsoft® DirectX® 12 Ultimate, AMD FidelityFX™ Super Resolution (FSR), the forthcoming AMD FSR 2.0 and AMD Radeon Super Resolution upscaling technologies, as well as other advanced features that provide visually stunning, high-refresh rate gaming experiences.
Read more...
SG-3037 (Triaxial signal conditioner for voltage output type accelerometer)
4 May, 2022 (New product release from ICPDAS)

Introduction:
SG-3037 is a Triaxial Signal Conditioner. SG-3037 is with 3 channel analog inputs that can connect to the voltage output accelerometer, and convert the signal measured by the accelerometer into the analog voltage output. It collects the vibration data through PET-7H16M module, and then send them via high-speed Ethernet to the data center for processing and analysis.
Read more ...
Portwell Launches First Full-Size PICMG 1.3 Single Board Computer Featuring Latest 12th Gen Intel® Core™/Pentium®/Celeron® Processors
TAIPEI, TAIWAN – May 5, 2022 – Portwell, Inc., (www.portwell.com.tw) a world-leading innovator for Industrial PC (IPC) and embedded computing solutions, and a Titanium Partner of the Intel Partner Alliance, has launched its new ROBO-8116G2AR. According to Brian Lai, Portwell's product manager, ROBO-8116G2AR is aimed at customers who are seeking an embedded desktop system with high computing power and flexible expansion capabilities. Lai recommends the new ROBO-8116G2AR as the ideal choice for balanced or performance-demanding applications in industrial automation and intelligent control systems, medical/healthcare imaging systems, automated test equipment, semiconductor equipment, display wall/digital signage, digital security surveillance, broadcasting systems, transportation and storage.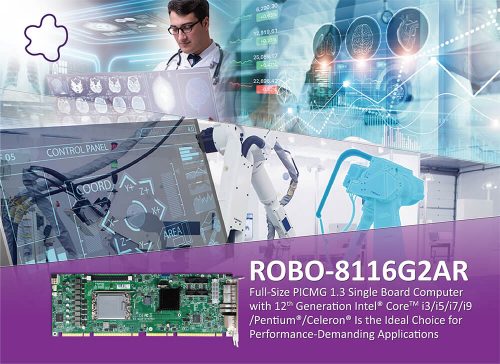 Read more ...

New Releases from Winmate: Large range of 7" Panel PC's.
17 May, 2022.

Read More ...
Vecow Launches HPS-1000 Embedded System with AMD Ryzen PRO 5000 Series Processor
4 May, 2022, Taipei - Vecow Co., Ltd., a team of global embedded experts, today introduced a brand new high-performance embedded system lineup, the HPS-1000 with AMD Ryzen™ PRO 5000 Series processor. The rugged HPS-1000 combines workstation-grade performance, reliable connections and low power consumption to optimize enterprise deployment across a wide range of industrial applications including Factory Automation, In-Vehicle Computing and Autonomous Robot, any AIoT/Industry 4.0 applications.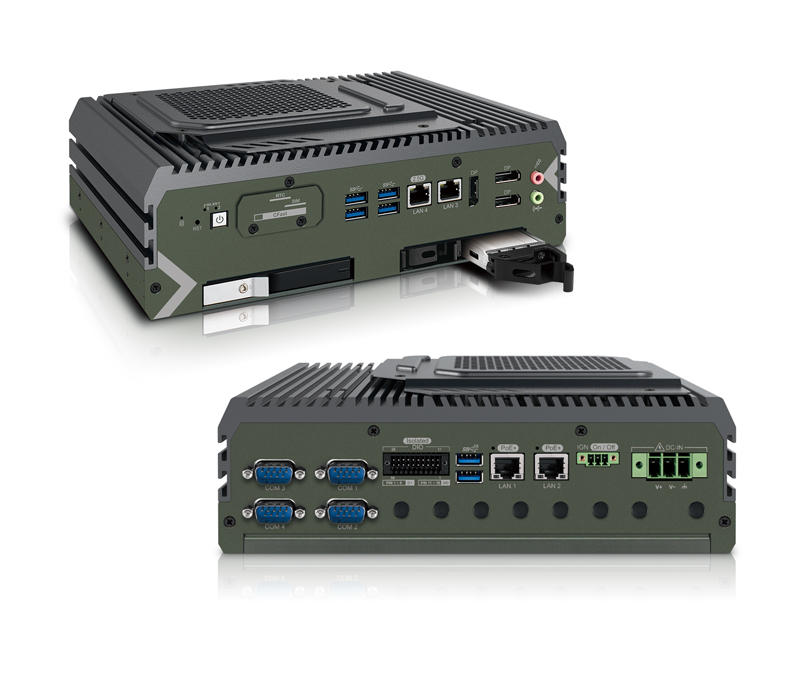 Read More ...