21 Jun
Posted By
0 Comment(s)
102 View(s)
Welcome to our latest Industrial PC news roundup, hot off the press.


Neousys Launches 5GBASE-T Ethernet 802.3at PoE+ Frame Grabber Card to Enable 5G Cameras in Machine Vision
Taipei, Taiwan – Jun. 13th, 2022 – Neousys Technology, an industry-leading provider of rugged embedded systems, unveiled today an industrial-grade 4-port 5GBASE-T frame grabber card. The PCIe-PoE454 series comes with 802.3at PoE+ capability to enable multiple high-resolution 5G cameras for advanced machine vision applications. Featuring the emerging NBASE-T technologies with high bandwidth, high port density, and reliability, it brings significant throughput performance without frame loss for ultra-high resolution cameras.
Wincomm Announces Leading Performance Point of Care AIO PC WMP-24MD/ND Series
16 June, 2022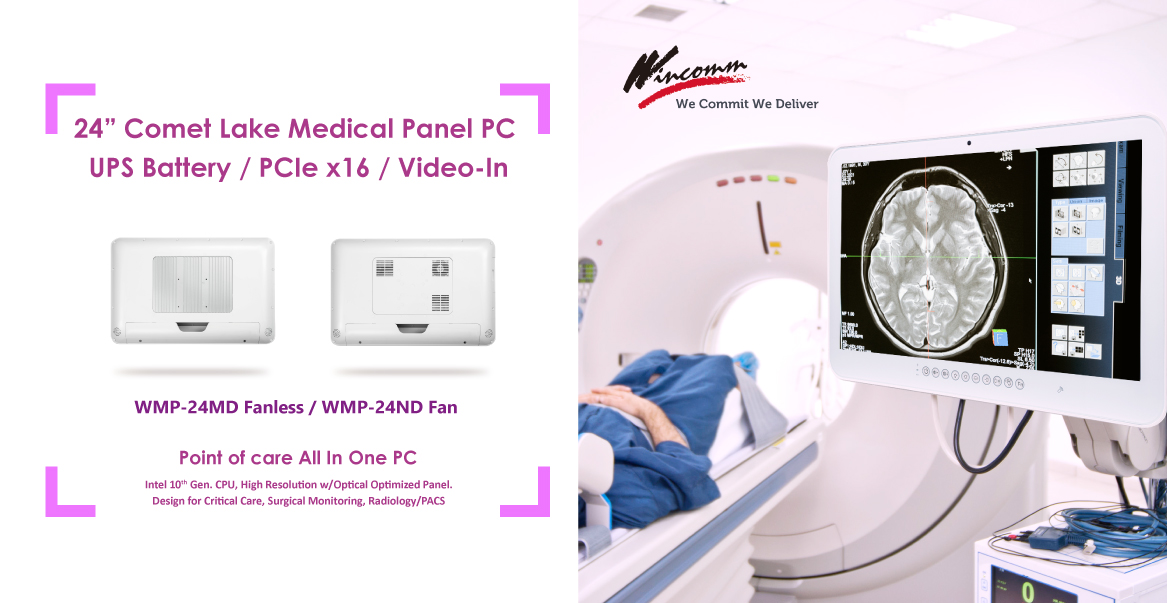 Wincomm announces new point of care medical all in one panel PC, WMP-24MD/24ND series, this series is upgraded from the WMP-24C/24F mechanical design. Equipped with Intel® 10th Gen., Comet Lake Core i5-10500TE/i7-10700TE, it could support a 16 percent overall performance improvement compared with Whiskey Lake CPU. Read more ...

New Product Releases by Winmate:
June 17-21, 2022
Read more ... https://www.winmate.com.tw/NewsAndEvents/Newproducts



NEXCOM Releases 5G uCPE for Multi-Access Edge Computing Deployments
9 June, 2022

NEXCOM, a leading supplier of network appliances, introduces FTA 1170, its new Intel-based uCPE powered by the Intel Atom® processor family. FTA 1170 is the centerpiece of the nexCPE™ product line, which addresses all requirements of the 5G core network and covers both wired and wireless broadband applications. This 1U rackmount features an impressive port count of different types and link speeds to provide multiple Ethernet connectivity. Read more ...
Jetway Summer Campaign – Intel® 5205U Series Industrial Motherboards, Tiger Lake Series Barebones with Richer Expansion
16 June, 2022, Taipei, Taiwan

Jetway, a world-leading Industrial PC (IPC) manufacturer, is pleased to release the Intel® Celeron (Comet Lake) 5205U series Industrial Motherboard JNF835V-5205UC and Tiger Lake barebone HBJC38AZ02 series, support richer expansions.
The JETWAY JNF835V-5205UC is 3.5" form factor board adopts the Intel® Comet Lake 5205U SoC Processors. The board supports two SO-DIMM DDR4 2400MHz memory, up to 64GB. Featuring the integrated Intel® Gigabit Ethernet controller, the JNF835V-5205UC offers one 1GbE and one 2.5GbE for network transmission. One SATAIII (6Gb/s) interface and one M.2 M-key offer storage devices. Four USB3.1 Gen.1 ports, four USB2.0 ports and six COM ports provide richer expansion. The M.2 E-key can support WIFI/3G/4G and Intel CNVi interface. Read more ...

IBASE Launches 11th Gen Intel Core SBC with Quad Displays Support
Taipei, Taiwan, June 14, 2022 - IBASE Technology Inc. (TPEx: 8050), a world leader in the manufacture of industrial and embedded computing solutions is proud to launch the IB956 high-performance single board computer in 3.5-inch form factor. Powered by 11th Gen Intel® Core™ / Celeron® processors (formerly Tiger Lake H), the versatile embedded board supports four displays through three DisplayPort and 24-bit dual channel LVDS interfaces, making it ideally suited for applications in factory automation, gaming, retail, and healthcare industries. This industrial-grade board is built to operate in both fan and fanless systems, providing 24/7 operation and high reliability.
Read more ...
Axiomtek Unleashes IP69K/IP66-Rated 10.4" Stainless Steel Fanless Touch Panel Computer for Food Processing Industry – GOT810-316
9 June, 2022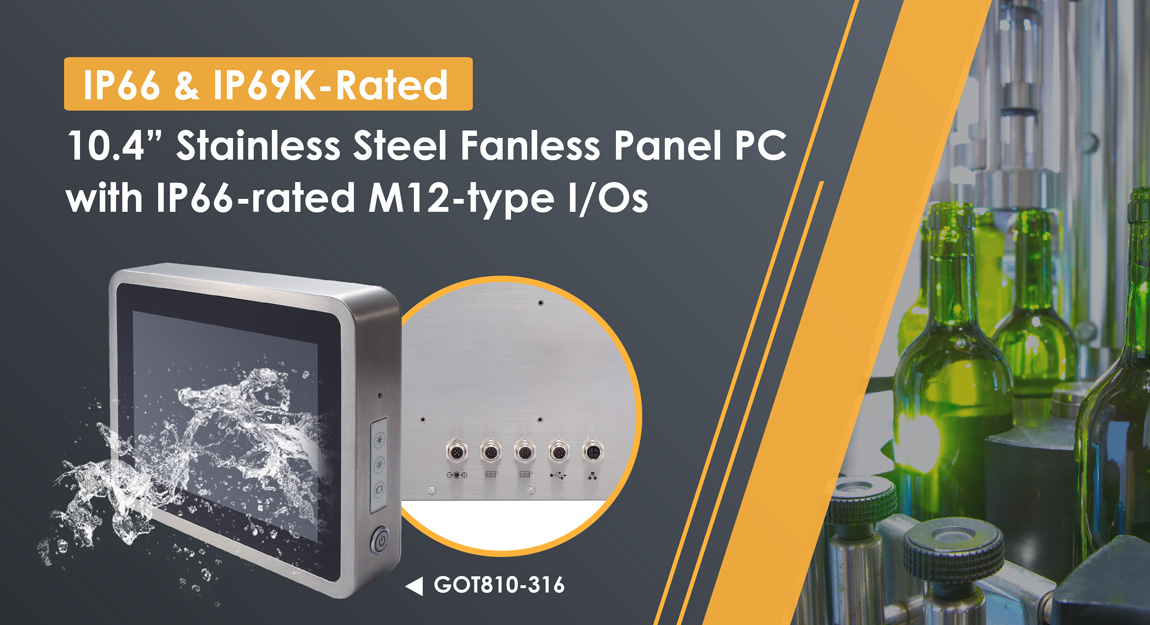 Axiomtek is pleased to announce the GOT810-316, a 10.4-inch stainless steel fanless touch panel computer for the food, beverage, and pharmaceutical industries. To withstand high-pressure and steam cleaning, it is fully waterproof with an IP69K-rated stainless steel enclosure and IP66-rated M12-type I/O connectors. This robust 10.4" stainless panel computer is ideally suited for applications requiring a highly durable and easy-to-clean solution for extreme operating conditions. Read more ...
Avalue introduces ERX-W480P, a Micro ATX motherboard
20 June, 2022 Taipei, Taiwan
Avalue Technology Inc. (TAIEX: 3479-TW), a global industrial PC solution provider and an associate member of the Intel® Internet of Things Solutions Alliance, is unveiling ERX-W480P, based on Intel®10th Generation Core™ and Celeron® Processors.
ERX-W480P, a Micro ATX board with 10th Gen Intel® Core™ i3/i5/i7 and Celeron® SoC Processor, which has a rich IO and dual channel LVDS industrial motherboard requires less expansion application for Automation, Industrial, Automatic Medicine Packing Machine and other embedded applications.
Read more ...
SCB-1836 powered by 12th Gen Intel® Core Processor
21 June, 2022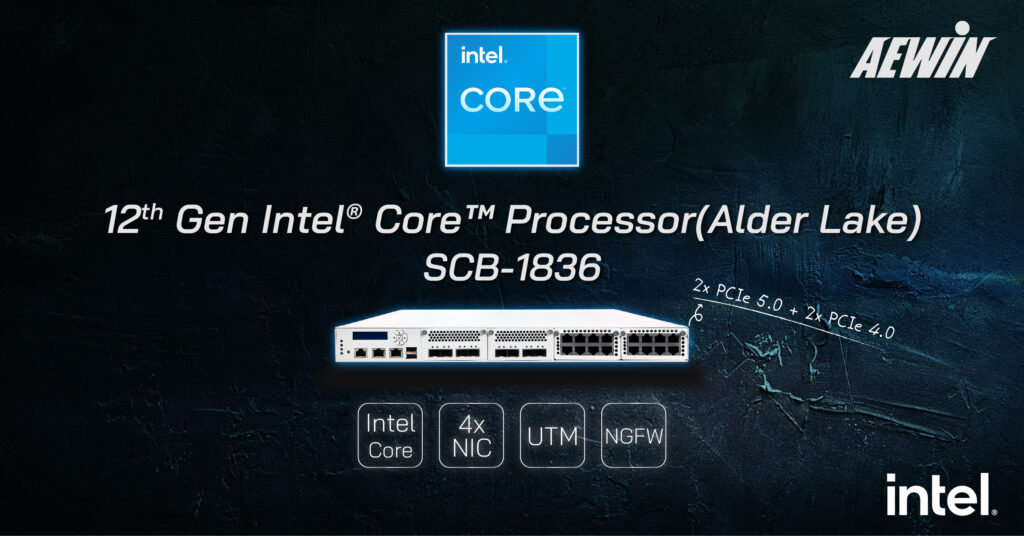 AEWIN Technologies, an experience network appliance provider, today announces the latest 1U platform, SCB-1836, powered by 12th Gen Intel® Core Processor. As the first CPU with the advanced Intel 7 process, the increased CPU cores & threads (up to 16 cores/24 threads) offers remarkable performance to accelerate the workloads. SCB-1836 features the new DDR5 standard with higher memory bandwidth (4800MHz) and larger capacity (up to 512GB with 2 channels/2 DIMM per channel) to handle a huge mass of data in a shorter period with better power management. Moreover, SCB-1836 will also support 13th Gen Intel® Core Processor to perform outstanding multi-threaded performance with up to 24 cores/ 32 threads and faster DDR5-5600 in 2023. Read more ...

Aetina Launches New High-Performance MegaEdge for Use of AI Inference
10 June, 2022
Aetina launches its new AI inference platforms – MegaEdge AIP-SQ37 and MegaEdge AIP-FQ47 series; the platforms can be flexibly integrated into a wide range of AI-related systems to run AI inference tasks due to their rich I/O interface design to support many types of peripheral devices and sensors.
MegaEdge AIP-SQ37 series can be used in smart factories to reduce production line injury cases. With smart 3D cameras and motion recognition algorithms, the users of AIP-SQ37 series can create a type of 3D virtual fence solution for working robotic arms. When the 3D virtual fence system is installed, the system can detect workers who enter the working radius of robotic arms through smart 3D cameras, and further send signals to the robotic arms to slow down or stop their motions. Read more ...

Advantech Launches Industrial Micro-ATX AIMB-522 with AMD Ryzen™ Embedded 5000 Series for AI Image Processing
8 June, 2022
Advantech, a leading provider of industrial motherboards, is proud to release its industrial Micro-ATX AIMB-522 for AI image processing in automation and surveillance. Powered by AMD first desktop processor "Ryzen™ Embedded 5000" with up to 8 high performance "Zen 3" cores, AIMB-522 come with a full suite of technologies designed to elevate your applications including high computing performance-efficiency, high expandability with PCIe Gen4, and up to 4x Gigabit Ethernet ports and 8x USB 3.2, yielding an ideal solution for factory automation, smart logistics and intelligent surveillance. Read more ...

ADLINK releases its new AIoT SMARC module, a first based on MediaTek® SoC, featuring Genio 1200 with an 8-core CPU + 5-core GPU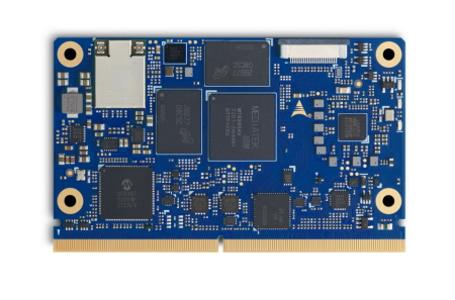 ADLINK Technology Inc., a global leader in edge computing, announces the release of its very first SMARC module built with a MediaTek® SoC. Utilizing the MediaTek® Genio 1200 processor, this ADLINK SMARC COM features high-performance AI and graphics-centric capabilities, ideal for various AIoT use cases at the edge. This includes everything from advanced smart home, human machine interface, 4K multimedia applications, to industrial IoT, robotics, and more. Read more ...