19 Jul
Posted By
0 Comment(s)
132 View(s)
Welcome to our latest Industrial PC news roundup, hot off the press.
It's been a busy two weeks for some!
Advantech Releases AIMB-288E with NVIDIA Quadro GPU to Accelerate Edge AI Deployment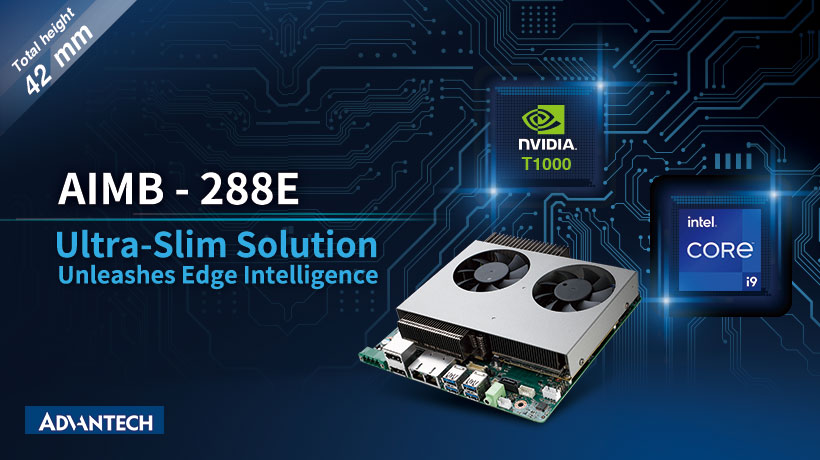 Taipei, Taiwan, 15 July 2022 — Advantech, a leading provider of industrial computing platforms, is pleased to announce the release of the AIMB-288E industrial motherboard with 12th Gen Intel® Core™ Desktop Processor and NVIDIA Quadro T1000 GPU. AIMB-288E leverages an ultra-slender design to deliver outstanding computing power and superior graphics performance to visual computing in edge intelligence. It supports three independent displays (2 x DisplayPort & 1 x eDP with up to 4K resolution) to present precise visualization during diverse inspection tasks. Read more ...


AEWIN BIS-3101 is a versatile Edge AI Server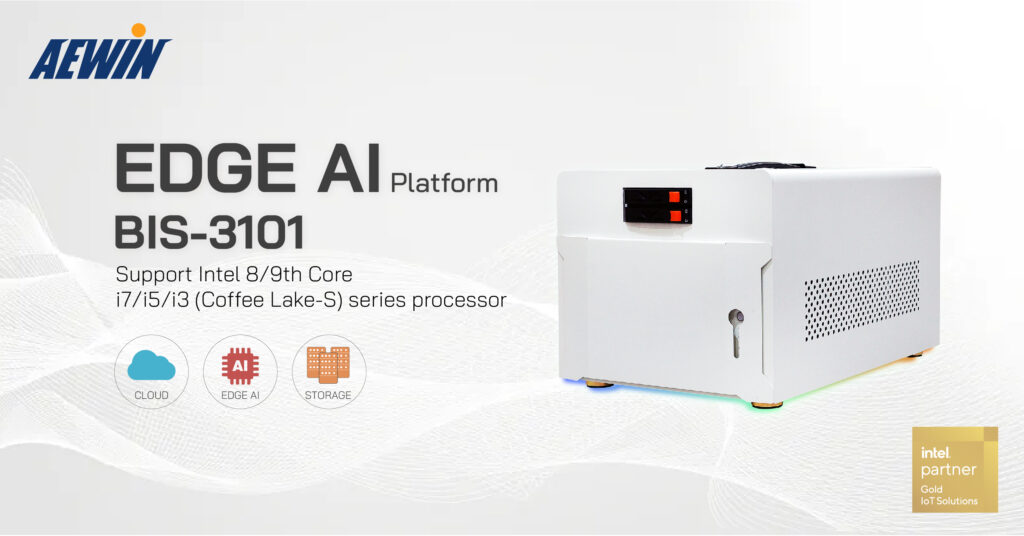 July 14, 2022
BIS-3101 supports various kinds of NVIDIA GPU or FPGA cards to fulfill a variety of applications such as Smart City, Smart Medical, Smart Manufacturing, and more. It can be easily moved and deployed in any location benefited from its handle design and compact size. BIS-3101 powered by 8th/9th Gen Intel Core i processor can not only complete complex tasks with its remarkable computing performance but also offer cost-effective solution based on the flexibility of socket-type CPU (LGA 1151). Read more ...
Two new releases from Avalue:

Avalue Debuts 3.5-inch SBC ECM-TGUC
TAIPEI, TAIWAN, July 11, 2022, –Avalue Technology Inc. (TAIEX: 3479-TW), a global industrial PC solution provider and an associate member of the Intel® Internet of Things Solutions Alliance. Avalue has launched embedded single-board computer ECM-TGUC with 11th Generation Intel® CoreTM SoC to achieve optimal performance with the lowest power consumption. Especially designed for smart IoT, ECM-TGUC is the most cost-effective solution with a wide range of applications. Not only...


Avalue debuts lightweight expansion power bank EPB-1001 for embedded panel PCs Unlimited power, unrestricted mobility
TAIPEI, TAIWAN, July 19, 2022 – Avalue also debuts new lightweight expansion power bank – EPB-1001, for embedded panel PCs. Designed to provide expanded power to various types of panel PCs, it allows stationary panel PCs to be moved around freely with unlimited reserve of power, and is suitable for many types of applications, including medical cart, telehealth cart, laboratory, industrial automation, heavy-industry manufacturing and robot.


Two new releases from Axiomtek:
New Server Grade EATX Motherboard for AIoT - IMB760
6 July, 2022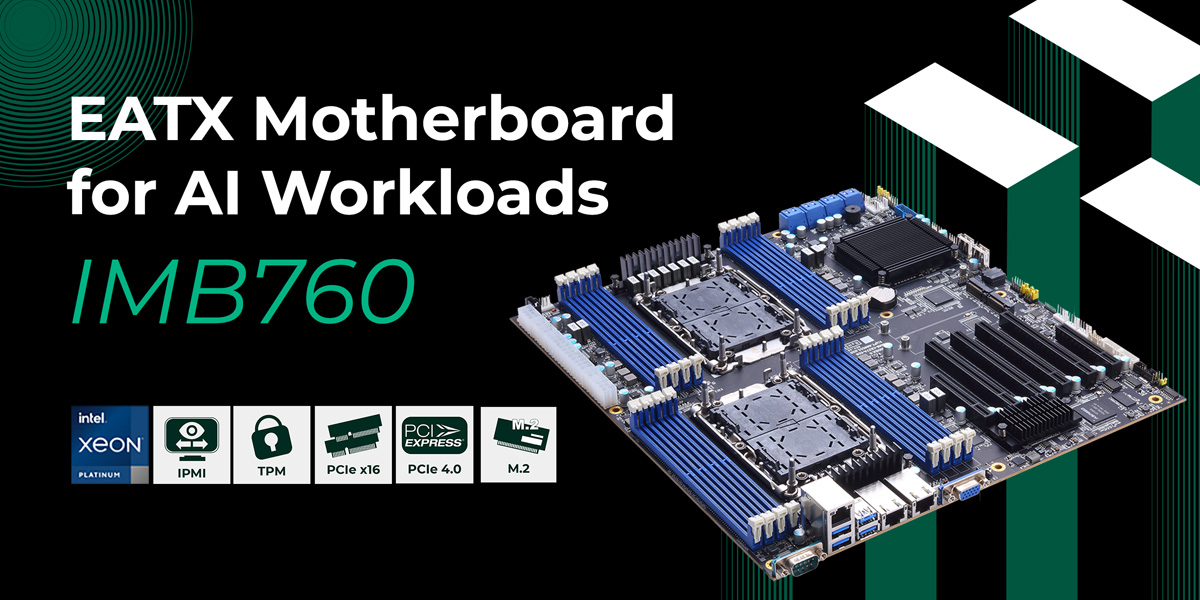 Axiomtek is pleased to announce the IMB760, a server-grade extended ATX motherboard (330mm x 305mm) powered by the dual LGA4189 socket 3rd Gen Intel® Xeon® scalable processors (code name: Ice Lake-SP) with the Intel® C627A chipset. It comes with an effective load balancing between two CPUs and multiple accelerator cards to stabilize computation loads and maximize computing power. Featuring optimized performance, more PCI Express Card slots and high-density memory expansion, Read more ...
Highly expandable 3.5" embedded board with 2.5G LAN and 5G networks- CAPA322
14 July, 2022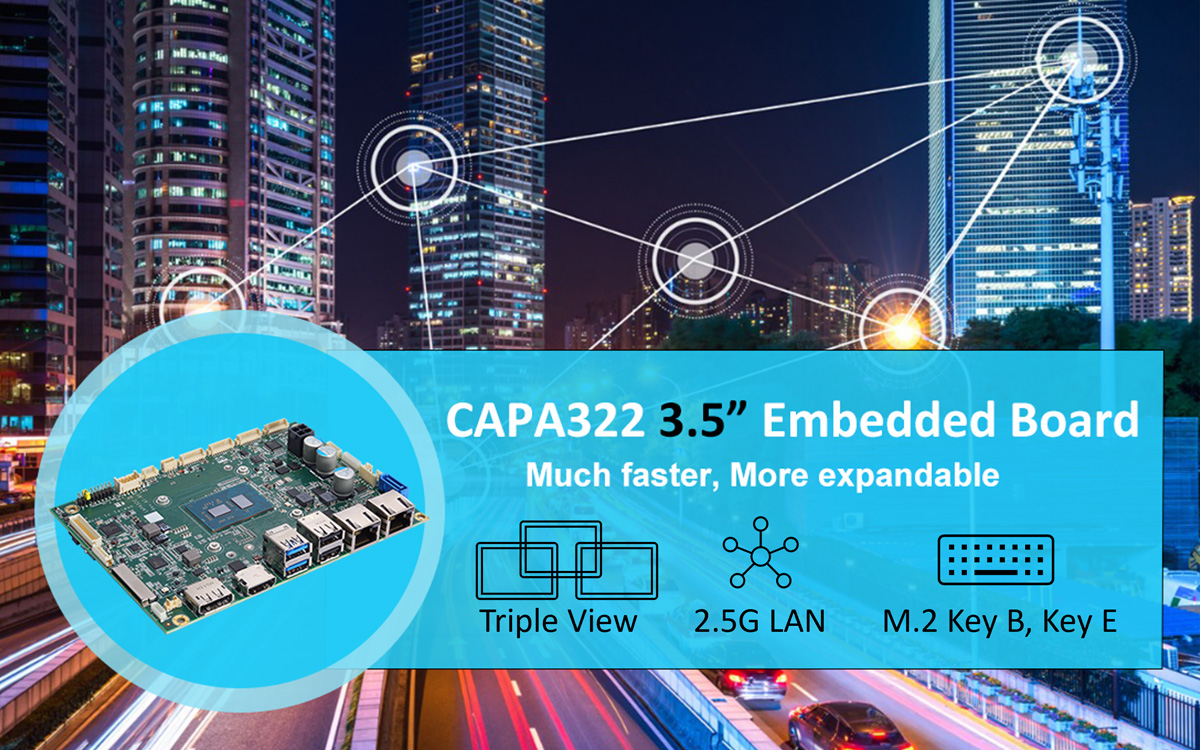 Also from Axiomtek - the CAPA322, an Intel® Atom-based 3.5-inch embedded board featuring two M.2 slots (Key E and Key B), a 2.5GbE LAN port and triple view display. The single-board computer is upgraded tremendously in connection speed and expandability to meet various demands for expansion and connectivity in IoT applications. Read more ...
Two new releases from IEI:

IEI Launches High Core Density 1U Network Appliance PUZZLE-9030 with 3rd Gen AMD® EPYC™ 7003 Series Processor
12 July, 2022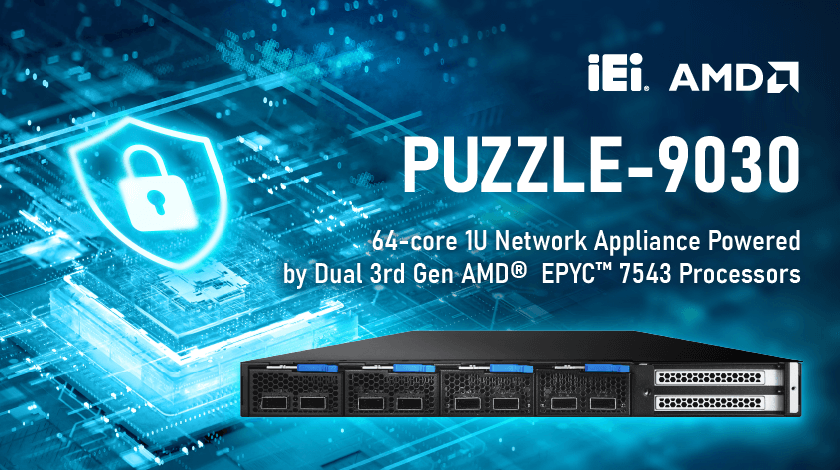 IEI Integration Crop., a leading provider in edge computing, introduced a new addition to its network appliance - the PUZZLE-9030 for SD-WAN architecture and secure access service edge (SASE) solutions. The PUZZLE-9030 is a 1U 19" rack-mount network appliance with up to 4TB system memory. It features two high throughput AMD® EPYC™ 7543 processors with 64 cores in a dual socket system, delivering up to 36% improvement compared to the 2nd Gen AMD® EPYC CPUs, which is made for cybersecurity vendors that require faster CPU performance to accelerate. Read more ...
IEI Launches High Performance Fanless Modular DIN-Rail PC DRPC-240 with 11th Gen Intel® Core Processors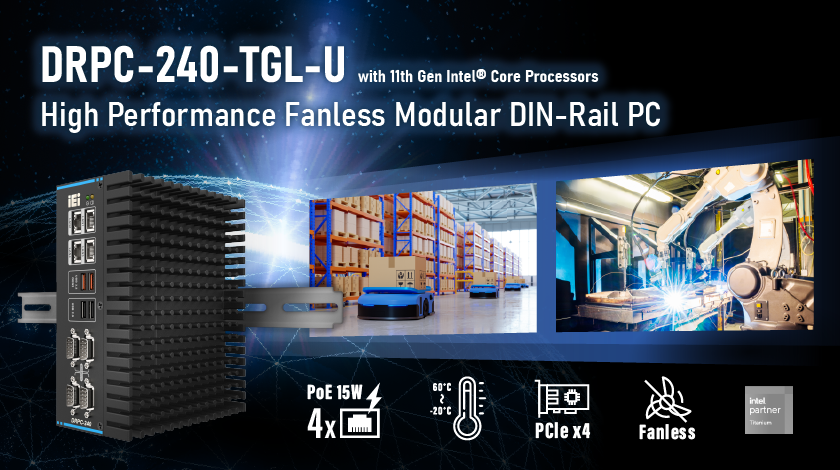 15 July, 2022
IEI also introduces a new addition to its embedded systems - the DRPC-240 for factory automation, warehouse management, transportation, and other robust operational environments. The DRPC-240 is a modular embedded computer for flexible configuration according to specific usage requirements and designed for performance-intensive and space-critical applications. Moreover, the fanless DIN-rail PC mounted 11th Gen Intel® Core mobile processor with 8GB of pre-installed memory and Intel iRIS® Xe graphics delivers great performance. Read more ...
Jetway HBFBZ10 – First Intel® Elkhart Lake J6412 SoC Processor with Four 2.5GbE System
14 July, 2022
Jetway, a world-leading Industrial PC (IPC) manufacturer, is pleased to launch its very first Intel Elkhart Lake J6412 SoC based barebone system integrated with 4* 2.5GbE ports – HBFBZ10 series. HBFBZ10 series supports four 2.5GbE and is the next gen lower-wattage Quad Core chip intended for compact size fanless system (125x109x39.5mm) based on the Intel® Elkhart Lake J6412 embedded class SoC processor with Planned Long Life. Read more ...
Two new releases from Nexcom:
The Fanless In-Vehicle Computer VTC 210, Breaks Ground for Smart Traffic
July 7, 2022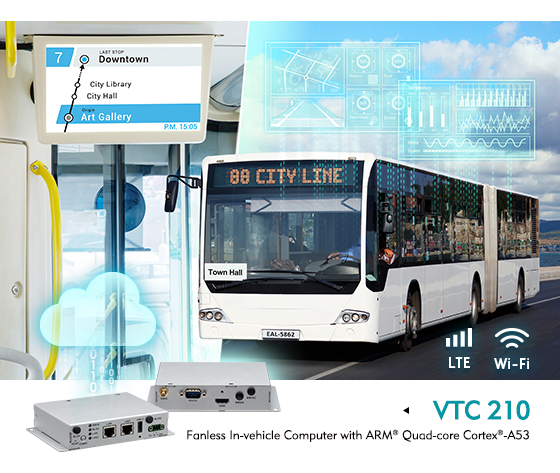 In modern public transit, utilizing digital signage for Passenger Information System is greatly demanded, due to its extreme practicality yet cost-effective, it fulfills the demands for telematics applications. However, to provide this operating tool, public transit must first search for a highly dependable in-vehicle computer meeting certain certified standards while simultaneously include onboard power control and good data output ability. Through NEXCOM's relentless innovation in mobile communications, the fanless in-vehicle computer, VTC 210 has been shaped for this purpose. Based on the high-efficiency ARM® Cortex®-A53 processor family with essential rich I/Os and default GNSS receiver, this economical device handles various telematics applications reliably. By fulfilling a comprehensive list of standards, the compact and durable VTC 210 is ready to hit the road. Read more ...

vROK 3030 Open Frame Panel PC for Railway Passenger Information Systems
12 July, 2022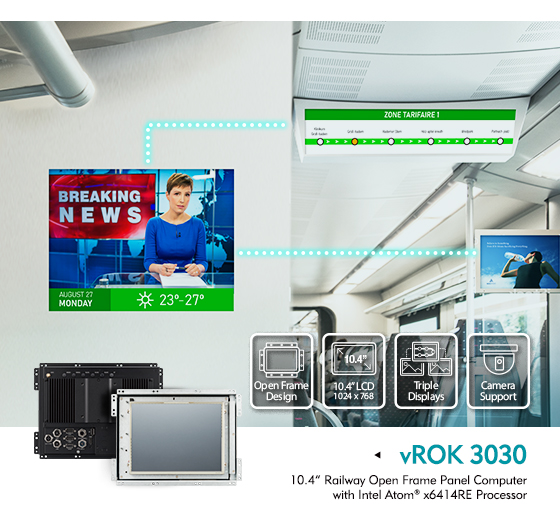 The proliferation of passenger information systems (PIS) is challenging railway operators to find more efficient ways of utilizing space within the train. The vROK 3030 railway open frame panel PC allows railway operators to replace the traditional setup of box PC, screens, and cables with a sleek vROK 3030 open frame panel PC and screens. It implements the latest Intel Atom® x6414RE processor, supports Windows and Linux operating systems, and is designed for WLAN/WWAN wireless connectivity over Wi-Fi 6E and 5G NR. Read more ...
ROBO-8116G2AR Featuring 12th Generation Intel® Core™/Pentium®/Celeron® Processors, the Smarter Path to Industry 4.0
July 12, 2022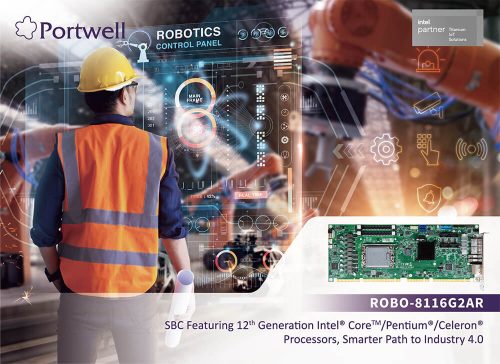 SBC for Industry 4.0
Since the start of smart manufacturing, automated production and delivery of products have undergone a radical change. Artificial intelligence (AI), has brought major breakthroughs in many use cases. As the scope of AI applications in smart manufacturing continues to expand, the demand for AI industrial servers is also increasing. Therefore, an off-the-shelf solution meeting these various demands is the way to accelerate the realization of smart manufacturing. Read more ...

Multiple new product releases from Winmate: Read more ...