30 Aug
Posted By
0 Comment(s)
96 View(s)
Welcome to our latest Industrial PC news roundup, once again hot off the press!


An Innovative Design Featuring Four HDMI Input Ports Makes the BOXER-8256AI a Powerful Solution for Smart Healthcare
25 Aug, 2022, Taipei, Taiwan. AAEON, a leader in edge AI solutions, announces the BOXER-8256AI. The BOXER-8256AI is AAEON's newest NVIDIA® Jetson Xavier™ NX embedded BOX PC, designed for smart healthcare equipment, digital signage, and entertainment. A sophisticated, practical design featuring four HDMI input ports allows you to facilitate real-time stream filtering. The Jetson Xavier NX's powerful performance enables you to run multiple AI algorithms and analyze live video streaming with speed and precision.

Utilizing the Jetson Xavier NX's Volta™ GPU architecture, the BOXER-8256AI offers customers 384 NVIDIA CUDA® and 48 Tensor Cores for a peak AI performance of 21 TOPS. Its I/O, containing four HDMI input ports to support two 4K@30fps and two 1080P@60fps video stream inputs can take advantage of this inferencing power to run multiple AI algorithms and provide users with live video streaming analysis. Read more ...
Also from Aaeon:
The RBX-I2000 Robot Controller Makes Real-Time, Pin-Point Accuracy Possible for the Industry 4.0 era
26 Aug, 2022, Taipei, Taiwan.
AAEON has introduced the RBX-I2000, its first autonomous robot controller. The RBX-I2000 utilizes hardware-integrated time synchronization to obtain a substantial improvement on existing outdoor autonomous mobile robot technology, being the first of its kind to do so.
Powering its sophisticated mechanism is the 11th Generation Intel® Core™ i7/i5/i3/Celeron® Processor SoC, which boasts 4 cores and 8 threads for accurate algorithmic processing. Such an advanced processing unit means the RBX-I2000 is equipped with the power necessary for hardware-based time synchronization, which is channeled via an I/O featuring four 1PPS and ToD output ports to improve sensor fusion on two connectors. Read more ...

Advantech Augments Din-rail Edge Computer Line-up with Enhanced Performance and 5G Compatibility
22 Aug, 2022, Taipei, Taiwan — — Advantech, a leading provider of AIoT platforms and services, is pleased to announce the release of two din-rail edge computers — the ARK-1221L and ARK-1250L. These computers feature ultra-compact, rugged, and fanless designs that support wide operating temperature ranges (-40 ~ 60 °C; -40 ~ 140 °F) and voltage input. Both ARK-1221L and ARK-1250L support 5G/LTE integration, enabling higher efficiency and increased productivity when used in factory and smart city applications. They also support Windows 10 and Ubuntu for easy deployment and integration. Read more ...
High Efficiency Network Appliances SCB-1931 & SCB-1933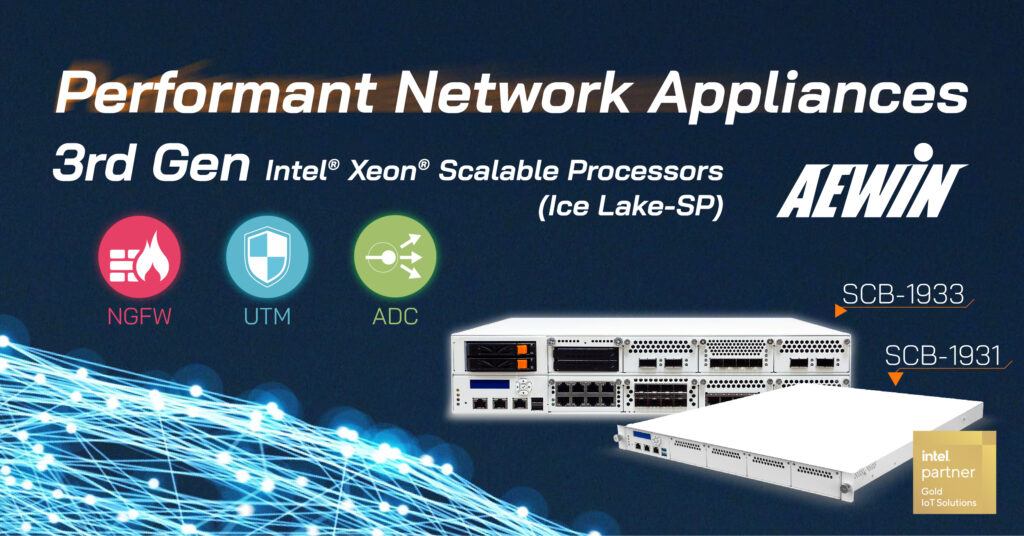 17 August, 2022 - AEWIN SCB-1931 and SCB-1933 are the latest high-performance Network Appliances powered by 3rd Gen Intel Xeon Scalable Processor (Codenamed Ice Lake-SP). SCB-1931 is a 1U rack-mount platform with 4x PCIe 4.0 expansion slots while SCB-1933 is a 2U rack-mount system with up to 8x PCIe slots that provide high throughput with AEWIN self-design NICs ranging from 1G to 100G. The models can fulfill desired workload and throughput with great flexibility and lower TCO. Read more ...

Avalue Launches New Rugged Panel PCs ARC-1535/ARC-1538
17 Aug, 2022, Taipei, Taiwan - Avalue Technology (stock code: 3479), an embedded industrial PC maker and a member of Intel®
Internet of Things Solutions Alliance, endeavors to provide a complete range of smart retail, smart healthcare, smart manufacturing, intelligent transportation, and embedded solutions. Avalue has recently unveiled its new-generation rugged panel PCs with touchscreen – the ARC-1535 with Intel® Atom® x6211E/x6413E/x6425E processor and the ARC-1538 with 11th Gen Intel® CoreTM i7/i5/i3 processor. The ruggedized ARC series are specifically designed to be waterproof, dustproof, shockproof and scratchproof. Able to survive high humidity, temperature and vibration, they are ideally suitable for operation in harsh environment, ensuring that machines continue working normally without disruption.
Axiomtek Launches Edge Computer with Dual GPU Expansion for AI Accelerated Processing – IPC972
29 August, 2022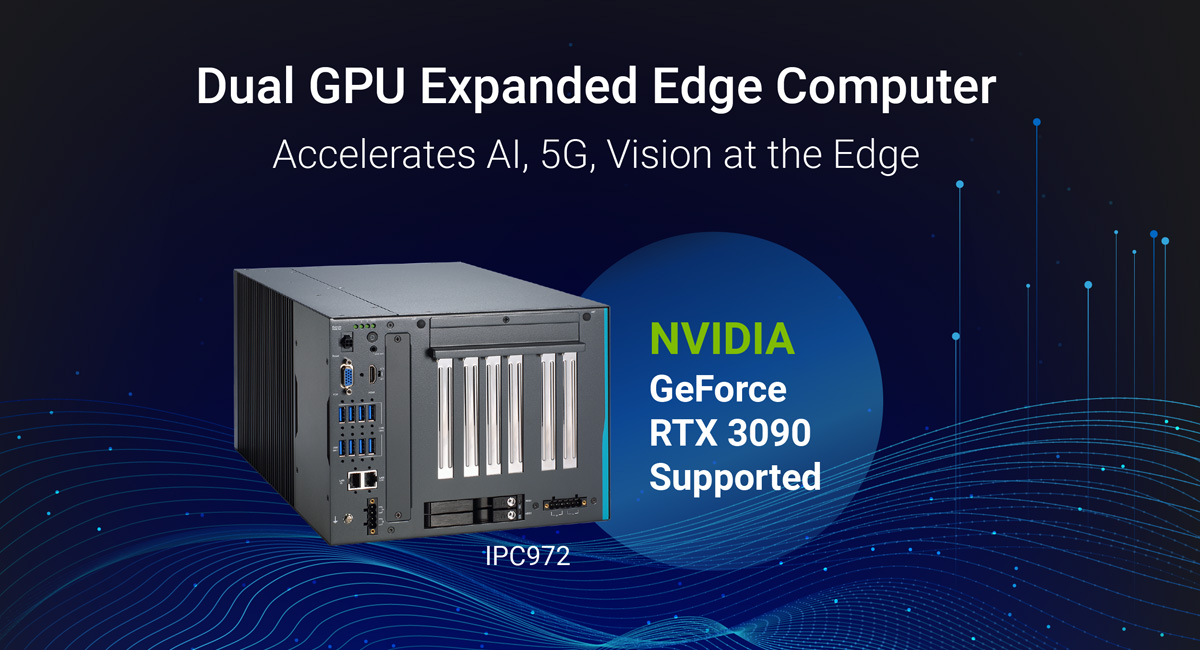 Axiomtek is proud to introduce the IPC972, its new industrial edge AI system with dual GPU support. The highly expandable edge computer supports the Intel® Xeon® or 10th gen Intel® Core™ i7/i5/i3 processor (code name: Comet Lake S) with the Intel® W480E chipset. With the ability to support two NVIDIA® GeForce RTX 3090 GPU cards, the IPC972 enables to facilitate image processing, real-time control, data analysis, deep learning, AOI, data acquisition, and more automation tasks. Read more ...

New releases from ICPDAS:
August, 2022
tDS-715-T, tDS-715i-T – Tiny (1x RS-422/485) Serial-to-Ethernet Device Server (Terminal Block Power Input)
The tDS-715(i)-T is a Serial-to-Ethernet device server that is designed to add Ethernet and Internet connectivity to any RS-422/485 devices, and to eliminate the cable length limitation of legacy serial communication. It can be easily used for remote controlling of your serial devices through Ethernet network.
tGW-715-T, tGW-715i-T - Tiny Modbus/TCP to RTU/ASCII Gateway with 1-port RS-422/485 (Terminal Block Power Input)
Modbus has become a standard industrial communication protocol, and is now the most commonly available means of connecting industrial electronic devices. Modbus allows for communication between many devices connected to the same RS-422/485 network, for example, a system that measures temperature and humidity and communicates the results to a computer. Modbus is often used to connect a supervisory computer with a remote terminal unit (RTU) in supervisory control and data acquisition (SCADA) systems.
CL-250-E - Remote O2/Temperature/Humidity/Dew Point Data Logger Module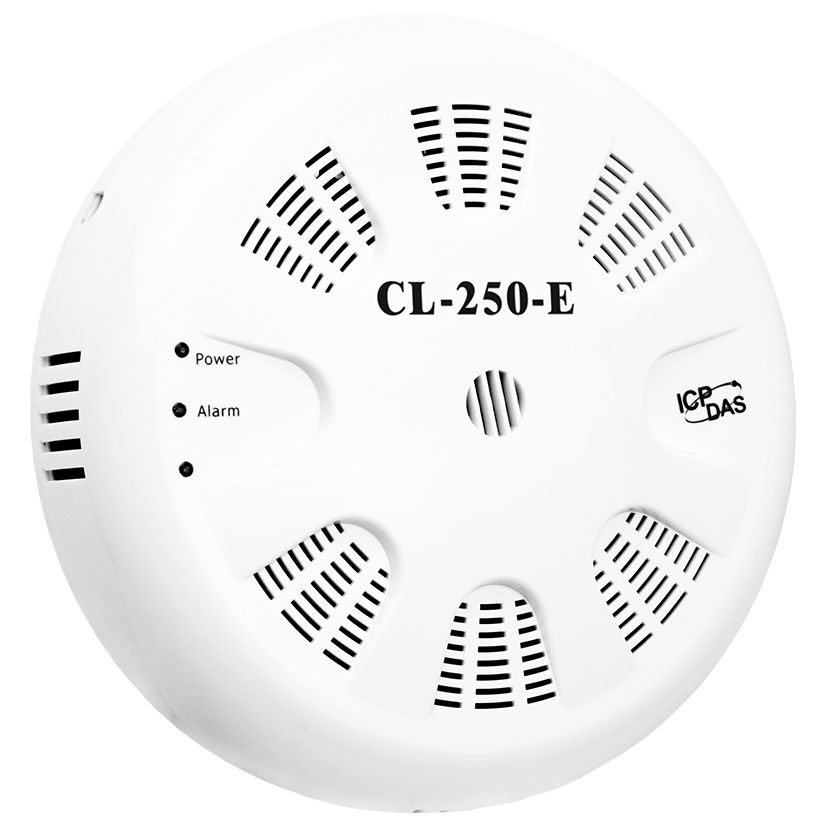 The CL-250-E data logger devices can be used to record O2, temperature, humidity and dew point information, including the date and time stamps, and are able to store up to 450,000 downloadable records. Real-time data can be accessed from the CL-200-E series data logger from anywhere and at any time using the free Windows software, the iOS App, or the Android App, as long as they are connected to the same local network as the data logger connected.
iSN-104 - 4-channel Liquid Leak Detection Module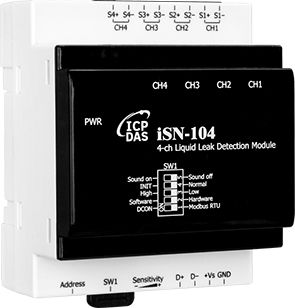 The iSN-104 Liquid Leak Detection Module is a low-cost intelligent liquid leak detection device that can be used to directly control triggers and audible alarm. No additional conversion module is needed and the iSN-104 can be easily integrated with a variety of monitoring systems to achieve remote alarm and remote device control. The iSN-104 Liquid Leak Detection module can be used to monitor double-core leader cable lengths of up to 500 meters, and can be used with both the extended cable and its included liquid leak detection cable. Read more ...

iKAN Industrial Modbus LED Display

The iKAN series is a family of industrial high brightness Modbus LED display devices that deliver industrial-grade anti-noise capabilities as well as reliability and stability. ASCII characters and Unicode characters, which can be used to display multiple languages, are supported for presenting formatted messages. Support for the popular Modbus industrial protocol is provided meaning that iKAN display devices can be easily integrated into existing PLC and SCADA environments.


ECAT-2517 - 8-port EtherCAT Junction Slave Module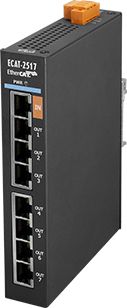 ECAT-2517 is 1-to-7 port EtherCAT junction slave. It is designed to implement wiring deployment by daisy chain and branch more flexibly and easy to maintain.
Read more ...
iBASE: Wide-Temperature Outdoor Signage Player

Taipei, Taiwan, August 30, 2022 – IBASE Technology Inc. (TPEx: 8050), a world leading manufacturer of digital signage media players, has launched a new compact fanless, outdoor signage player for three HDMI displays and designed with Intel® Atom® x6000/Celeron® processors (formerly Elkhart Lake). Built for smart retail and drive-thru applications, not only does it provide an eye-catching retail experience but also help increase foot traffic that leads to higher revenue. Like all other IBASE digital signage players, the latest SE-103-N boasts advanced functions including iSMART/iControl energy-saving and Observer remote monitoring technologies with power on/off scheduling and power recovery functions. Read more ...

New Releases from IEI:

IEI Launches Modular Edge AI Inference System with 10 th / 11 th Generation Intel® Core™ Processor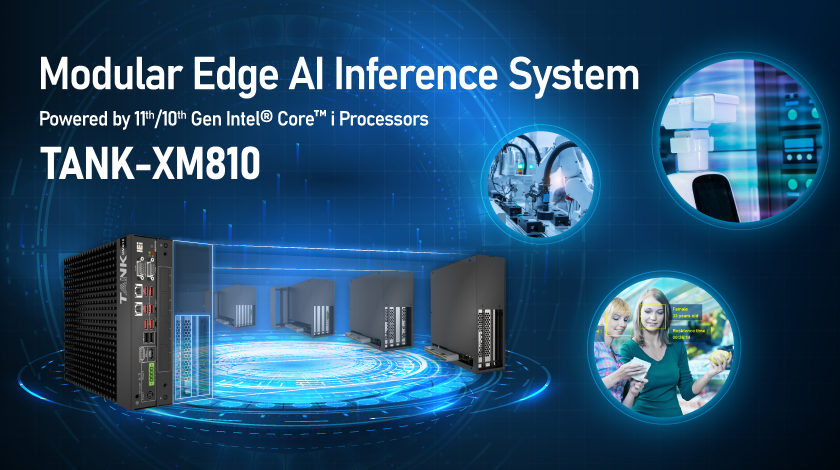 22 Aug, 2022. IEI has engineered the TANK-XM810 with the latest technologies to deliver optimized and reliable processing performance at the rugged edge. This product features 11th/10th generation Intel® Core™ processors and comes with multiple I/O combinations and a modular expansion solution. Expansion is supported by IEI's unique eChassis boxes and eBP backplanes. Read more ...
IEI Launches Desktop Form Factor Network Appliance PUZZLE-3034 powered by Intel® Atom® Processors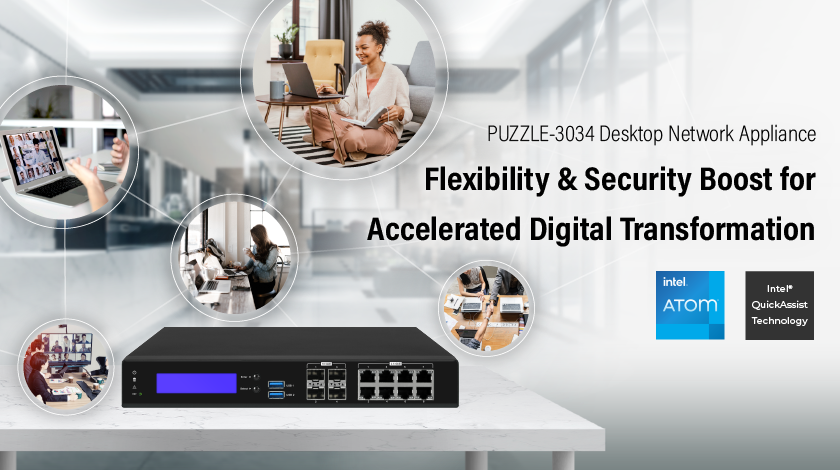 23 Aug, 2022 - IEI Integration Corp., a leading provider of network appliance solutions, introduced the PUZZLE-3034 desktop network appliance as a flexible uCPE solution. The PUZZLE-3034 provides a cost-efficient way to build SD-WAN infrastructure with additional virtual network functions (VNFs), which is ideal for those small and medium-sized companies who are seeking an effective approach to digital transformation without significant hardware investment in order to offer high-quality digital experiences for their employees in hybrid work age. Read more ...

IEI Announced New 3.5'' SBC Featuring 11th Gen Intel® Core™ Processors for Industrial IoT - WAFER-TGL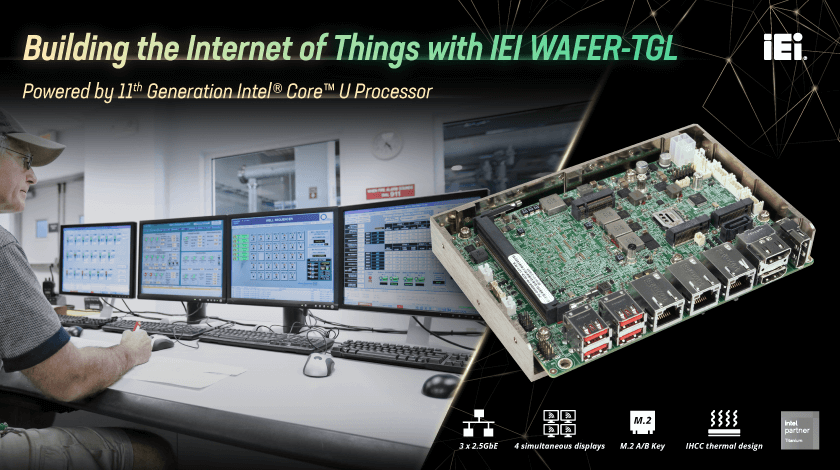 24 Aug, 2022 - IEI WAFER-TGL takes all the essential elements of the latest 11th Gen. Intel® Core™ U-series processors and combines them with smart manufacturing features and proven durability in the compact size 3.5" form factor.
It is ideal for space-constraints installation, notably AGVs(Automated Guided Vehicle), AMR (Autonomous Mobile Robot) and small cabinets in factories. It features complete I/O interfaces such as three 2.5 GbE LAN ports for motion control / IP cameras, an M.2 B-key with SIM slot for LTE cellular communication, and USB 3.2 Gen 2, serial ports for connecting sensors and communicating with other devices. Read more ...
Jetway Networking Application Series – Intel Elkhart Lake J6412, 16GB DDR4 RAM, Massive 2.5GbE
18 Aug, 2022
Jetway, a world-leading Industrial PC (IPC) manufacturer, is pleased to launch its latest IPC boards and barebone systems based on Intel® Elkhart Lake J6412 SoC processor and massive 2.5GbE to provide a perfect solution for network applications.
Intel® Elkhart Lake J6412 + 16GB DDR4 RAM is designed to completely handle 4~6* 2.5GbE throughput that allow each connection to reach full potential to 250MB/s bandwidth to boost productivity. Ideal for next gen firewall and Edge Computing. Read more ...




New Releases from Winmate:
August, 2022
(Too many to show details) Read more here ...



Vecow Launches IVX-1000 Series 12th Gen Intel Core Processor In-Vehicle Computing Workstation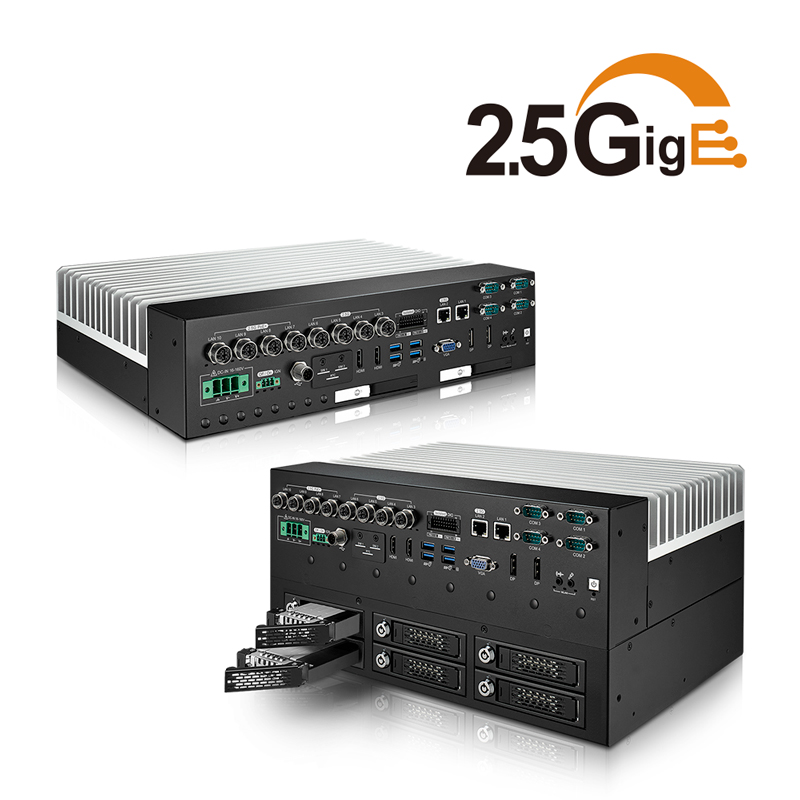 New Taipei City, Taiwan, August 30, 2022 - Vecow Co., Ltd., a team of global embedded experts, today introduces a brand-new In-Vehicle Computing Workstation, the IVX-1000 powered by 12th Gen Intel® Core™ i9/i7/i5/i3 Processor. The system has multiple innovation designs and is easily deployable for railway applications. Featuring 16V to 160V and 500V surge protection, rugged M12 connectors, and flexible storage options, the IVX-1000 provides a rugged AI-enabled solution for In-Vehicle applications including ADAS, Mobile Communication, Public Security, and any AIoT/Industry 4.0 applications. Read more ...