13 Sep
Posted By
0 Comment(s)
166 View(s)
Welcome to our latest Industrial PC news roundup, once again hot off the press!
Neousys POC-451VTC Ultra-compact Computer with E-Mark Certification Opens the Door to Innovative In-vehicle Applications
Taipei, Taiwan – Sep. 8th, 2022 – Neousys Technology, an industry-leading provider of rugged embedded systems, announced its POC-451VTC, an ultra-compact in-vehicle computer with E-Mark certification for in-vehicle applications such as passenger information system, mobile gateway and surveillance. Powered by Intel Elkhart lake Atom x6425E processor and integrated Intel® UHD Graphics, the system delivers 1.8x and 2x performance improvement for the CPU and GPU, respectively, when compared to the previous POC generation.
POC-451VTC provides multiple M.2 and mPCIe slots to install 5G/ LTE, WiFi 5, WiFi 6 and CAN bus modules for in-vehicle applications. In addition, it supports Google TPU for edge AI inference. And to sustain optimal system performance in high-temperature environments, POC-451VTC has a dedicated conduction-cooled heat spreader to dissipate the heat generated by M.2/ mPCIe modules.
Several new releases from Winmate:
2 Sept, 2022
(Click to read more ...)

SANYO DENKI Develops New 1-Gigabit Ethernet LAN Interface Card for UPS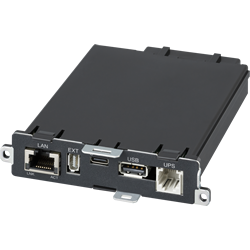 1 Sept, 2022
SANYO DENKI CO., LTD. has developed and launched a new LAN Interface Card, a UPS option for connecting a UPS to networks. This product monitors UPS status in real time to prevent power problems from damaging servers and systems.
Features:
1. High-Speed Communication
This card supports 1-Gigabit Ethernet for use in high-speed, high-capacity networks such as data centers and other various network environments.
2. Supports Shutdown of Various Servers
In addition to SSH (Secure Shell),(1) this card also supports REST API,(2) which is simple and highly versatile, for shutting down servers.
This enables servers that only support REST API to be shut down.
Portwell Announces New High Performance and Fanless Embedded System Featuring 10th Generation Intel® Core™ Processors
WEBS-45H3 Is Rugged, Fanless and Ideal for Machine Vision and Factory Automation Applications
13 Sept, 2022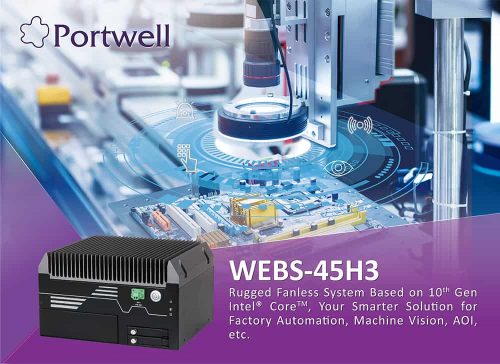 Portwell, Inc., a world-leading innovator for Industrial PC (IPC) and embedded computing solutions, and a Titanium Partner of the Intel Partner Alliance, announces WEBS-45H3, a high-performance fanless Box PC. Powered by the 10th Generation Intel Core processor with integrated Intel UHD Graphics 630, the WEBS-45H3 system supports high-resolution triple display output, serving as an ideal platform for performance and graphics-demanding applications.
WEBS-45H3 is designed to provide a solution with power efficiency and value added. Instead of adopting a mobile CPU as a traditional embedded system, the WEBS-45H3 utilizes 35W Intel desktop CPU and Intel Q470 chipset, which is more economical compared to its mobile counterpart. The WEBS-45H3 provides great performance as well as low power consumption; these features not only make WEBS-45H3 compatible, but also outstanding in the market.


NDiS V1100 Edge AI Computer Leads the Path for Advance Elderly Care
1 Sept, 2022, NEXCOM — Better elderly care through AI technology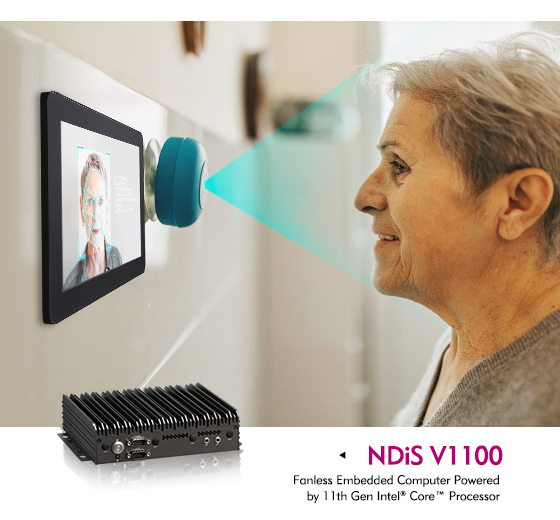 Powerful hardware for AI applications
The NDiS V1100 is a powerful AI-capable edge AI computer supporting 11th Gen Intel® Core™ i3 and i5 chipsets with additional AI processing capacity provided through the Intel® Iris® Xe graphics processor. The NDiS V1100 provides Intel® AMT for remote management, 4 x HDMI 2.0 for multi-display setup, 4 x USB for camera or peripherals, 2 x Intel® GbE LAN for high-speed control center connection, M.2 Key B slot for 4G or 5G module, M.2 Key M for SSD (or AI card), and mini-PCIe slot for a Wi-Fi and Bluetooth module.
Applications for better elderly care
AI uses powerful computer hardware to "see" the environment through cameras and respond to real-world events. By leveraging the power of computerized automation, an edge AI computer system can function as monitoring systems, AIoT health monitors, smart home hubs, and provide AI facial detection.


NEXCOM's New Cyber Security Appliance Boosts Data Transfer Efficiency
13 Sept, 2022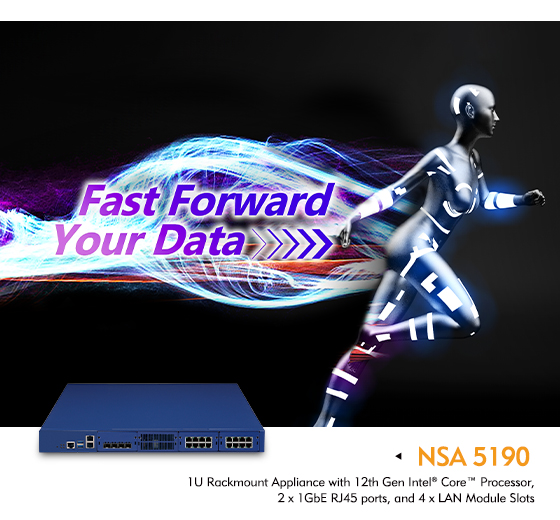 NEXCOM, a leading supplier of network appliances, announces a new addition to its well-established cyber security product line with a 1U rackmount - NSA 5190. Besides featuring the latest 12th Gen Intel® Core™ processor and the highly-anticipated PCIe 4.0 interface, NSA 5190 offers enhanced memory capacity and security.
The pandemic and its consequences have brought all spheres of peoples' lives to turmoil. Business meetings, casual small talk all moved online, which led to the tremendous growth of digital data. Massive work-from-home and stay-at-home entertainment are a new reality, unlikely to go back to the old ways in the nearest future.
Meanwhile, as technology evolves and data grows, the information must securely travel from point to point in a fast-forward mode. This is especially true for enterprises in the Fintech circle, who need to be constantly bringing their IT update to the latest cyber security standards, if not above.


The Premier IoT Solution for Industrial Automation, AAEON's new ATX-Q670A Offers DDR5, Unique Expansion, and Enhanced Security
1 Sept, 2022
Supporting four dual-channel DDR5 DIMMs, alongside two PCIe [x16] expansion ports and a bootable USB port feature, the ATX-Q670A is industry-leading in both performance and market potential.
With this innovation, the ATX-Q670A can provide customers with an unprecedented 50% increase in bandwidth and also a decrease in power consumption compared to prior generations. Particularly suited to IoT applications, the ATX-Q670A also combines the greatest maximum SATA performance with the very fastest SSD to give customer applications access to higher I/O speeds. Read more ...
The GENE-ADP6 - Introducing Intel® Alder Lake Processing Power, DDR5, and 8K Resolution Display to the 3.5" SubCompact Board
6 Sept, 2022
With a 15% boost in CPU performance, 50% faster data transfer speeds, and four independent displays with Intel Iris® Xe Graphics, the GENE-ADP6 is the perfect board for machine vision solutions.
AAEON's new GENE-ADP6 unlocks the door to elite edge computing, digital signage, and machine vision applications with enhanced features across the board. The GENE-ADP6 provides a 15% improvement in CPU performance through the Intel® 12th Generation Core™/Celeron® CPU (formerly Alder Lake-P), featuring hybrid platform processor architectures with up to 12 cores and 16 threads.
AAEON's de next-TGU8 Breaks Through Board Space Limitations in Single Board Computing
12 Sept, 2022
The de next-TGU8 introduces extreme performance and full-function industrial design to an unprecedentedly small board.
In a major breakthrough in single board computing, AAEON introduces the de next-TGU8, the smallest board featuring an on-board Intel® Core™ i-level processor ever created, measuring just 3.31" x 2.17" (84mm x 55mm).
Offering up to 4 cores, with 8 threads, the 11th Generation Intel® Core™ i7/i5/i3/Celeron® Processor (formerly Tiger Lake-UP3) provides the de next-TGU8 with the kind of high-performance power never-before-seen in a board so small.
This power ensures users can utilize the potential of the de next-TGU8's 16GB onboard LPDDR4x memory and expandability, ... Read more ...