27 Sep
Posted By
0 Comment(s)
182 View(s)
Welcome to our latest Industrial PC news roundup, once again hot off the press!
Two new releases from AAEON in this issue:
With 40% Greater CPU Performance and Twice the Graphics Capability, the UP Squared V2 Offers More Power at the Same Low Cost
16 Sept, 2022
AAEON, renowned for its UP Board range, has announced the UP Squared V2, the successor to its UP Squared Developer Board. Providing dramatic improvements in processing power, graphic capability and expansion options on the same 3.37″ x 3.54″ (85mm x 90mm) form factor, the UP Squared V2 is designed to make the development process more efficient. While still reflecting the competitive pricing of the previous generation, the UP Squared V2 boasts a 40% improvement in CPU performance due to its Intel® Celeron® N6210 Pentium® J6426 Processor SoC (formerly Elkhart Lake)
AAEON Announces the BOXER-8621AI Based on New NVIDIA Jetson Orin Nano Edge AI Platform for Use on the Edge
22 Sept, 2022
AAEON has introduced the BOXER-8621AI, built to support the NVIDIA® Jetson Orin Nano system-on-modules (SOMs), which set a new baseline for edge AI and robotics, as announced by NVIDIA at GTC.
The system comes in two SKUs, the BOXER-8621AI-A1 and BOXER-8621AI-B1, hosting an array of features designed to channel the power of the new Jetson Orin Nano SOMs, with enhanced expandability for AI, 4G/5G, Wi-Fi, and storage modules. Further to this, the BOXER-8621AI will be purpose built for customers to take advantage of the Orin Nano's inferencing capabilities, particularly for use in identity management, public safety, and traffic management applications.
AND-El6KE1 for UTM, NGFW, firewall, VPN, SDN, NFV, vCPE, and SD-WAN service providers.
16 Sept, 2022
Today, Acrosser Technology is introducing its brand new network appliance product- AND-El6KE1 to satisfy the needs of UTM, NGFW, firewall, VPN, SDN, NFV, vCPE, and SD-WAN service providers.
The AND-EL6KE1 is equipped with the latest Intel® Celeron® J6000 /Pentium® N6000 series/Atom™ x6000E series processors (formerly Elkhart Lake). This new product is specially designed to satisfy every aspect of UTM, NGFW, firewall, VPN, SDN, NFV, vCPE, and SD-WAN service providers.
To enhance product reliability, AND-EL6KE1 built a redundant power supply to prevent unpredictable accidents. To empower the connection ability, AND-EL6KE1 is equipped with 4 copper Gigabit RJ-45 LAN ports and 1 fiber SFP port, and also provides 6 antenna ports and 3 Mini PCIe slots (co-lay with M.2) to increase wireless flexibility. Up to three wireless modules can be installed at the same time in AND-EL6KE1 (including multiple Wi-Fi and Bluetooth networks and 4G and 5G cellular modules).


ASRock X670E Motherboard Series Launches Ready for AMD Ryzen™ 7000 Series processors
22 Sept, 2022
TAIPEI, Taiwan, September 22 2022 – Leading global motherboard manufacturer, ASRock, is proud to announce its X670E motherboard series, ready for new AMD Ryzen™ 7000 Series processors. This first wave of AMD Socket AM5 motherboards includes Special Edition X670E Taichi Carrara, flagship X670E Taichi, high-end X670E Steel Legend, mainstream X670E PRO RS, and entry X670E PG Lightning.

Read more ...


Avalue is Launching the 1st 1.8 Inch Embedded SBCs EZX-EHLP
26 Sept, 2022
Avalue Technology Inc. (TAIEX: 3479-TW), a global industrial PC solution provider and a Titanium member of the Intel® Partner Alliance, is bringing the new 1.8" embedded single board computers, EZX-EHLP, with Intel® Pentium®/Celeron®/Atom™ SoC BGA Processor (Elkhart Lake Platform 4.5~12W), CPU bottom mounted, with huge improvement on performance and big step ahead with Intel® UHD Graphics target entry-level application market. With improved performance, I/O capability, and security features, EZX-EHLP is the ideal SBC for industrial automation, retail, smart city, IoT solutions, etc.
1.8" SBC EZX-EHLP features flexible I/O supports 2 x USB 3.1 Gen.2, 4 x USB 2.0, 1 x RS-232/422/485 with DC power input 12V. It supports dual display: Mini DP and eDP for all kinds of applications. This SBC design with one M.2 expansion slot: M.2 B-Key SATA/PCIe/USB supports storage to enable expansion and also WWAN+GNSS with FPC connector. Also, EZX-EHLP offers single Intel® Gigabit Ethernet with 1GbE. Read more ...
Axiomtek unveils Advanced Industrial ATX Motherboard with 12th Gen Intel® Core™ Processor for AIoT Application – IMB540

19 Sept, 2022
Axiomtek is glad to introduce the IMB540, a superior industrial ATX motherboard featuring the LGA1700 socket for the 12th generation Intel® Core™ i9/i7/i5/i3 processors (code name: Alder Lake-S). In addition to providing high computing performance, the IMB540 ATX motherboard features quad displays and dual GPU expansion, delivering intelligent workload optimization and highly scalable graphics for next-gen edge AIoT applications. Read more ...




Rapid Robot Rollouts — NexCOBOT GRC Gets Robots From Concept to Completion Faster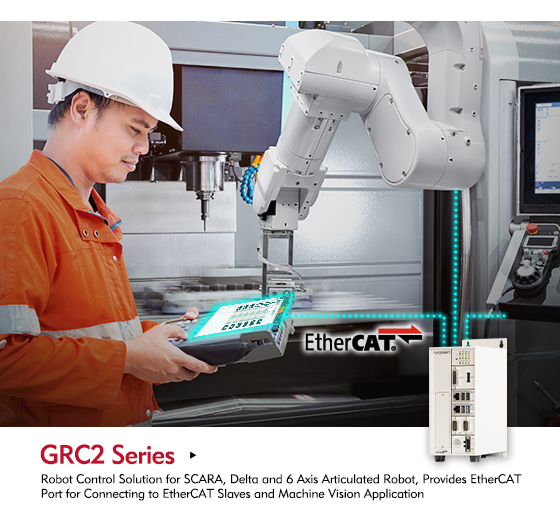 20 Sept, 2022
NexCOBOT's General Robot Controller (GRC) is a fully-integrated EtherCAT-based general robot controller package for industrial robot development, streamlining the industrial robot development process and helping enterprises accelerate time-to-market.
Slated to reach USD 74.1 billion by 2026, at a CAGR of 17.45%, a report by Mordor Intelligence shows robots have bucked recent downward trends. As automation industries drive demand by incorporating more robots into their production lines, robot makers are pushing to expand their customized service offerings.
SEA SONIC to Launch New Vertex Power Supplies