11 Oct
Posted By
0 Comment(s)
59 View(s)
Welcome to our latest Industrial PC news roundup, once again hot off the press!
Vecow Launches EAC-5000 Series Edge AI Computing System Powered by NVIDIA Jetson AGX Orin

Sept 28, 2022, Taipei

Vecow Co., Ltd., a team of global embedded experts, today introduces a new addition to its edge AI computing system portfolio, the EAC-5000, powered by the NVIDIA® Jetson AGX Orin™ platform. The compact EAC-5000 is rugged in design and supports high compute density with I/O flexibility for advanced edge AI applications in harsh environments. With support for 9V to 50V wide range DC power input, operating temperature range from -20°C to 70°C, as well as software ignition control, Vecow EAC-5000 is ideal for in-vehicle computing, robotic control, machine vision, intelligent video analytics, mobile robots, and any embedded AI applications.
Transcend Industrial Grade PCIe Gen 4x4 M.2 Solid State Drive MTE720T

Sept 29, 2022
Transcend Information, Inc. recently launched PCIe Gen 4x4 M.2 solid state drive MTE720T, using 112-layer 3D NAND flash memory, sequential read and write speeds of up to 7,200 per second MB and 6,500MB, with a durability of 3K P/E cycles, with excellent random read and write speed and durability for high-end market applications such as 5G, edge computing and smart Internet of Things, providing a favorable and reliable embedded storage solution. The MTE720T adopts an 8-channel design and conforms to the NVMe 1.4 standard. The built-in DRAM can shorten the reading time and optimize the random reading speed.
Read more ...(Chinese)

Neousys Releases Nuvo-2600 Series, Compact Fanless Computers with Intel® Atom® x6425E Processor, PoE+, Patented Technologies, and Rich I/Os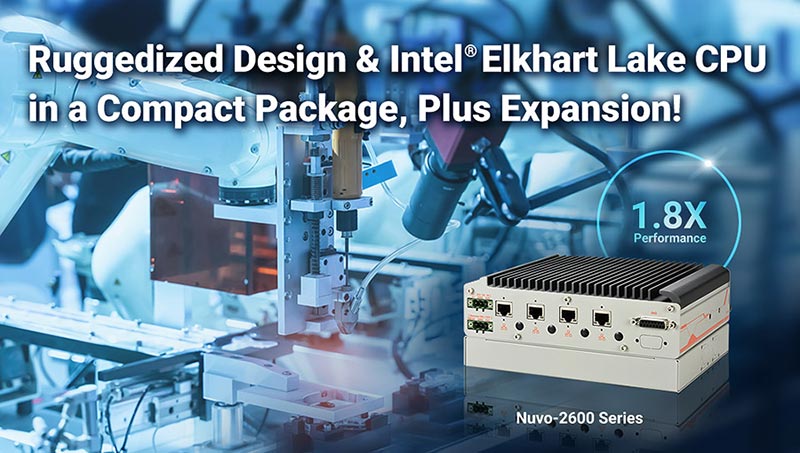 Sep. 28, 2022, Taipei, Taiwan
Neousys Technology, an industry-leading provider of rugged embedded systems, today released their latest compact fanless computer, the Nuvo-2600 series. Powered by Intel® Elkhart Lake quad-core processor, Nuvo-2600 series provides up to 1.8x the CPU performance over its predecessor, Apollo Lake. Featuring rich I/Os and a flexible patented expansion Cassette module, the Nuvo-2600 is an ideal embedded system for industrial applications such as machine vision or logistics automation. With an optional ignition power control, Nuvo-2600 series can also be applied to AMR applications.


M101TG
10.1" Windows Rugged Tablet PC with Intel® Core™ i5-­1135G7
6 Oct, 2022, New release from Winmate.


KEY FEATURES
10.1" 1920 x 1200 IPS LED Panel with direct optical bonding
Intel® Core™ i5-­1135G7 Tiger Lake processor
IP65 waterproof and dustproof, MIL-­STD­-810H shock, vibration and drop resistance
Sunlight readable with anti­glare solution
Hot­swappable battery design
USB Type-C port support power delivery 20V In
Once again Winmate has several new releases and upgrades. Check out the latest here...


RuggON Introduces the Powerful 8" LUNA 3 Fully Rugged Tablet
5 Oct 2022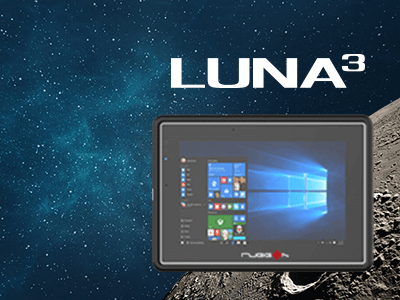 RuggON, an international maker of ruggedized mobile solutions, today introduced its latest fully rugged tablet, the 8" LUNA 3. Featuring an eco-friendly design, it is the most powerful yet highly efficient model in its class. With Windows 10 IoT Enterprise SAC operating system, the Luna 3 is an ideal solution for warehouse and logistic operations, unmanned aerial vehicles (UAV), and law enforcement, specifically traffic officers and motorcycle police.
IEI Launches Power-Efficient Mini-ITX Motherboard to Help Harness IoT Edge Computing - KINO-EHL-J6412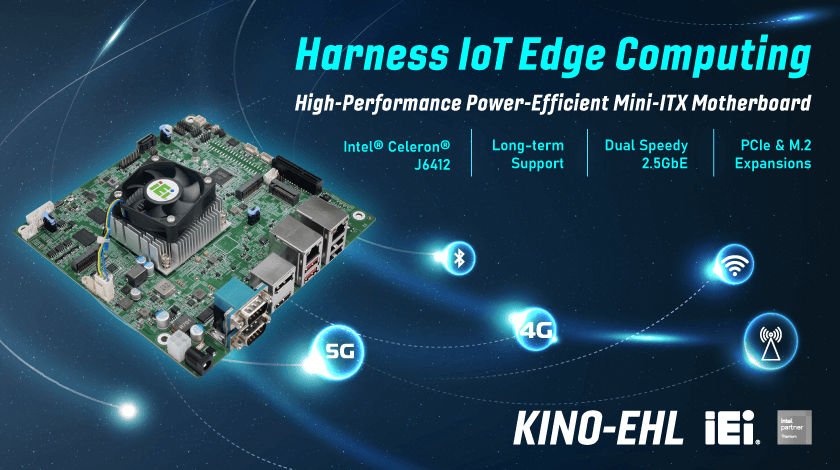 Set. 28, 2022
IEI Integration Corp., a leading provider of industrial computing service, introduced the KINO-EHL-J6412 Mini-ITX motherboard that features reliable performance, advanced network connectivity and rich I/O capabilities in a compact board. The motherboard supports up to 3 display outputs, 8 USB ports and 6 COM ports for a wide range of peripheral connections. Dual 2.5GbE and 5G & Wi-Fi expandability are available to provide high-bandwidth data transmission. Its flexible customization options and low power advantages make it the ideal choice for IoT edge applications, which require economic solution with high scalability and reliability.
Low-power Railway Gateway Computer with Intel Atom x6000E Processors
29 Sept. 2022,
– IBASE Technology Inc. (TPEx: 8050), a world leading manufacturer of industrial motherboards and embedded computing solutions, is proud to announce its latest intelligent railway gateway computer supporting the new Intel® Atom® x6000E Series processors (codenamed Elkhart Lake). Certified with EU EN45545-2 fire protection and EN50155 standards covering equipment used on rolling stock applications such as Passenger Information System (PIS), surveillance systems and vehicle monitoring systems, the MPT-500R series is built to withstand up to 3Grms/3~500Hz vibration resistance and operating temperature of -30°C to +70°C.
Axiomtek Unveils New Fanless Embedded System with Flexible Expansion Options – eBOX710A
29 Sept, 2022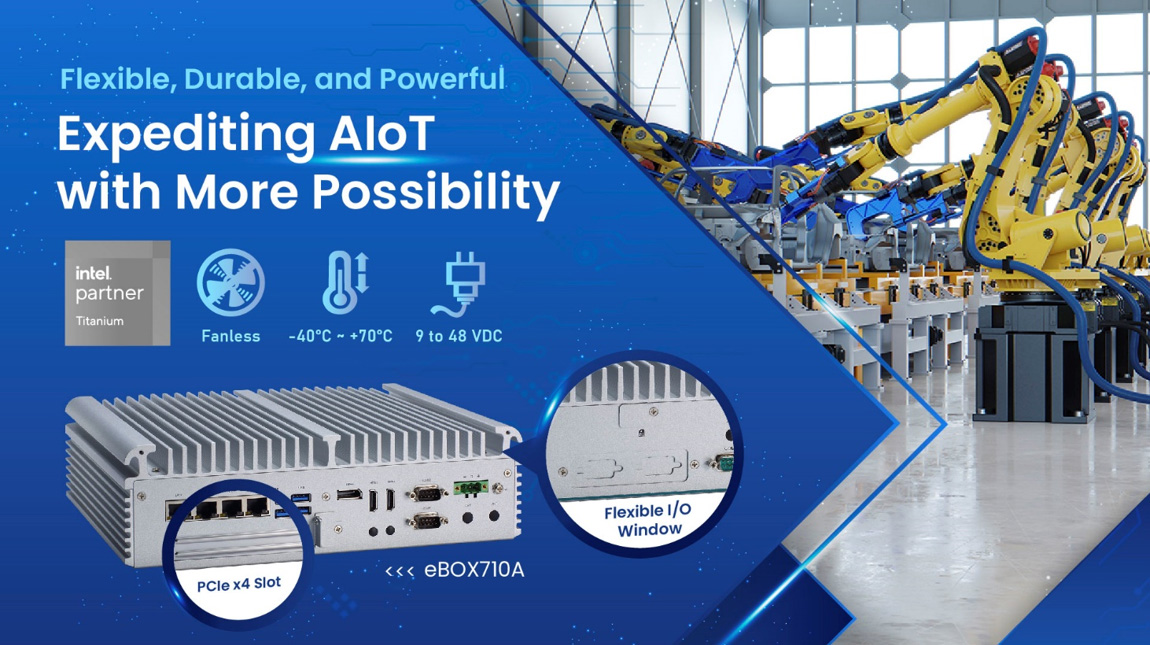 Axiomtek is proud to unveil the eBOX710A, a highly-scalable fanless embedded system. The eBOX710A is powered by the high-performance 11th/10th generation Intel® Core™ i9/i7/i5/i3 or Celeron® processor (code name: Comet Lake-S) with the Intel® H420E chipset. The IP40-rated embedded box PC is designed to operate reliably in industrial environments with a wide operating temperature range of -40°C to +70°C, vibration endurance for up to 3G and 9 to 48 VDC power input. The durable eBOX710A comes with one PCIe x4 expansion slot which makes it well-suited for machine learning, deep learning, robotic control, edge computing, and more AIoT applications.
ASRock Launches B650E/B650 Motherboard Series with Evolutionary Design.
3 Oct, 2022 ,Taipei
Leading global motherboard manufacturer, ASRock, is proud to announce its AMD B650E/B650 motherboard series. These motherboards are targeted at the mainstream AM5 segment featuring various exciting new products such as our flagship B650E Taichi, the high-end B650E Steel Legend Wi-Fi for high end market, B650E PG Riptide Wi-Fi and B650 PRO RS for mainstream users, and B650 PG Lightning a new SKU joining the Phantom Gaming family targeted the entry level market. ASRock also offers the new B650E PG-ITX WiFi for small form factor enthusiasts.
New ARBOR EmSMK-i2403 SMARC 2.0 CPU Module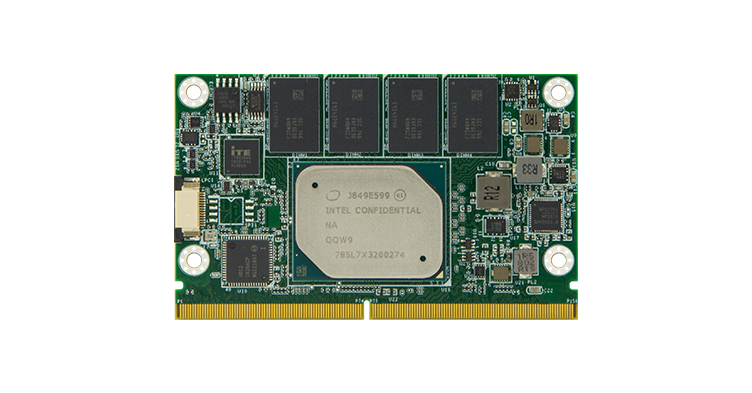 3 Oct, 2022

ARBOR Technology, a leading provider of embedded computing solutions, announces the release of the ARBOR EmSMK-i2403.
Based on Intel® Atom™ x7-3950, x5-3940, x5-E3930 Processors which are low power, high performance, and cost effective. The board sizes are defined: 82mm x 50mm with SMARC 2.0 Standard.
Multiple I/O Interface
EmSMK-i2403 features 2 x USB 3.0, 6 x USB 2.0 and 4 x PCIex1 lanes. As to storage, Users are able to choose the SATA type HDD or eMMC for the storage. With an extended range operating temperature of -20 to 85˚C, the EmSMK-i2403 can be suitable for harsh environments, as the result, it is suitable for automation, medical, IoT, and transportation applications.
AEWIN Announces Network Expansion Modules- NCG405A, NFT207A, NFT404A, NFD201A
28 Sept, 2022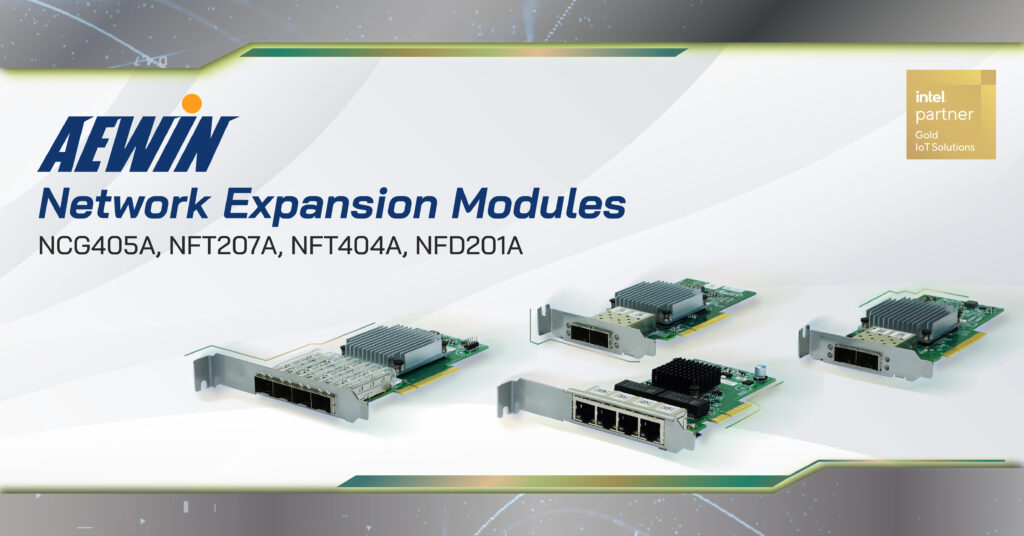 AEWIN is glad to launch our latest four Network Expansion Modules. There are NCG405A with 4x 1GbE RJ45 ports powered by Intel i350-AM4, NFT207A with 2x 10GbE SFP+ ports powered by Intel X710-BM2, NFT404A with 4x 10GbE SFP+ ports powered by Intel XL710-BM1, and NFD201A with 2x 25GbE SFP28 ports powered by Intel XXV710-AM2. Even with 4 ports of RJ45/SPF+, the PCIe x8 cards follow the standard form factor of HHHL (half height, half length) which is compatible with various kinds of platforms with standard PCIe expansion slots.
Advantech Launches EPC-B3000 Series Embedded Computer with advanced X86 architecture CPU for Edge AI Applications
Oct 4, 2022, Taipei

Advantech is proud to release the future-proof high-performance computer - EPC-B3000 series. This series comprises EPC-B3522 with AMD Ryzen™ AM4 5000 series and EPC-B3588 with 12th Gen Intel® Core™. The embedded systems are designed to execute multitasking vision AI applications such as quality inspections or parcel recognitions. To enhance its performance of GPU-accelerated operations at the edge, both systems support NVIDIA Quadro level GPU cards and accommodate up to 4 full height PCIe cards for expansion with chassis dimension of 360 x 310 x 134mm. Moreover, with DDR5 and PCIe Gen5, EPC-B3588 able to better orchestrate complex AI tasks when smooth service flows are highly demanded.
PICMG® Releases Its Newest COM.0 R3.1 Spec for COM Express to Include PCIe Gen 4 and USB 4.0 Support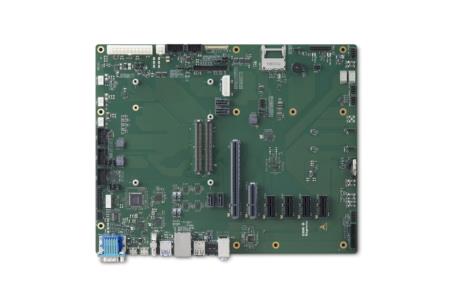 Sept 30, 2022
COM Express R3.1 Compliant Modules — ADLINK Express-ADP Type 6 Basic size and Express-ID7 Type 7 Basic size Now Available
ADLINK Technology Inc., a global leader in edge computing and a chair of the PICMG® subcommittee, is pleased to demonstrate PICMG's latest COM.0 R3.1 with two new COM Express modules complying to the revision — ADLINK's Express ADP Type 6 Basic size and Express-ID7 Type 7 Basic size.
AAEON: The UP Element i12 EDGE Drives a New Era in Industrial Robotics
Oct 6, 2022, Taipei
At the forefront of precision robotics engineering, AAEON has announced the UP Element i12 EDGE, in what the company believes will be a key step in innovating the autonomous mobile robot (AMR) and industrial automation markets.
Combining the agile architecture of 12th Generation Intel® Core™ i3, i5, and i7 processor platforms with industrial-grade engineering, the UP Element i12 EDGE harnesses up to 10 cores and 12 threads, Intel® Iris® Xe graphics, and a selection of peripheral technologies in a rugged, flexible, and easily deployed edge system.
AAEON believes the UP Element i12 EDGE will have a significant role to play in the AMR market. With three USB 3.2 and two USB 2.0 ports for multiple 3D cameras and sensors, along with a dual COM port pin header for RS-232/422/485 connectivity, the device is equipped with enhanced object detection capabilities and more accurate positional data via LiDAR and IMU connections.