08 Nov
Posted By
0 Comment(s)
112 View(s)
Welcome to our latest Industrial PC news roundup!
MM10 Series – Jetway Releases First Industrial Micro-ATX Motherboard Supporting Intel® 12th and 13th Gen Processors
7 Nov, 2022, Taipei
Jetway, a world-leading Industrial PC (IPC) manufacturer, is excited to release its first MM10 Micro-ATX board Series featuring LGA1700 socket for the Intel 12th and 13th Gen processors with choices of Intel® Q670E chipset (MM10-Q6700 Series) or Intel® H610 chipset (MM10-H6100 Series). The MM10 motherboards are designed with blazing fast DDR5 memory support, numerous expansion interfaces, rich I/O slots, security features, and multiple display outputs, perfect for Smart Manufacturing applications including sensors and camera connections, computer vision, data capture and analysis, HMI station, etc.
Portwell Releases New High Performance Embedded System Powered by 10th Generation Intel® Core™ Processors
8 Nov, 2022
Portwell, Inc., a world-leading innovator for Industrial PC (IPC) and embedded computing solutions, and a Titanium Partner of the Intel Partner Alliance, announces WEBS-85H2, a high-performance Box PC. Powered by the 10th Generation Intel Core processor with integrated Intel UHD Graphics 630, the WEBS-85H2 system supports high-resolution triple-display output, serving as an ideal platform for performance and graphics-demanding applications.
W32L300-CHA3 (NEW)
32"
Customized model Chassis Display
11 Nov, 2022, New release from Winmate

KEY FEATURES
32" 1920 x 1080 with P-CAP touchscreen

Bottom side keys x 5

Fanless and Ventless design, Easy-to-Clean

Support VGA, HDMI (Optional) signal input

Front IP65
Vecow Launches ECX-3000 PEG Flexible AI Computing Workstation
2 Nov, 2022, Taipei
Vecow Co., Ltd., a team of global embedded experts, today introduces a complete function of the Flexible AI Computing Workstation, ECX-3000 PEG Series. Powered by 12th Gen Intel® Core™ processor and integrated with the NVIDIA®/AMD graphics card, the ECX-3000 PEG Series provides powerful, flexible and advanced AI productivity and is available in six modules. Support for 12V to 50V wide-range power input, an extended temperature range of -20°C to 45°C and software ignition control make ECX-3000 PEG Series a perfect solution for Robotic Control, Digital Rail, Smart Manufacturing, Public Security, In-Vehicle Computing, and any Edge AI applications.
AAEON Launches the SRG-IMX8P, a Superior IoT Gateway Powered by the Arm® NXP i.MX8M Processor Family

1 Nov, 2022
With Arm® NXP i.MX8M Plus Quad-Core Cortex® processors, 8GB onboard DDR4, and a unique I/O, the SRG-IMX8P makes edge-cloud communication more flexible than ever before.
Leveraging its experience in producing innovative IoT solutions, AAEON has announced the newest addition to its IoT Gateway product line with the launch of the SRG-IMX8P.
Powered by Arm® NXP i.MX8M Plus Quad-Core Cortex®-A53 and Cortex®-M7 processors, the SRG-IMX8P harnesses the benefits of an integrated neural processing unit capable of producing 2.3 TOPS. Further, the inclusion of the Arm® Cortex®-M7 processor offers real-time calculation functionality to enhance machine learning, drastically reducing visual inferencing time for object detection to just 13ms.
The SRG-IMX8P is also equipped with an industry-leading onboard DDR4L system memory of up to 8GB, 16GB eMMC storage and a Micro SD slot for further system storage expansion. Read more ...
Advantech Unveils Its Extreme High-Performance Edge Computers to Enhance AI Vision and Edge Data Server Applications
31 Oct, 2022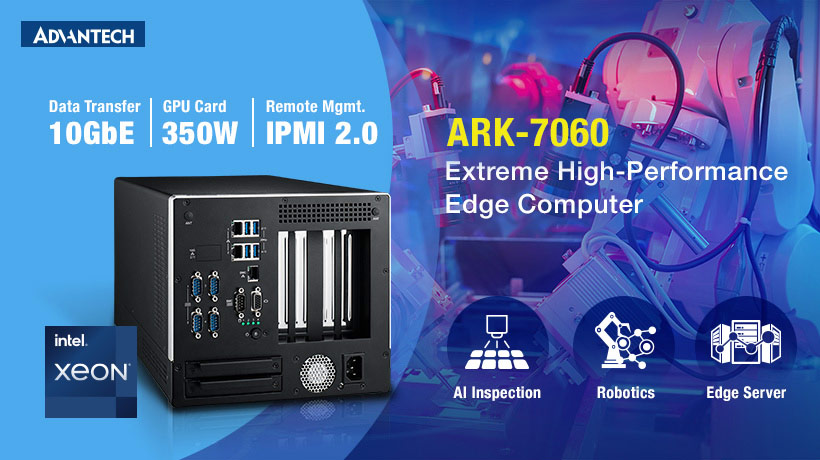 Advantech, a leading provider of AIoT platforms and services, is pleased to launch its ARK-7060 extreme high-performance edge computer, which brings server-class computing capabilities, flexible expansion, rich storage capacity, and high network bandwidth to the edge. Advantech's ARK-7060 is an extreme high-performance edge computer with multiple expansion slots and fast data transfer speeds that empower edge data servers, AOI visual inspection, and AI vision equipment applications. It is equipped with Intel® Xeon® D-1700 series processors up to 10 cores at 67W and 4 x DDR4 SODIMM sockets that support up to 128 GB.
AIMB-278 Delivers Superior Performance with 12th/13th Gen Intel® Core™ Processors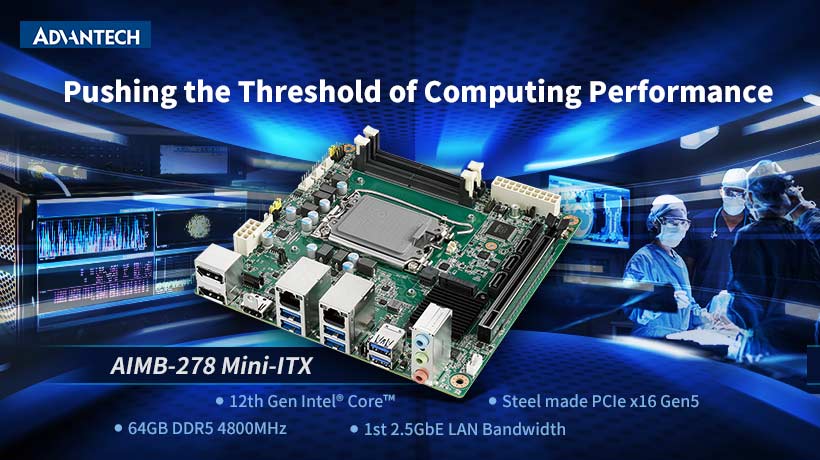 4 Nov, 2022 (Also from Advantech)
Advantech is proud to announce the release of the AIMB-278 industrial motherboard. Powered by 12th/13th Gen Intel® Core™ processors, AIMB-278 leverages DDR5 and PCIe x16 Gen 5 to deliver excellent throughput. Likewise, it supports M.2 M key and M.2 E key expansion and diverse I/O (6 x USB 3.2 Gen 2 and up to 4 x 4K displays) to empower heavy data transmission and vivid image processing capabilities.
Aetina Launches New MXM GPU Modules for AI Performance Boost at the Edge
4 Nov, 2022
Aetina has launched new embedded MXM GPU modules powered by the NVIDIA® RTX™ family, including RTX A1000, RTX A2000, and RTX A4500. These NVIDIA Ampere architecture-based MXM GPU modules, providing superb performance and power efficiency, are suitable for various types of computer vision applications across different industries such as commercial gaming, aerospace, healthcare, and manufacturing.


AEWIN Launches SCB-6997 With the latest Intel i226 controller
3 Nov, 2022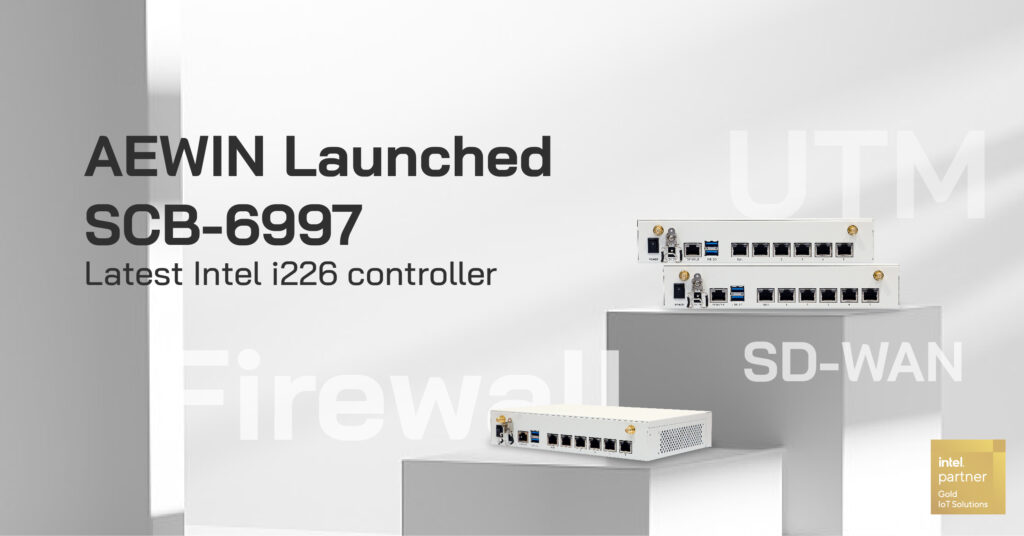 AEWIN is proud to announce the latest Network Appliance powered by Intel Atom Processor (Apollo Lake) featuring sufficient computing power with good energy efficiency. AEWIN SCB-6997 is with Intel's latest LAN controller, i226-LM, which provides up to 6x ports with 2 pairs of Bypass as well as both 1Gbps and 2.5Gbps options.


Avalue launches open-frame multitouch panel PCs – OFP-15W38, OFP-21W38 with 11th Gen Intel® processor
2 Nov, 2022
Avalue Technology Inc. (TAIEX: 3479-TW), a global industrial PC solution
provider and a Titanium member of the Intel® Internet of Things Solutions Alliance, endeavors to provide a complete range of smart retail, smart healthcare, smart manufacturing, smart transportation and embedded solutions. Avalue has recently launched a new series of open frame models – OFP-15W38 and OFP-21W38. Featuring 11th Gen Intel® processor, it boasts faster computing performance which better meets the requirements of the IoT market, supporting low-latency response for time-sensitive applications, and able to execute multiple workloads on a single platform. Highly flexible and customizable, Avalue open-frame panels provide the perfect fit to customers' requirements, making it Avalue's best-selling series. The OFP series is suitable for use in a wide variety of scenarios, including factory automation, self-service kiosks and HMI applications.


Axiomtek Launches New DIN-rail Cybersecurity Gateway for OT Cybersecurity and Secured Edge – iNA200
31 Oct, 2022
Axiomtek is pleased to announce the iNA200, a DIN-rail cybersecurity gateway for operational technology (OT) network security. The iNA200 is powered by the Intel Atom® x6212RE or x6414RE processor (Elkhart Lake) and has one DDR4-3200 SO-DIMM for up to 32GB of system memory. For demanding rugged environments, this fanless IIoT edge gateway comes with a wide operating temperature range of -40°C to 70°C and supports wide power input of 9 to 36 VDC with dual power input. The iNA200 also has two 2.5G LAN ports, sufficient storage, and high expandability for various industrial application needs.