06 Dec
Posted By
0 Comment(s)
42 View(s)
Welcome to our latest Industrial PC news roundup!




AAEON Announces the PICO-V2K4-SEMI, its First Mini-PC Featuring AMD Ryzen V2000 Series Processors
29 Nov, 2022, Taipei
AAEON, an industry leader in embedded solutions, announces the latest addition to its PICO-SEMI product line, the PICO-V2K4-SEMI. The Mini-PC version of the new PICO-V2K4 Single Board Computer (SBC), the PICO-V2K4-SEMI presents customers with AAEON's first system powered by the AMD Ryzen™ Embedded V2000 Series Processors.
Possessing 8 cores and 16 threads, alongside 7nm processing technology, LPDDR4x onboard system memory, and AMD Radeon™ graphics, the PICO-V2K4-SEMI is an elite Mini-PC. With its AMD Ryzen Embedded V2000 Series Processor containing both high multi-thread performance and a low 10-25W thermal design point, it also offers excellent energy-efficiency.
Despite being incredibly compact, measuring just 4.80" x 3.18" x 2.13" (122mm x 80.8mm x 54mm) and weighing less than 1lb., the PICO-V2K4-SEMI contains a thoroughly impressive I/O, featuring 2.5 GbE, USB 3.2, and dual COM ports giving it wide application potential in edge computing. Meanwhile, its trifecta of HDMI 2.0b, HDMI 1.4, and DP ports produce up to three simultaneous 4K displays to make it suitable for advanced image processing applications.
Aetina Launches New Systems and Platforms Powered by NVIDIA Jetson AGX Orin for Next-Generation AI and Computer Vision Applications
24 Nov, 2022
Aetina has launched new Jetson systems and platformsdesigned for use in advanced AI and computer vision applications. The systems and platforms are powered by the NVIDIA® Jetson AGX Orin™module, which delivers up to 275 TOPS of AI performance, providing up to 8X the performance of the Jetson AGX Xavier™. Aetina's NVIDIA Jetson AGX Orin-powered edge AI computers are suitable for various types of AI systems in smart cities, smart factories, smart healthcare, and smart retail.
The new Jetson systems and platforms—AIE-KX series and AIB-MX series—provide different expansion options including 1 x M.2 B-Key slot for LTE/5G, 1 x M.2 E-Key slot for Wi-Fi/Bluetooth/GPS, 1 x M.2 M-Key slot for storage upgrade, and have a flexible input power range from 9 to 36VDC, as well as an integrated fan to help keep the horsepower cool enough to operate in extreme temperatures ranging from -25°C to at least 70°C.


Axiomtek Launches Extremely Compact DIN-Rail Industrial IoT Gateway for Data Driven Energy – ICO120-E3350
28 Nov, 2022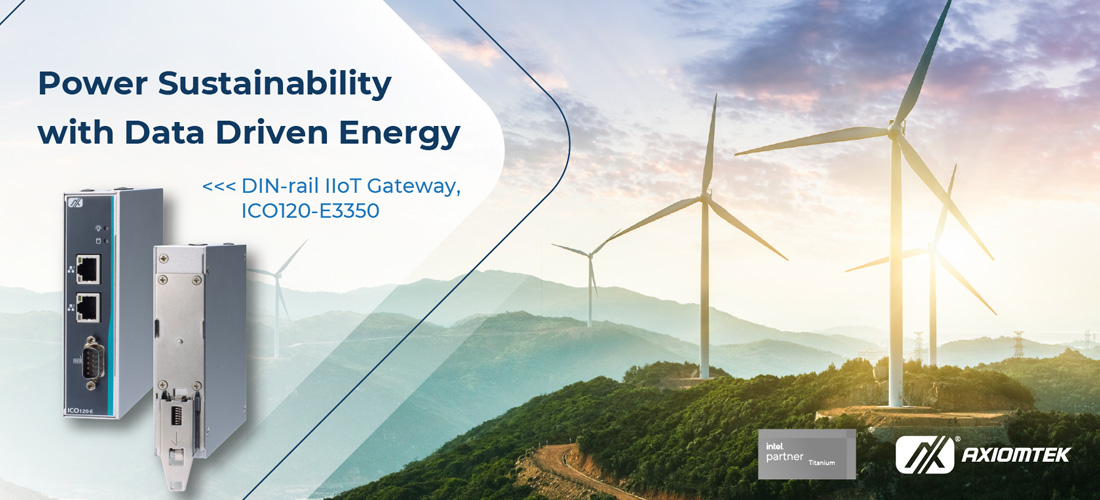 Axiomtek is pleased to announce the ICO120-E3350, an extremely compact industrial IoT gateway powered by the Intel® Celeron® processor N3350 (codename: Apollo Lake-M). The ruggedized designs feature fanless operation, -40°C to 70°C operating temperature range, and 9V to 36V DC wide power input with overvoltage and reverse protection, making ICO120-E3350 a data acquisition gateway designed for collecting and transmitting data in smart energy and automation fields.
The ICO120-E3350 is designed to simplify device-to-cloud communication and enable data-driven condition-based maintenance management for the connectivity of industrial devices as well as next-generation intelligent infrastructure to the Internet of Things.


DFI Empowers Edge AI Deployment with EC70A-TGU Compact Fanless System
29 Nov, 2022
DFI have released their new Edge AI inference computer EC70A-TGU, powered by Intel® 11th Gen Tiger Lake Core™ processors, with 8GB onboard memory to a compact platform. Equipped with an all-new GPU in Iris® Xe embedded graphics, EC70A-TGU delivers disruptive GPU graphic performance and enables faster processing of images and video streams. Users can leverage the GPU to power cutting-edge AI solutions for various applications, including Industrial Automation, AMR/AGV, Smart Transportation, Medical Imaging, etc.
DFI utilized the advantages of our advanced R&D design, continuing to optimize applications for developing a dedicated embedded system. The EC70A-TGU will help to accelerate the overall production efficiency, improve accuracy and achieve a zero-error production line, scaling up the performance of smart factories and intelligent warehouse applications.
EMP-2848M Compact EtherCAT Master PAC
25 Nov, 2022, NEW from ICPDAS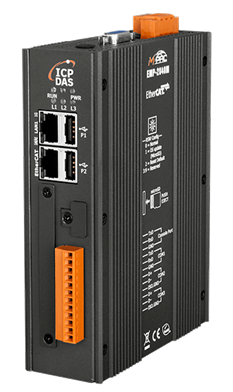 Introduction:
The EMP-2848M series is a SoftPLC based EtherCAT master with an integrated multi-axis motion control kernel. The programmable automation controller combines compact size, economy, flexibility, and excellent performance and is the ideal partner for small and medium-sized motion control applications where cost and space-constrains is an deciding factor.

The high-performance quad-core Cortex-A53 processor together with the Real-Time Linux (RT-Preempt) operating system and built in SoftPLC ensure fast, deterministic and real-time behavior in the motion control applications. The integrated, configurable high-speed EtherCAT master can be connected to any standard, 3rd party EtherCAT slave, such as I/Os, servo motor, stepper motor, encoder, etc. The EtherCAT master can synchronously update up to 128 slaves including 16 servo/stepper drives within a cycle time of 500 microseconds.

The integrated web server assists the user in configuring and diagnosing the EtherCAT networks, and testing of motion control functions. Win-GRAF workbench is a programming software that ICP DAS developed according to the international standard IEC 61131 and aimed at achieving compatibility and reusability.
Low-Power NXP Machine Learning Platform from IBASE
30 Nov, 2022, Taipei
IBASE Technology Inc. (TPEx: 8050), a world leading provider of industrial and embedded computing solutions, has expanded its edge computer lineup by adding the rugged ISR215 that is powered by an NXP i.MX 8M Plus applications processor built using 14nm LPC FinFET process technology and reliably operates over a temperature range of -40°C ~ 70°C across a variety of applications. The processor is backed by NXP's longevity program, ensuring 15-plus years of supply from product launch.
The ISR215 provides high-performance and low-power capabilities for machine learning and vision applications, thanks to the powerful 1.6GHz Quad ARM Cortex-A53 processor with a Neural Processing Unit (NPU) operating at up to 2.3 TOPS that boosts complex ML algorithm and reduces power. Developers can offload ML inferencing tasks to the NPU while tapping the power of the ARM Cortex core, DSP and GPU to handle other application programs.
VTC 1031 and nROK 1031 Compact PCs Pave Way for Vehicle and Railway Applications
2 Dec, 2022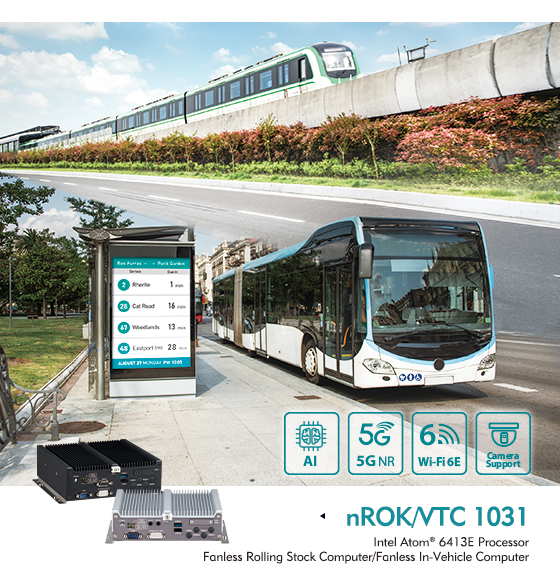 In modern society, providing high-speed public wireless communication is significant in fulfilling commuters' busy lifestyles. NEXCOM responds by introducing the VTC 1031 and nROK 1031, their compact mid-range vehicle and railway PCs respectively. Equipped with Intel Atom® x6413E processor, I/Os, and expansion slots, it offers convenient wireless gateway, video surveillance, and Edge AI computing safety, maximizing the adventure experience for everyone.
Compact Yet Efficient
Based on Intel Atom® x6413E 1.5GHz quad-core processor, the VTC 1031 and nROK 1031 offer overall improved performance. It has one SO-DIMM DDR4 slot with 4GB of memory as standard, one 2.5" SATA 3.0 slot, and one M.2 Key M for SATA 3.0. Although the compact VTC 1031 and nROK 1031 measures 180 x 180 x 50 mm and 180 x 180 x 60 mm respectively, they support VGA/HDMI displays and expansion modules, perfect for traffic applications.
The Future of Wireless Connection
Through technology advancements, the VTC 1031 and nROK 1031 offer an M.2 Key E and M.2 Key B to support the latest Wi-Fi 6/6E and 5G module respectively. This new technology brings an amazing wireless gateway experience to operators and passengers alike, delivering extreme speed, low latency, and high-density connections for tasks, entertainment, or infotainment. Compatible with 5G Sub-6 modules and Wi-Fi 5/6/6E (2.4/5/6GHz) modules with client mode, real AP, and full Wi-Fi router functionality for hundreds of simultaneous connections.


23 Nov, 2022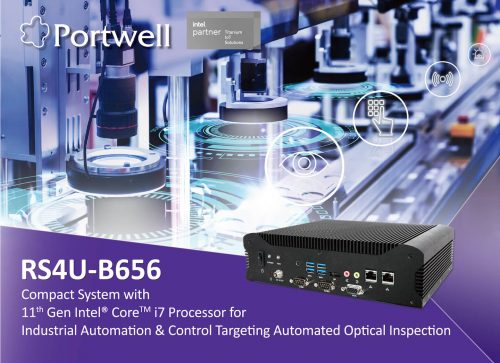 Portwell's RS4U-B656—built with versatile I/O ports to achieve flexibility and AI computing capability—it is an ideal solution for scalable industrial applications including industrial automation, intelligent control systems, medical/healthcare imaging systems, automated test equipment, semiconductor equipment, display wall/digital signage, digital security surveillance, broadcasting systems, transportation and storage, and IoT edge computing.
Optimized Computing Powered by 11th Generation Intel® CoreTM i7 Processors
Integrated with 11th Generation Intel Core Processors, Portwell's RS4U-B656 offers energy efficient and optimized balance of computing power, accelerated graphic processing, and overall power consumption for various application needs. What's more, it also provides high flexibility for I/O expansion with a wide selection of carriers, and supports multiple peripheral control and wireless connectivity for remote applications.
Transcend's Embedded SLC Mode SSDs: Great Value and High Endurance
1 Dec, 2022
Transcend Information, Inc. (Transcend®), a leading manufacturer of embedded memory products, recently released a complete range of 112-layer 3D NAND SLC Mode solid-state drives (SSDs). Simulating the behavior of SLC flash, these 3D NAND-based SSDs deliver competitive transfer speeds and longer service life, with endurance reaching 100K P/E cycles. Their cost advantage and high endurance make SLC Mode SSDs ideal for always-on embedded systems and write-intensive devices, bringing high reliability and stability to industrial storage applications.


Vecow Launches ECX-3000 PEG Flexible AI Computing Workstation
2 Dec, 2022
Vecow Co., Ltd., a team of global embedded experts, today introduces a complete function of the Flexible AI Computing Workstation, ECX-3000 PEG Series. Powered by 12th Gen Intel® Core™ processor and integrated with the NVIDIA®/AMD graphics card, the ECX-3000 PEG Series provides powerful, flexible and advanced AI productivity and is available in six modules. Support for 12V to 50V wide-range power input, an extended temperature range of -20°C to 45°C and software ignition control make ECX-3000 PEG Series a perfect solution for Robotic Control, Digital Rail, Smart Manufacturing, Public Security, In-Vehicle Computing, and any Edge AI applications.