20 Dec
Posted By
0 Comment(s)
82 View(s)
Welcome to our latest Industrial PC news roundup!


8 Dec 2022
Transcend Information, Inc. (Transcend®), a leading brand in digital storage and multimedia products, has officially launched the advanced PCIe 4.0 M.2 solid-state drive (SSD) MTE250H. Featuring 3D NAND flash, an 8-channel controller, and a DRAM cache, this SSD delivers sequential read and write speeds of up to 7,200/6,500 MB/s (R/W) and ample capacity of up to 2TB. The MTE250H also features an efficient aluminum heatsink, which greatly cools down drive temperatures by 15%. This allows gaming enthusiasts and e-sports lovers to max out their performance worry-free.
FM14Q-V
14" Android Vehicle Computer with Qualcomm Snapdragon™ 660
8 Dec, 2022, New release from Winmate:KEY FEATURES
Qualcomm Snapdragon™ 660 octa­core, 2.2 GHz CPU
14" 1920 x 1080 Panel with PCAP touch screen, Android vehicle computer
IP65 waterproof and dustproof
Wide power input 10-60V DC with ignition
Wide range operating temperature
Support VESA Mount
Portwell Releases New High Performance Fanless Embedded System Powered by 10th Generation Intel® Core™ Processors
14 Dec, 2022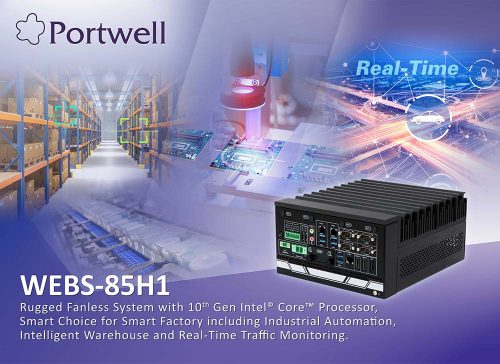 WEBS-85H1 Is Rugged, High Performance, and Ideal for Intelligent Warehouse, Real-Time Traffic Monitoring, Automatic Sorting/Grading and Factory Automation Applications
Portwell, Inc. announces WEBS-85H1, a high-performance fan-less Box PC. Powered by the 10th Generation Intel Core processor with integrated Intel UHD Graphics 630. The WEBS-85H1 system supports high-resolution triple-display output, serving as an ideal platform for performance and graphics-demanding applications.
VES 31-4S/8S and VES 31-4SR/8SR Mobile PoE Switch Ignites Telematics Applications
15 Dec, 2022
A reliable and safe transportation system is significant in improving the economic development, health, and well-being of the society. Today, countless people rely on public transportation to commute to healthcare services, whereas businesses depend on it to lower costs.
NEXCOM reacts to the issue by introducing VES 31-4S/8S and VES 31-4SR/8SR, the fanless unmanaged mobile vehicle and railway PoE switch respectively. Certified along with unique features, it is designed for telematics applications such as surveillance management, wireless gateway, and Passenger Information System (PIS) applications.
Moxa Introduces Easy-to-use IIoT Gateways That Simplify Remote Data Transfer
12 Dec, 2022

Digital transformation and sustainability are two essential goals for businesses today. Energy companies, for example, need a reliable and efficient system to seamlessly transmit real-time data from remote edge devices to cloud applications. Moxa's newly launched AIG-100 Series includes best-in-class IIoT gateways that help achieve your IIoT targets with the lowest total cost of ownership by focusing on distributed-energy-resource applications, especially in solar energy and energy storage systems.
Jetway 27-inch Touch Panel PC with Advanced LG in-Touch Technology for Hygiene-Sensitive and Outdoor Environment
13 Dec, 2022
Jetway, a world-leading industrial PC (IPC) manufacturer, is excited to introduce HPC270C-DCP1135G7, the newest 27'' touch panel PC featuring 11th Gen Intel Core i5 Tiger Lake SoC processor and latest LG in-Touch technology. It is the state of the art panel PC that can be widely deployed in hygiene sensitive and outdoor environment because of its advanced display technology, and it is environmentally friendly with less CO2 emission and low power consumption.
In-Touch Glove Technology
HPC270C-DCP1135G7 is ideal for industries and jobs that require workers wearing gloves, including food/beverage, laboratory, medical, textiles, etc. Workers can operate HPC270C-DCP1135G7 with high accuracy and low latency while wearing all sorts of gloves, such as Rubber, Cotton, Latex, or Leather.
IEI Launches Powerful ATX Motherboard to Accelerate Compute-intensive Workloads

19 Dec, 2022
IEI Integration Corp., a leading provider of industrial computing service, introduced the IMBA-R680 to respond to the growing demands for massive data processing and high-performance computing in the industrial market. Integrated with the robust, innovative 12th Gen Intel® processor, DDR5 memory and PCI Express Gen5 technology, this ATX motherboard can deliver a massive leap forward in performance for applications requiring larger computational power and superior graphics capabilities.



OPC UAI/O Modules: U-7517M-10, U-7519ZM/S, U-7519ZM/S2 Built-in with OPC UA Server and MQTT Client Services
20 Dec, 2022, New releases from ICPDAS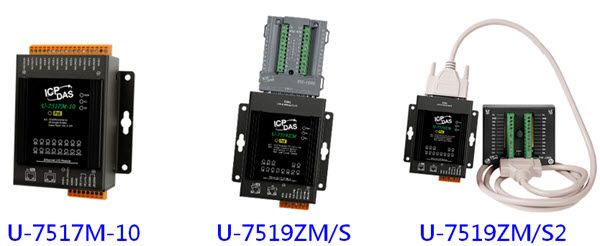 Features:
Support OPC UA Server and MQTT Client Protocol
Support RESTful API via HTTP and HTTPS
Support to Execute OPC UA, MQTT and RESTful API Simultaneously
Support Scaling for Analog Signal Converting
Support Logic Function Rule Setting: IF, THEN, ELSE
Support Event Log: Record the I/O Change for Device Tracking
Built-in Web Server to Provide the Web User Interface
Built-in I/O Channels

U-7517M-10: 10/20 x AI Channels
U-7519ZM: 10 x AI Channels & 3 x DO Channels

Dual-port Ethernet Switch for Daisy-Chain Topology
IEEE 802.3af-compliant Power over Ethernet (PoE)
Axiomtek's Latest All-in-One Self-Service Kiosk with Intel® Smart Display Module – SSK515
6 Dec, 2022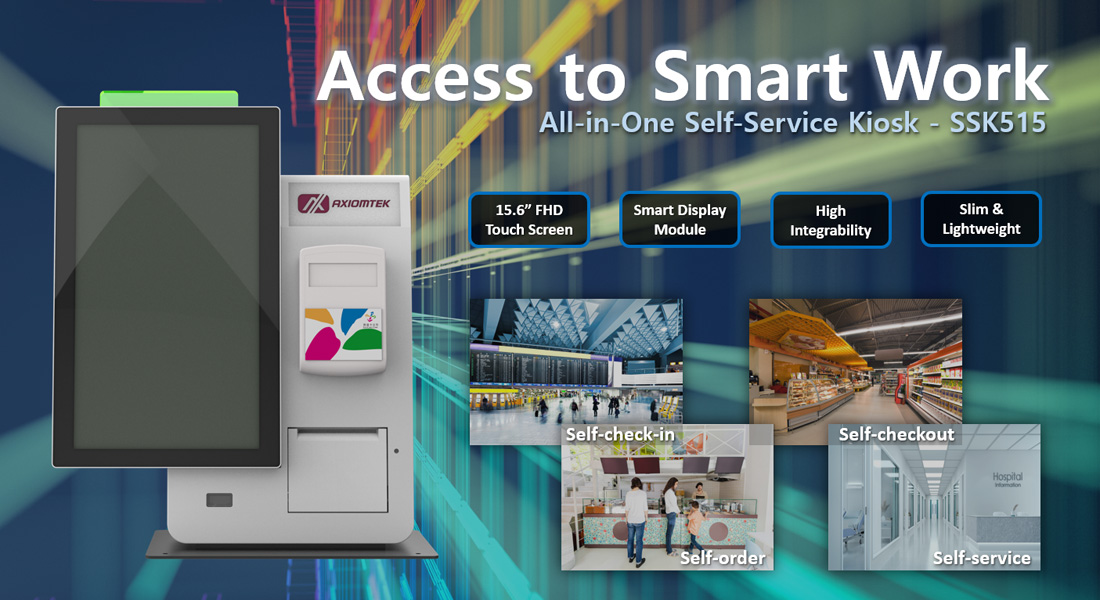 Axiomtek is glad to introduce the SSK515, an AIO (all-in-one) self-service kiosk featuring a 15.6-inch Full HD LCD display with a 10-point PCAP touch screen and 300 nits of brightness. The SSK515 also features the integrated plug-and-play Intel® SDM-L (Smart Display Module-Large), which provides high flexibility for system upgrade and maintenance. Plus, this self-service kiosk supports various peripheral integration and e-payment devices for rapid deployment based on different applications. Thus, the SSK515 can be widely used in various fields, such as self-ordering kiosks for quick-service restaurants, self-check-in kiosks for hotels and hospitals, self-check-out kiosks for retail shops, and self-ticketing kiosks for the transportation and entertainment industry.
Avalue Readies High-Performance Expandable 2U Workstation to Meet Expected Demand for High-Performance Computing
19 Dec, 2022
Avalue Technology Inc. (TAIEX: 3479-TW), a global industrial PC solution provider is introducing the 19-inch high-performance 2U rackmount server HPS-621U2A.
Ideal for limited space and expandable to accommodate increase in workload, HPS-621U2A server supports 1st-Gen and 2nd-Gen Intel® Xeon® scalable processors, Intel C621 chipset, seven low-profile PCIe/PCI slots, and six DDR4 RDIMM and LRDIMM slots. Designed for flexible storage, HPS-621U2A provides four 5.25-inch storage bays which are convertible to 2.5-inch or 3.5-inch drive bays depending on requirement.

Also check out Avalue's other new release - open-frame multi-touch panel PCs

ASRock Launches AMD Radeon™ RX 7900 Series Graphics Cards Unlock Your Gaming Power and Creativity
8 Dec, 2022
ASRock, the leading global motherboard, graphics card and mini PC manufacturer, today launched the new AQUA, Taichi and Phantom Gaming series graphics cards based on AMD Radeon™ RX 7900 Series GPUs.
The new graphics cards are built on the groundbreaking AMD RDNA™ 3 architecture with chiplet technology. AMD RDNA 3 architecture delivers up to 54% more performance per watt than AMD RDNA 2 , features the world's fastest interconnect linking the graphics and memory system chiplets at up to 5.3 TB/s , and offers up to 96 new unified compute units and second-generation AMD Infinity Cache™ technology. It also delivers increased AI throughput that provides up to 2.7X higher AI performance , and rearchitected compute units with second-generation raytracing technology that provides up to 1.8X higher raytracing architectural performance in select titles versus AMD RDNA 2 architecture . Read more ...
AEWIN Launches Ultra-Compact Fanless SCB-6914 With Intel i226 controller
8 Dec, 2022
AEWIN is proud to announce the latest Fanless Network System powered by Intel Atom Processor (Apollo Lake) featuring sufficient computing power with excellent energy efficiency. AEWIN SCB-6914 is with Intel's latest LAN controller, i226-LM to provide 4x Copper GbE ports. In addition, there is another Fiber GbE port available. Moreover, there are optional 2.5GbE supports by project requests.
Aetina Launches First-Ever MXM Module Empowered by Hailo's AI Inference Processor
13 Dec, 2022
Aetina, an edge AI solution provider that offers edge computing hardware and software for use in AI and IoT, has launched the first-ever MXM module that is powered by Hailo-8™ AI inference processors. The ASIC-based MXM 3.1 module—MXM-H84A—is designed for different AI applications, to boost their performance; the applications include automatic guided vehicles (AGVs) in logistics, virtual fence systems in manufacturing, as well as other kinds of autonomous machines and computer vision systems.
Also see Aetina's New ASIC-Based Edge AI System
Advantech Unveils AIR-500D — A High-Performance Edge AI System with Dual NVIDIA GPU
9 Dec, 2022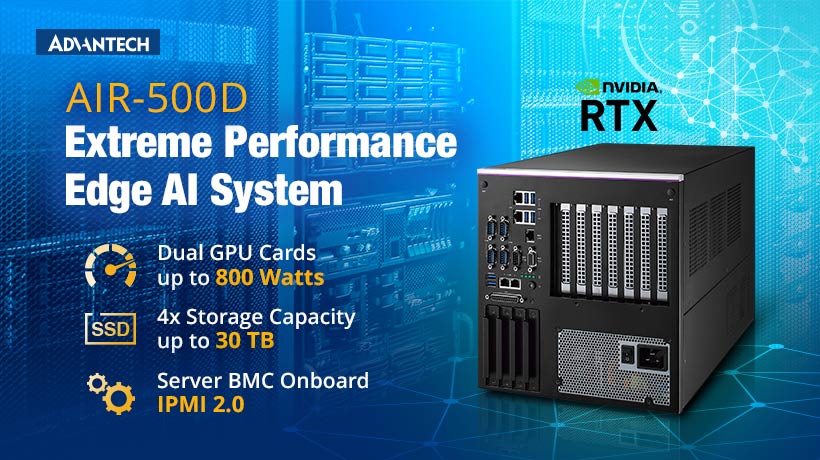 Advantech, a global IoT leader, is proud to release a new high-performance AI system that supports dual NVIDIA RTX GPU — the AIR-500D. This solution leverages Intel® Xeon® D-1700 processors and 2 x PCIe x16 slots that support dual high-performance GPU cards to deliver server class performance. Indeed, AIR-500D is able to process large datasets and compute-intensive workloads when applied to AI inferencing and training applications. In addition, it supports wide operating temperature operation (-10 ~ 50 °C) and features a 1200W power supply suitable for industrial environments.
Dual 5G-ready Whitebox for edge uCPE and SD-WAN Appliance: AND-DNV3Bx Series
19 Dec, 2022

Acrosser Technology Co., Ltd. is pleased to announce that the AND-DNV3Bx Series desktop network appliance device, introduces a series of high-efficiency design features for software-defined WAN (SD-WAN) and universal Customer Premises Equipment (uCPE). It is powered by the Intel Atom C3338R/C3558/C3758 processor (Denverton Series), AND-DNV3Bx Series delivers solutions from entry-level to high-performance edge security computing according to customer needs. AND-DNV3Bx is integrated with Intel® Virtualization Technology (VT-x), Intel® QuickAssist Technology (Intel® QAT), and Data Packet Development Kit (DPDK) to optimize processor utilization, network throughput, and consistently high service levels without consuming additional resources. Read more ...
AAEON Releases the RTC-710AP – The All-In-One Rugged Tablet
9 Dec, 2022
Completing their RTC product line, AAEON's new RTC-710AP is the most comprehensive, multipurpose rugged tablet yet.

Running on a Microsoft® Windows® OS, the RTC-710AP prioritizes ease of use in the field, with onboard Wi-Fi, longer battery life, and an ergonomic design featuring five physical function keys. Equipped with an NFC reader, 2MP front camera, 8MP rear camera, and an I/O expansion module, the RTC-710AP is modularly designed for easy customization and application, supporting up to three Global Satellite Navigation System (GNSS) options, a 2D Barcode scanner, LAN, and UART support for a range of solutions.