04 Jan
Posted By
0 Comment(s)
56 View(s)
Welcome to our latest Industrial PC news roundup: the first edition for 2023!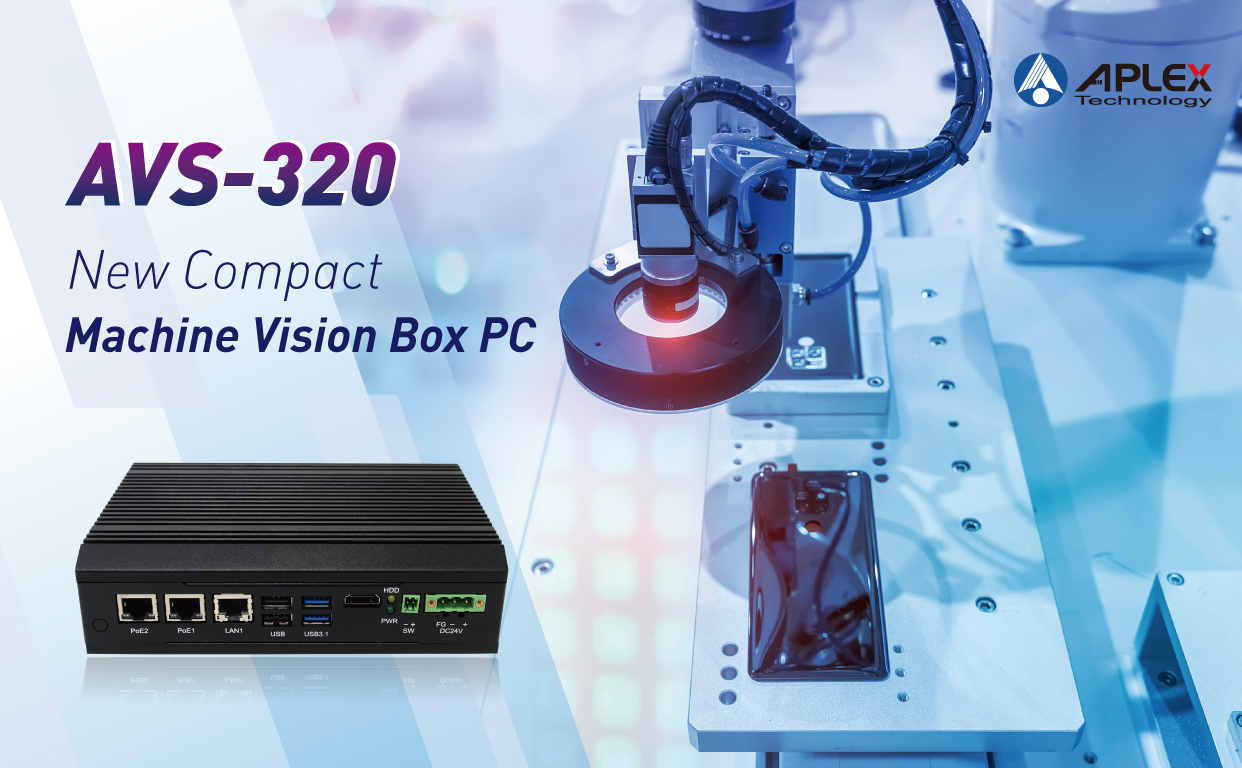 AVS-320, The New Compact Machine Vision Box PC for Automated Inspection

21 Dec, 2022
APLEX Technology Inc.,a global industrial computer products solutions provider, is glad to introduce our new machine vision product, the AVS-320! The compact fanless box PC is playing a vital role in machine vision of manufacturing automation and smart industry.
AVS-320 is powered by Elkhart Lake processor with up to 16GB DDR4 system memory and has multiple I/O interfaces. It supports 2 x USB 3.1, 2 x USB 2.0, 2 x COM, 1 x VGA, 1 x HDMI, 3 x LAN (1 x GbE, 2 x PoE with Intel I210-AT) and 1 x 8-bit GPIO. Moreover, it also has on board expansion bus for 1 x M.2 B-Key and 1 x M.2 M-Key.
Axiomtek Unveils the Fanless Edge AI Computer Vision System with Xilinx® Kria™ K26 SoM – RSC201
21 Dec, 2022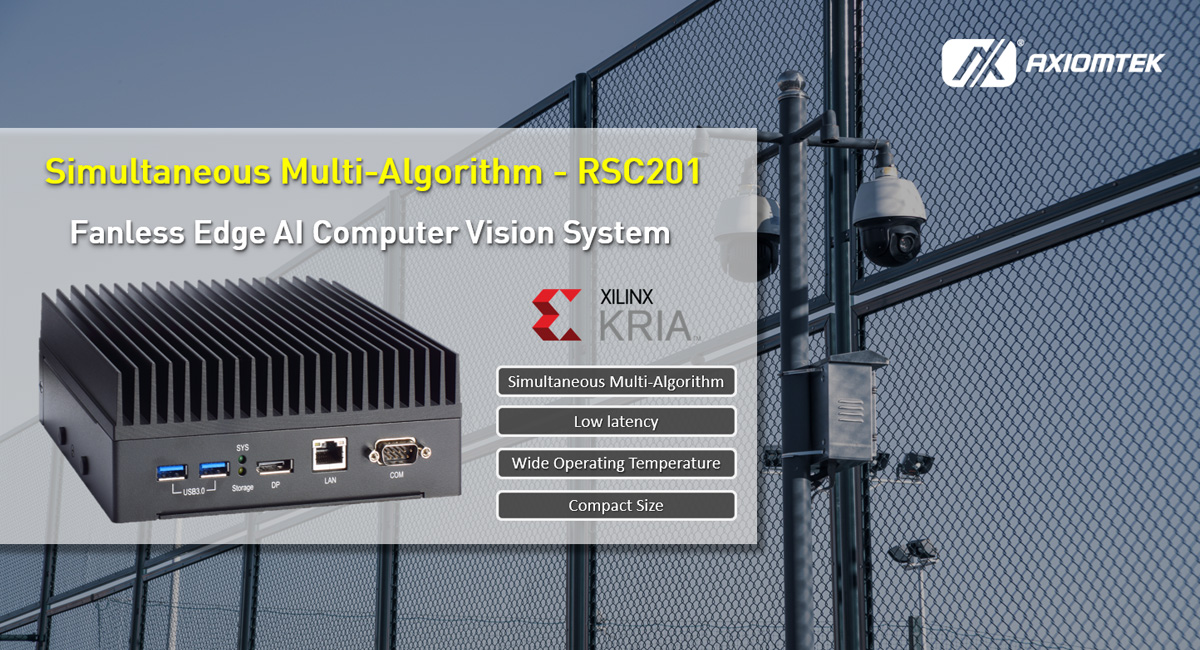 Axiomtech introduces the RSC201, a state-of-the-art fanless edge AI computer vision system with Xilinx® AI accelerator that supports the simultaneous execution of multiple algorithms through the built-in multi-node function, delivering superior AI computing performance with low latency over other mainstream models in the market. Aligning with superior performance, its compact size and wide operating temperature are designed to easily fit in various environments and the 5G wireless connection empowers rapid data transmission between edge devices and data centers that greatly improve the decision-making process in machine learning. The RSC201 is ideal for traffic management, automated warehouse logistics, smart fence, AGV/AMR, and so on.

PCI-AD64SU Universal PCI, 1 MS/s, 64-ch, 16-bit Analog Input Board (4 K WORD FIFO)
23 Dec, 2022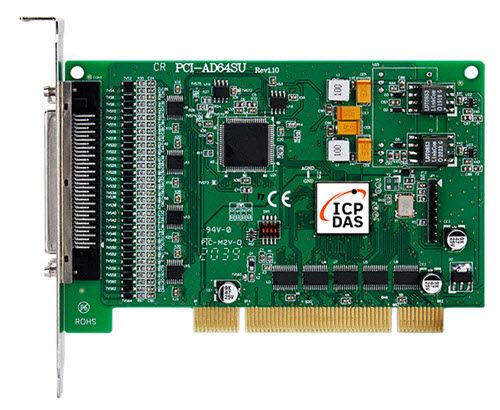 ICP DAS has launched PCI-AD64SU - a high-resolution high channel count analog input card for the Universal PCI bus. Its sampling rate is up to 1 MS/s and is with 16-bit resolution which meet requirements for most data acquisition applications. PCI-AD64SU provides 64 single-ended, 32 differential analog input channels. It also has built in a 4k-sample FIFO buffer for analog input data and an onboard Card ID that enables the board to be recognized via software if two or more PCI-AD64SU boards are installed in the same computer.
Also from ICPDAS:
RMV-762D-MTCP MB TCP/RTU Data-Exchange With Wi-Fi Interface Gateway (Asia Only)
22 Dec, 2022

RMV-762D-MTCP is a wireless Modbus TCP/RTU gateway. The IEEE 802.11 a/b/g 2.4GHz and 5GHz are available on the Wi-Fi interface. It exchanges Modbus command from Modbus TCP/RTU master to Modbus RTU/TCP slave. Modbus TCP command can be transmitted not only by Ethernet port but also by Wi-Fi interface. It supports VxComm and Pair-Connection functions. Users can choose Ethernet mode or Wi-Fi mode to do the pair connection, which provides TCP data tunneling between two serial devices.
Innodisk DDR5 RDIMM Powers Semiconductor Automatic Optical Inspection
23 Dec, 2022
Innodisk, a global leader in industrial-grade storage and embedded peripherals is proud to announce its solution to issues faced by Automated Optical Inspection (AOI) applications relating to, and caused by the shortcomings of consumer DRAM.
With the recent launch of Innodisk AI, which provides a complete AI solution for industrial integrators, DDR5 series DRAM plays a key role for a variety of applications, including Automated Optical Inspection solutions. With the rise in demand for semiconductors, and the trend towards smaller and smaller processes, the need for automatic systems to detect semiconductor production defects has grown significantly. Read more ...



SKM30-N/DKM30-N Series: 30W 2〞x 1 〞Wide Range Input Isolated DC-DC Converter
23 Dec, 2022

MEAN WELL's SKM30 series is a 2"x 1" DC-DC converter with 2:1 input range, which has been on the market for more than 10 years. In order to fulfill wider input range requirements, MEAN WELL is proud to launch our new 4:1 wide range input single output SKM30-N and dual output DKM30-N series that keep the same footprint as the older series. These features make these converters suitable for electrical panels, telecommunication equipment, industrial control, distributed power architecture, and transportation applications. Read more ...

IEI Releases Compact DIN-Rail Fanless Embedded Systems with Optimized Performance and Efficient Thermal Design
26 Dec, 2022
IEI Integration Corp., a leading provider of industrial computing service, introduces the DRPC-W DIN-rail embedded system series designed for IEI 3.5" single board computers. Its compact dimensions are appropriate for applications installed with limited space but requiring multiple I/O connectivity and enhanced performance. IEI DRPC-W series is designed to handle communication on the factory floor for IoT gateway, motion and vision applications.
R15IE3S-67C3ST New Design
15" Intel® Celeron® N6211 IP67 Stainless Resistive Chassis Panel PC
27 Dec, 2022
Intel® Celeron® Elkhart Lake N6211 processor
Fanless Design
Full IP67 dust/water resistant
Stainless Housing with Anti-Corrosion Treatment
Optical Bonding with Anti-moisture Treatment
5 Wire Resistive Touch/ Anti-Reflection Protection Glass (Optional)
New from Winmate, including several more new releases here.


Vecow Upgrades Robust Edge AI Platforms with the Latest 13th Gen Intel® Core™ Processors
3 Jan, 2023
Vecow Co., Ltd., a team of global embedded experts, today introduces a brand-new Robust Edge AI Platform : ECX-3000 PEG, ECX-3000 and IVX-1000 Series powered by the latest 13th Gen Intel® Core™ i9/i7/i5/i3 Processor (Codename: Raptor Lake-S). The new Robust Edge AI Platform is in line with Vecow embedded computing system's design principle of combining outstanding performance, rugged and industrial-grade trusted reliability and makes it well suited for IoT use cases in Machine Vision, Robotic Control, Advanced Driver Assistance System (ADAS), Mobile Communication, Smart Manufacturing, In-Vehicle Computing, Public Security, and any Edge AI applications.
ASRock B760 Series Motherboard Launch including SONIC Special Edition
3 Jan, 2023
Leading global motherboard manufacturer, ASRock®, proudly announces its new series of Intel® B760 motherboards, including B760M Steel Legend WiFi, B760M Pro RS, and special edition B760M PG SONIC WiFi which are showcased at CES 2023. These feature-filled motherboards are designed to bring supreme performance and the latest technologies – including up to PCI-Express 5.0 & overclocked DDR5 – to benefit more PC enthusiasts, gamers, and office/workstation builds than ever before. The B760 chipset is designed for the latest 13th Generation Intel® Core™ 'K' or 'non-K' series processors (socket LGA1700), while also supporting the previous 12th generation.


ADLINK releases COM Express and COM-HPC modules based on Intel® 13th Gen Core™ processors — delivering up to 24 cores for extended power ranges with industrial-grade stability
3 Jan, 2022
ADLINK Technology Inc., a global leader in edge computing, introduces two new Computer-on-Modules based on the latest Intel® Core™ processors, available in two form factors — COM Express (COM.0 R3.1) Type 6 Module based on Intel® 13th Gen Core™ mobile processors and Client Type COM-HPC Size C module based on Intel® 13th Gen Core™ desktop processors. Utilizing Intel's advanced hybrid architecture, with P-cores and E-cores, these modules combine power efficiency with performance, and fulfill various demanding AI, graphics, and mission-critical IoT applications.