17 Jan
Posted By
0 Comment(s)
111 View(s)
Welcome to our latest Industrial PC news roundup!
Transcend Delivers Industrial PLP SSDs to Tackle Data Integrity Needs in Smart AIoT
4 Jan, 2023
Transcend Information, a leading manufacturer of embedded memory products, is pleased to announce the release of our new Power Loss Protection (PLP) solid-state drives (SSDs) for enterprise customers. These SSDs have been designed to ensure data transfer integrity in the event of unexpected power loss, making them a valuable feature for systems that frequently experience unstable power sources, such as 5G network facilities, smart factories, and transportation surveillance networks.
Prevent Data Loss with Cervoz Industrial SSDs
4 Jan, 2023
Reliable, Durable and Trustworthy
In the era of 5G/AIoT, massive numbers of devices are interconnected, resulting in a large amount of real-time data that needs to be collected, processed, and analyzed. While the world becomes more data-oriented, data management must be prioritized, especially data protection in the event of a power anomaly.
Cervoz
Powerguard
SSD serials featuring Power Loss Protection (PLP) protect against data loss during unexpected power outages, and integrated tantalum capacitors to store extra power, ensuring the SSD module's uninterruptible power supply so that storage write operations can be safely completed and data integrity remains.
PET-7066 - Ethernet I/O Module with 8-channel PhotoMOS Relay Output
4 Jan, 2023 New releases by ICPDAS
Introduction: The PET-7066 is an Ethernet I/O module with 8 PhotoMOS Relay channels. It features a built-in web server, which allows configuration, I/O monitoring and I/O control by simply using a regular web browser. The PET-7066 module can be remotely controlled by using the Modbus TCP/UDP protocol via the Ethernet network. This makes the modules to be well integrated with HMI, SCADA, PLC, and other industrial control software systems.

ECAT-2094DS - EtherCAT slave: 4-axis stepper motor controller/driver
tM-7520A - Tiny Isolated RS-232 to RS-422/485 Converter
TCD-104/S400, TCD-108/S400 - 4/8-Channel K Type Thermocouple Data Logger Module
Aetina Launches New DeviceEdge Embedded Systems and Platforms Powered by NVIDIA Jetson Orin NX and Orin Nano during CES 2023
5 Jan, 2023
Aetina, a leading provider of state-of-the-art edge AI solutions, has launched its new NVIDIA® Jetson™-based series of embedded systems and platforms, powered by NVIDIA Jetson Orin NX and Orin Nano™ system-on-modules (SoMs) during the Consumer Electronics Show (CES). These new Aetina DeviceEdge systems and platforms are a set of embedded computers designed for use in AI and IoT, ideal for running AI inference tasks in different verticals.

The In-Vehicle AI-Aided Telematics Computer, VTC 7260-xC4 Leads the Way
5 Jan, 2023
To cope with the boom of e-commerce and direct delivery trends, machine learning (ML) is currently greatly integrated into ADAS, public works, intelligent traffic system (ITS), and countless warehouse applications. Provided with advanced computing power, extension capability, and high connectivity, NEXCOM's in-vehicle AI-aided telematics computer, VTC 7260-xC4 is used as the core of vehicles to help deploy applications like smart public transit, smart agriculture/construction, and automated intralogistics.
IEI Reveals Next-generation Industrial Mini PC for Business and IIoT Deployment
10 Jan, 2023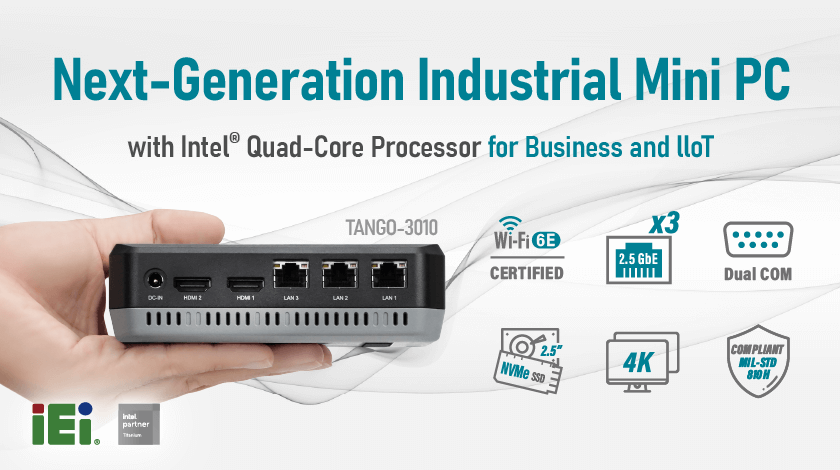 IEI Integration Corp., a leading provider of industrial computer, released the TANGO-3010, an industrial mini PC with a space-saving chassis measuring only 5.5 x 5.4 x 1.6 inches. It is powered by a quad-core Intel® Celeron® J6412 processor with Intel® UHD graphics, and can accommodate 2.5-inch SSD and M.2 NVMe SSD via PCIe Gen3 x4. The mini PC can be set up in an instant and taken almost anywhere, even in harsh environments, making it ideal for enterprise, digital signage, industrial data transmission gateway and self-service applications.
AEWIN Flagship Performant Network Appliance Powered by AMD Genoa
11 Jan, 2023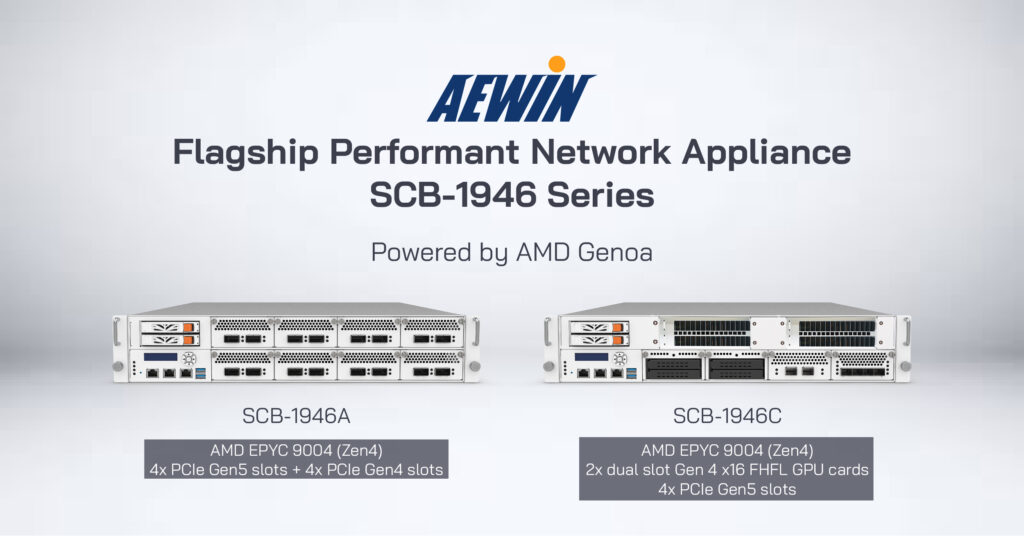 AEWIN is glad to announce our latest High-Performance Network Appliance featuring the latest AMD Zen 4 Genoa CPUs (EPYC 9004), SCB-1946 series. It is a series of flagship products powered by dual AMD SP5 Genoa CPU with 5nm production technology to support 16 channels DDR5 and 160 PCIe lanes with dual CPUs that each has up to 96 cores (~50% increased) and TDP 400W (~28% increased). Furthermore, SCB-1946 series will support dual AMD Bergamo CPUs with Zen 4c architecture which have up to 128 cores per CPU to enable the extreme computing power pursued in the market.


The COM-ICDB7 Brings Server-Grade Intel® Xeon® Processing to the COM Express Type 7 Form Factor
11 Jan, 2023
AAEON, a leading Computer-on-Modules developer, has added the COM-ICDB7, powered by the 3rd Generation Intel® Xeon® D Processor platform (formerly Ice Lake-D), to its extensive COM Express Module product line.
Designed to provide an easily-incorporated solution for drone fleet control, biomedical science, and data analysis applications, the COM-ICDB7 offers server-grade CPU performance of up to 10 cores and 20 threads via 3rd Generation Intel Xeon processors on a 4.92" x 3.75" (125mm x 95mm) COM Express Type 7 form factor.
Supporting a 70W CPU, the COM-ICDB7 can power multiple expansion modules via its one PCIe 4.0 (x16) and four PCIe 3.0 (x4) slots, along with two DDR4 SODIMM sockets providing up to 64GB system memory with ECC support, adding stability to large data analytics applications. Additionally, four 10GbE ports are accessible via its carrier board for high-speed, high-volume data transference. Such attributes make the COM-ICDB7 able to execute complex computing tasks, which AAEON believe will be particularly useful for solutions deployed in fields such as industrial automation, edge servers, and data centers.
Cincoze Embedded Computer for Vision-guided Robots in Smart Applications
12 Jan, 2023
The DS-1300 is a workstation performance and PCIe expandable embedded computer with extreme processing capabilities, dual PCI/PCIe expansion slots, and industrial-grade protections. Since its launch, it has been widely used in VGRs for material picking, product assembly, machine operation, welding, and stacking.

VGRs get images and data from cameras and sensors on the robot arm to the embedded computer for processing and judgment and then provide feedback signals to allow the robot to move to the target position to perform identification and defect detection on workpieces of various shapes. High-speed processing is key, and the DS-1300 series supports a 10th generation Intel® Xeon®/Core™ (Comet Lake-S) CPU (up to 10-core 80W), up to 64GB of memory, and an M.2 NVMe slot that can satisfy the VGR requirements for visual data collection, processing, and analysis. Read more ...
Axiomtek Unleashes IP69K/IP66-Rated 15.6" Stainless Steel Fanless Touch Panel Computer with CID2 Certified – GOT815A-TGL-WCD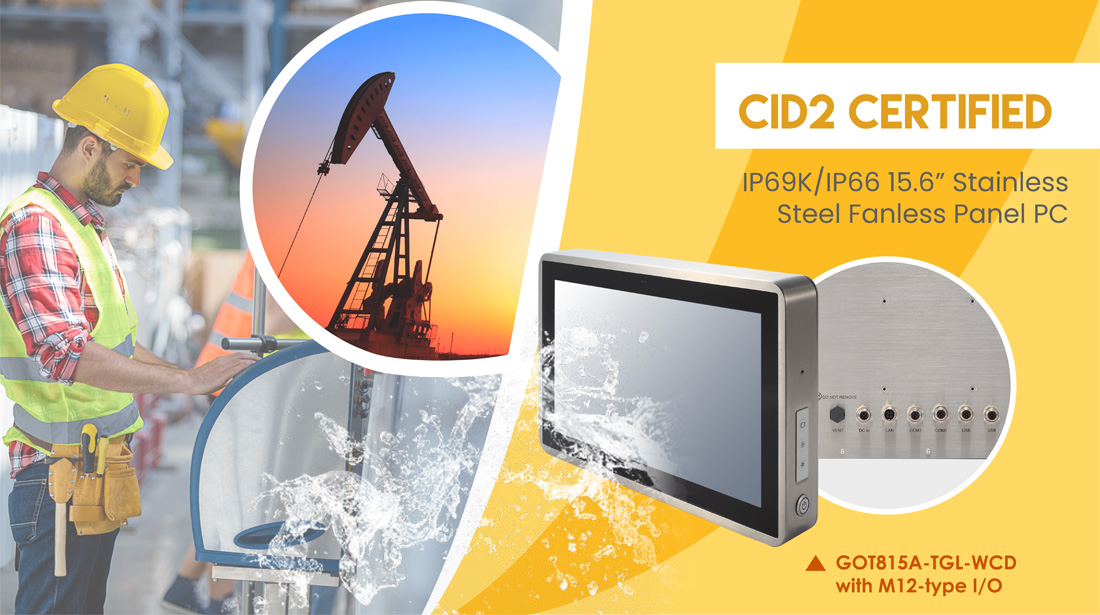 16 Jan, 2023
Axiomtekis proud to introduce the GOT815A-TGL-WCD, a 15.6-inch stainless steel fanless touch panel computer with CID2 certification. It offers enhanced hygiene control with the provision of SUS 304/316 stainless steel enclosure for food, beverage, and pharmaceutical applications. Its IP69K-rated protection and waterproof M12-type I/O ports make the products safe for frequent washdown or high temperature and high-pressure sanitization. This robust 15.6" stainless panel computer is also certified with Class I Division 2 (CID2) for option, making it ideally suited for oil & gas or applications requiring a highly durable solution for extreme operating conditions.

RSDH-150/300 Series:150W & 300W Ultra-Wide 250~1500Vdc Input Enclosed Type DC-DC Converter
17 Jan, 2023

MEAN WELL is releasing the new 150W/300W ultra-wide 250~1500Vdc input enclosed type DC-DC converters – RSDH-150/300 series.
key features include: 250~1500Vdc ultra-wide input range, fanless design operational in -40~+80oC wide temperature range, 4KVac high isolation level, input/output complete protection features, superior EMC performance, high altitude 5000M operation, and compliance to the IEC/EN62109-1 PV safety. These features enable the RSDH-150/300 series to be suitable for PV, energy storage, charging station, and other applications that have high voltage to low voltage DC conversion requirement.
Read more ...