25 Apr
Posted By
0 Comment(s)
41 View(s)
Welcome to our latest Industrial PC news roundup!


Axiomtek Introduces New DIN-Rail Fanless Embedded System for Sustainable Energy Data Collection and Communication – ICO330
12 Apr, 2023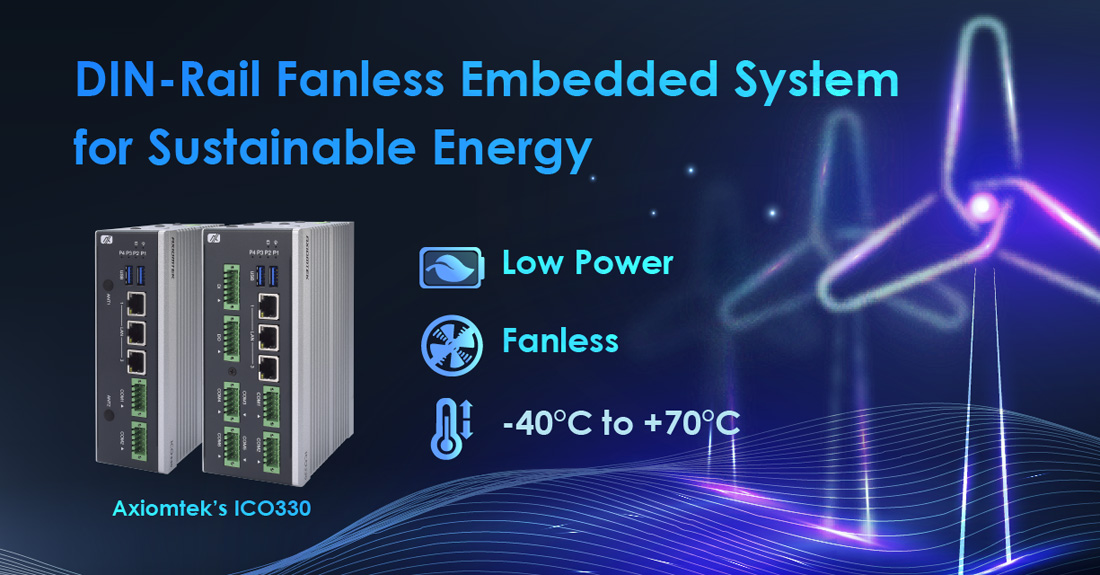 Axiomtek is pleased to announce the release of the ICO330, a DIN-rail fanless embedded system powered by the Intel Atom® x6212RE or x6414RE processor. To scale up and accommodate every change in the OT environment, it adopts a versatile and flexible design with large storage, various wireless module expansions, and rich I/O interfaces. Featuring an extended operating temperature range of -40°C to +70°C and 9V to 36V DC wide power input or a choice of typical 12/24V, the robust ICO330 is a cost-effective industrial IoT gateway for data collection and communication in the fields of sustainable energy, oil & gas, factory automation, intelligent agriculture, and smart building.
Transcend Unveils Ultra-Compact Portable SSD with Blazing-Fast Speeds and High Capacity
12 Apr, 2023
Transcend Information, Inc. (Transcend®), a leading provider of digital storage and multimedia solutions, has just released the all-new ESD310C, our smallest portable SSD to date. Lightweight and with a compact size similar to that of a pen drive, the ESD310C boasts an impressive transfer rate of USB 10Gbps, up to 1050MB/s of fast speeds, as well as being able to save up to 1TB of data using its USB Type-A and Type-C connectors. As such, its compatibility with desktops, laptops, tablets, smartphones, and even next-gen gaming consoles makes it an ideal choice for users who own multiple electronic devices.

Getac's next generation UX10 tablet and V110 laptop deliver trusted field performance for emergency healthcare professionals

12 Apr, 2023
Getac has today announced the launch of its next generation UX10 tablet and V110 laptop, two powerful fully rugged devices designed to meet the needs of emergency healthcare professionals working in challenging field environments every day. Trusted to perform in the field As the global healthcare industry becomes increasingly digitised, the need for versatile mobile data terminals ... Read more ...
Arbor Introduces EmETXe-i92U0 COM Express Type 6 Compact Module With 11th Generation Intel® Core™ Processor
17 Apr, 2023
ARBOR Technology is expanding its successful line of CPU modules with the introduction of an 11th generation Intel® Core™ Tiger Lake processor platform, the EmETXe-i92U0, a COM Express Type 6 Compact module that features a low power consumption of just 15W TDP.
Ultra HD 4K Display Output
Intel® Integrated Iris Xe Graphics delivers stunning and responsive visuals in 11th generation Intel® Core™ processors, including Ultra HD 4k display and additional codec support. Read more ...

ADLINK launches powerful MLC-M medical panel PCs with 11th generation Intel® Core™ processors
18 Apr, 2023
Adlink has launched its new series of MLC-M medical panel PCs. Particularly light and slim, yet extremely powerful, the MLC-M is ideal for mobile use on medical carts or at nursing stations. 11th generation Intel® Core™ processors provide the computing performance needed to effortlessly run high-resolution image processing software, as well as documentation applications such as HIS, RIS, and PDMS.

Other Adlink news:

All New Fanless Embedded Media Player EMP-510 with Intel® Processor as Smart Retail Solution
Chainway Has Introduced a New Generation of RFID Products for the Future IoT Industry
19 Apr, 2023

To meet the demand for high-performance and diversified RFID terminal products in more niche market segments, Chainway has recently launched a rich series of high-performance RFID products. This series includes handheld RFID readers, RFID scanners, fixed RFID readers, and RFID printers. These products can help users take efficiency and productivity to a whole new level.

AMD Ryzen Embedded R2000 Powered Mini-ITX Motherboard
20 Apr, 2023
IBASE Technology rolls out the 5G-enabled MI993 Mini-ITX motherboard based on the powerful AMD Ryzen™ Embedded R2000 series processor that is capable of delivering 8 cores and 16 threads, allowing users to experience faster rendering times and overall system performance. With a host of robust features including independent display with two HDMI ports and two DisplayPort, it is an ideal choice for digital signage, interactive kiosks, and other applications that require multiple displays.
Dual GPU AI&Edge Computing work station grade Embedded Controller
20 Apr, 2023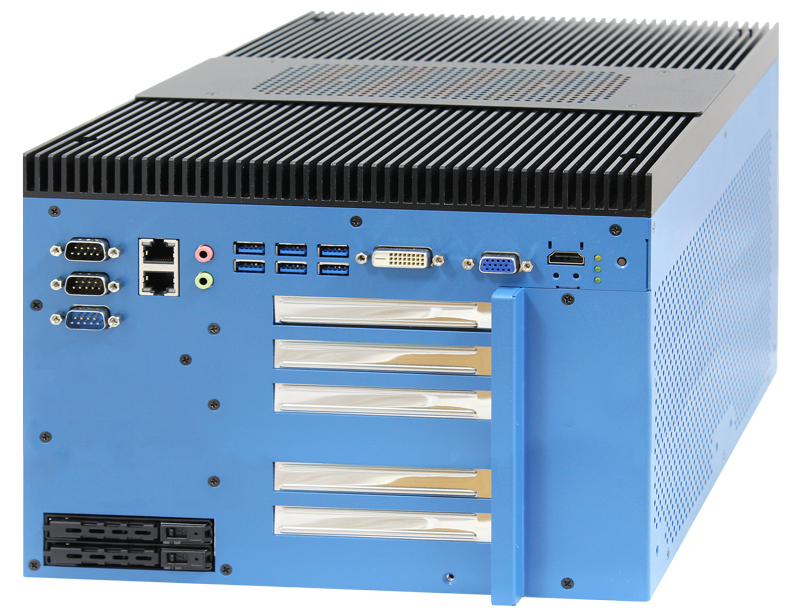 Acrosser Technology Co., Ltd. is pleased to announce the AAD-W480B Series, a dual GPU embedded controller powered by Intel W480 platform(Comet Lake-S) with a 10th Gen Intel® Xeon®/Core™ i9/i7/i5 Processor. With Intel workstation-grade processor computing and dual NVIDIA® GeForce® GeForce® 3000 series graphics cards computing ability, the AAD-W480B Series could provide extremely powerful AI computing performance compared to traditional single GPU card embedded systems for AI training, inference applications, vision inspection, and surveillance. Additionally, the AAD-W480B Series features an in-vehicle power ignition design with a range of 9V to 55V power input, making it an ideal product for autonomous cars, ADAS, AMR.
ViTAM-8B, The New Member of Stainless Steel Solution Powered by Elkhart Lake Platform
21 Apr, 2023
APLEX Technology Inc., a global industrial computer products solutions provider is glad to introduce our new member of ViTAM series, the ViTAM-8B! ViTAM series is the stainless steel food-grade solution, which is one of our flagship products.
ViTAM series comes in processors with Intel core platform, Intel Celeron platform and ARM-based. Yet, ViTAM-8B is powered by Intel Celeron J6412 processor with integrated graphics processing. Therefore, it provides a great balance between the performance, quality and the cost for customers.
AAEON Announce the World's First Fanless Mini PC with Intel Core i3 Processor N-series
24 Apr, 2023
AAEON's UP Squared Pro 7000 Edge is the first mini PC to harness the power of Intel® Core™ i3 Processor N-series, Intel Atom® Processor X Series, and Intel® Processor N-series processors in a fanless chassis.
A multipurpose design, the
UP Squared Pro 7000 Edge's
heatsink contains a removable section for users to access the PC's expansion slots. This makes the installation of 5G, Wi-Fi 6, and AI expansion modules much more efficient and convenient. In keeping with the UP system range's previous iterations, the device's rear I/O also houses a 40-Pin GPIO for further expansion.
Avalue launches Intel® Atom™ Embedded Industrial motherboards, EMX-EHLP, with Intel®Celeron®/Atom™ SoC BGA Processor (Code name: Elkhart Lake)
25 Apr, 2023
This motherboard brings a huge improvement on performance and a big step ahead with Intel® UHD Graphics target entry-level application market. With improved performance, I/O capability, and security features, EMX-EHLP is the ideal motherboard for gaming, retail, digital signage, ATM machine, surveillance and parking management system etc.
Thin Mini ITX motherboard EMX-EHLP features flexible I/O supports 2 x USB 3.1 Gen.2 and 2 x USB3.1Gen 1 at I/O, 4 x USB 2.0, 4 x RS-232, 2 x RS-232/422/485 with DC power input 12~ 24V. It supports one DP and one HDMI display and LVDS co-lay with DP for all kinds of applications.