09 May
Posted By
0 Comment(s)
51 View(s)
Welcome to our latest Industrial PC news roundup!




The EPIC-ADS7-PUC Offers Real-Time Computing in a Compact Chassis for Robotics, Automation, and Healthcare Imaging Solutions



27 Apr, 2023
Typically associated with powerful, feature-dense 4" single-board computers, AAEON has announced the reintroduction of system-level solutions to its EPIC product line with the new EPIC-ADS7-PUC.
Powered by the 12th Generation Intel® Core™ processor platform with the capacity to support up to 65W CPUs, the EPIC-ADS7-PUC epitomizes the best characteristics of its SBC counterparts. With a remarkably compact 10.2" x 6.3" x 2.1" (260mm x 160mm x 55mm) chassis hosting multiple high-speed interfaces alongside the ancillary features needed to make the most of its processing capacity, the system is naturally suited to markets such as robotics, IoT, and smart healthcare.
Introducing the Compact Digital Signage PC - Perfect for 4K Stunning Visuals and Easy Deployment
27 Apr, 2023
Built with 12th Gen Intel® Core™ processors (codenamed Alder Lake), the small footprint digital signage player IDS-330 is exclusively designed for graphic-intensive digital signage applications and video walls by virtue of its four HDMI displays, stunning 4K resolution and great acceleration in graphic workloads powered by Intel® Iris® Xe. The IDS-330 supports multiple remote management options ...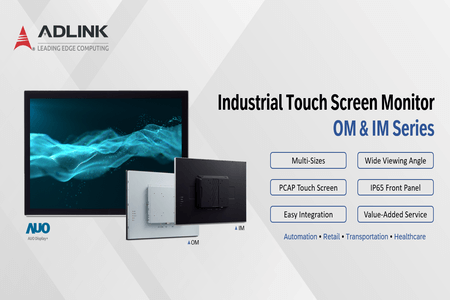 ADLINK Announces Latest Industrial Touch Screen Monitors
27 Apr, 2023
ADLINK Technology Inc. introduces the latest industrial touch screen monitors – the OM & IM Series. The open-frame (OM) and true-flat (IM) monitors feature a slim design and smooth user interaction ideal for Human Machine Interface (HMI) applications in a wide range of industries, such as smart manufacturing, public transport, healthcare, and retail.
ADLINK's industrial touch screen monitors have a wide viewing angle feature for outdoor or semi-outdoor use and anti-fingerprint surface treatment to ensure clear visibility under sunlight.
Read more ...

Advantech Releases EPC-B5000 for Use in AI and Edge Computing

28 Apr, 2023
Advantech announces the release of the EPC-B5000 series of edge computers designed to upscale graphics AI and handle complex graphics workloads. Incorporating EPC-B5587 and EPC-B5505, this series supports diverse processors — from Intel Xeon® to Core™ — and features a mechanical housing capable of enduring 1Grms vibration while using a NVIDIA RTX level GPU card.
Delta Releases New Slim 240 W Panel Mount Power Supply with Built-in Active PFC

2 May, 2023

Delta expands its panel mount power supply PMR series by releasing the new 240 W model, which is applicable to industrial, commercial, and household applications. The new 240 W model provides an output power of up to 240 W and nominal output voltages of 12 V, 24 V, 36 V, and 48 V. The compact form factor design fits in limited installation space such as control cabinets, machinery, vending machines, and test & measure equipment.

Experience Unbeatable Performance and Durability with Acrosser's Latest Embedded Systems Solutions- AES-EL6KAX and ACM-EL6KE0
3 May, 2023
Looking for a high-performance embedded system that can handle all your Edge IoT applications? Meet the AES-EL6KAX - the perfect solution for all your needs! With an ultra-small size and an Intel Elkhart Lake processor with Celeron, 4GB onboard DDR4 memory, and 32/64GB EMMC all in one design, this system is designed to provide you with the ultimate performance and reliability.
Cincoze releases the high-performance & compact embedded computer DX-1200 for industrial automation

4 May, 2023

Rugged embedded computing brand - Cincoze, recently launched the DX-1200 embedded computer, the latest addition to its Rugged Computing - DIAMOND product line. Featuring a compact and high-performance design, the DX-1200 overcomes space limitations while retaining extreme capability. The DX-1200 supports the latest 12th gen Intel Alder Lake-S processors, has a rich selection of native I/O, and supports flexible modular expansion

AEWIN Performant General Purpose Server – BIS-5121
5 May, 2023
AEWIN BIS-5121 is a high-performance Storage Server powered by single socket 3rd Gen Intel Xeon Scalable Processors (Codenamed Ice Lake-SP). In order to meet different customer requirements, AEWIN provides both single socket and dual socket mainboard with 1U to 4U chassis flexibilities. Besides configuration flexibility, these storage servers are with just 640mm system depth, good for standard rack installation.