18 Jul
Posted By
0 Comment(s)
65 View(s)
Welcome to our latest Industrial PC news roundup!



AAEON Release the BOXER-6751-ADP, a Rugged Industry 4.0 Market Solution
4 July, 2023
A DIN Rail Fanless Embedded Box PC featuring 12th Generation Intel® Core™ Processors. The BOXER-6751-ADP is equipped with the rugged characteristics that have come to represent its fanless Box PC range, including a compact 74.3mm x 186mm x 127mm chassis with a DIN rail mount for easy, low-profile deployment.
Specifically designed for Industry 4.0 markets such as the manufacturing and energy sectors, the system is equipped with a wide -20°C ~ 60°C temperature range along with a power input range of 9V ~ 36V, making it suitable for ... Read more ...

Cervoz Introduces the M.2 2242 PCIe Gen3x2 SSD
5 July, 2023
The T421, designed in the M.2 2242 form factor, offers an ideal storage solution for a wide range of industrial applications. Its compact size allows for seamless integration into space-constrained devices, including ultra-slim embedded computing systems and mainstream motherboards. With storage capacity options ranging from 120GB to 1920GB, the T421 SSD provides adaptability and high performance without compromising space or reliability.

The T421 SSD boasts impressive speed, reaching up to 1,780/1,640 MB/s for read and write operations, which is three times faster than traditional SATA-based SSDs. Read more ...
Transcend Empowers Smart Applications With The New U.2 NVMe SSD UTE210T
5 July, 2023

Transcend Information (Transcend®), a leading manufacturer of embedded memory products, is proud to release the latest U.2 NVMe SSD, the UTE210T. Designed for generative AI, high-performance computing (HPC), and big data analytics, this powerful SSD is built with the 112-layer 3D NAND flash, an 8-channel controller, and a PCIe Gen 4x4 interface. Experience high speeds, low latency, and minimal power consumption with your systems, but most of all, enjoy sequential R/W speeds of up to 7,200/6,500 MB/s and stable and reliable system performance that supports various applications of use. Read more ...
ADLINK Introduces Transformative Software-Defined EtherCAT Control to Optimize Industrial Automation
11 July, 2023
ADLINK Technology Inc., a global leader in edge computing, has announced the launch of the SuperCAT, a software-defined EtherCAT motion controller. This release marks a significant advancement in EtherCAT control solutions, enhancing performance, and streamlining the integration of automation processes while offering cost-effective hardware and effortless software configuration.
Jetway MA20 series – A revolutionary ATX Motherboard supporting Intel® 12th/13th Processors, a perfect solution for Automation, Industry 5.0 and beyond
11 July, 2023
Jetway, a world-leading Industrial PC (IPC) manufacturer, is pleased to release the MA20 series Mainboard with optional TPM2.0, providing enhanced security features for safeguarding sensitive data. The MA20 series is an ATX form factor mainboard with an LGA1700 Socket for Intel® 12th/13th Gen Processors. This innovative high-performance design with enhanced graphic performance and excellent real-time capabilities, makes the MA20 series an ideal choice forAutomation, Machine Vision and Industrial Next Gen. Read more ...

PEAI-9910 Embedded Edge AI System with 13th Gen Intel® Core™ Processor for Workplace Safety Control Equipment and Industrial Edge AI Solutions
11 July, 2023
Portwell's PEAI-9910 embedded computing system, designed with the 13th Gen Intel Core i3/i5/i7/i9 processor series, combines advanced computer vision technologies to deliver AI-enabled access control and workplace safety monitoring solutions. PEAI-9910 provides enhanced machine vision capabilities utilizing AI to accurately and invariably verify and determine whether employees in designated work areas are wearing the necessary personal protective equipment (PPE), cleanroom suits, or other essential safety gear. The PEAI-9910 system can efficiently detect and identify ... Read more ...
High Performance Computing Empowers Digital Transformation, AI evolution
Avalue HPS-SRSU4A/HPS-SRSUTA Boost Performance, Security, Sustainability Push
12 July, 2023

Avalue Technology has launched two HPC servers, i.e. tower server HPS-SRSUTA and 4U rackmount server HPS-SRSU4A, to boost edge computing revolution, optimizing operational performance, information security management and sustainability of smart city, smart manufacturing, and medical and transportation industries.
Arosser's New Cutting-Edge SD-WAN appliances deliver Unmatched performance
13 July, 2023
During the increasing use of cloud computing and the growing demand for bandwidth in 4G and 5G wireless services and applications, enterprises are seeking more agile Wide Area Network (WAN) solutions. Nowadays, SD-WAN has becomes the buzzword in WAN management, as the traditional MPLS-based WAN architecture seems inadequate to accommodate the growing demands for bandwidth and connectivity between branches and headquarters. Read more ...

Lighter! Better! ASRock Launches Taichi Lite Series Motherboards
13 July, 2023
Taichi Lite series is here! Based on the existing Z790/B650E Taichi motherboard, the Taichi Lite kept the original specs & features but with less RGB & simpler exterior design. Taichi Lite series motherboard will be focusing purely on the functionality, performance and durability, and with the new simplified design concept, ASRock has brought the long awaited affordable high end motherboard finally back to the market!
EMP-9651-16, EMP-9651-32:16/32 axes EtherCAT Master, 6-slot Metal Motion PAC with i5-8365UE CPU and Win10 IoT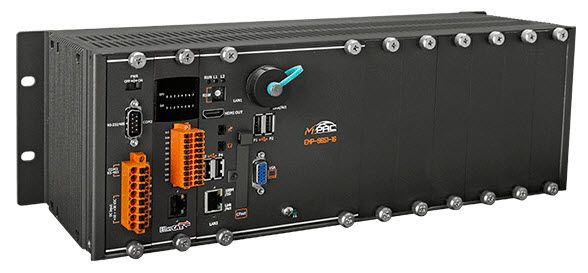 14 July, 2023

The EMP-9000 is Windows 10 IoT- based PACs that combine computing, I/O, and operator interface into a single unit and provide a perfect solution for integrating HMI, data acquisition, and control in an individual PAC. It is equipped with an Intel Core i5-8365UE/Intel Atom E3950 CPU, 0 to 6 I/O expansion slots, and a variety of connectives including dual Gigabit Ethernet, VGA, HDMI, USB port, RS-232, and RS-485 interface. Read more ...

Also see other new industrial network and process control equipment from ICPDAS here.

Advantech SOM-2533, Intel® Core™ i3, & Atom® x7000 Series SMARC Modules to Boost Performance at the Edge
17 July, 2023
Advantech, a leading provider of embedded IoT solutions, is excited to announce the launch of SOM-2533. This is a high-performance module from the SMARC series, featuring Intel's Core™i, Pentium®, Celeron®, and Atom® x7000 processors. The SOM-2533 module supports up to 8 cores, resulting in improved CPU performance by 1.4x, graphics performance by 2x, and AI performance by 3.5x compared to previous generations, as per Intel's research findings. Read more ...

Vecow Introduces VCM-1000 Series Compact Embedded


17 July, 2023
Vecow Co., Ltd., a team of global embedded experts, today announced the availability of its high-performance embedded system for Edge AI applications. The new VCM-1000 Series is powered by 13th Gen Intel® Core™ i9/i7/i5/i3 processor. It features a 2U half-rack size design and is equipped with rich I/O interfaces, making it ideally suited for space-constrained applications in digital factories, mobile robots, public security, and any AIoT/Industry 4.0 applications. Read more ...