29 Aug
Posted By
0 Comment(s)
75 View(s)
Welcome to our latest Industrial PC news roundup!

AAEON Unveils the BOXER-6406-ADN: A Compact and Durable Embedded Computer for Smart Factory Applications
16 Aug, 2023

AAEON's newest system targets the smart factory market with high-performance computing in a rugged fanless PC.
The BOXER-6406-ADN boasts a range of features that establish it as a remarkably robust choice for industrial projects. The system boasts an impressive operational temperature range spanning from -20°C to 60°C and a wide voltage input range of 9V to 36V. Read more ...

Axiomtek's EN 45545-2, EN 50155 Transportation Embedded System Ready for Railway Applications – tBOX110
16 Aug, 2023
Axiomtek is proud to announce its tBOX110, a compact fanless transportation embedded system now EN 45545-2, EN 50155 certified. Designed with low power consumption and heavy-duty construction, it supports 12/24 VDC typical automotive power input with smart ignition, 24 to 110 VDC for railway use and a wide-range 9 to 36V DC power input for general purposes. The tBOX110 is powered by the Intel Atom® x5-E3940 processor, has a wide operating temperature range of -40°C to +70°C and 3Grms vibration resistance. Read more ...
DDRH-15/30/45 Series:15W & 30W & 45W Ultra-Wide 150~1500 Vdc Input DC-DC Converter

17 Aug, 2023

Mean Well introduces a new ultra-wide 150~1500 Vdc high voltage input DC-DC small wattage converter:
DDRH-15/30/45 series.
The key features of DDRH-15/30/45 series include: Multi-installation selectable (PCB Mounting Type, Screw Terminal Type, DIN Rail Type), 150~1500 Vdc ultra-wide voltage input, -40~+80℃ wide temperature operation, 4K Vac high isolation input/output protection, suitable for high altitude up to 5,000 meters, passed IEC62109-1 photovoltaic certification; it can be widely used in photovoltaics, energy storage, charging piles or any HV-LV conversion related equipment and systems.
Read more ...

Moxa Introduces New Flagship Model of Secure Cellular Routers With All-round Data Protection to Bolster Network Security of Critical Infrastructure
18 Aug, 2023
Moxa Inc., a leader in industrial communications and networking, introduced a new flagship model, OnCell G4302-LTE4, to its OnCell Series of next-generation secure cellular routers. The advanced-level secure cellular routers have new security software that complies with IEC 62443-4-2 standards, improving performance and speeding up vulnerability fixes. Also, their alignment with global wireless approvals enables secure communication for different industrial applications. Read more ...

AAEON Brings Intel Atom x7000E Series to the 4" EPIC Board Range With EPIC-ADN9 Release

21 Aug, 2023

Supporting quadruple 2.5GbE LAN, three simultaneous displays, and efficient Intel® processors, the EPIC-ADN9 brings greater flexibility than ever before.

Offering a range of embedded CPUs, including the Intel® Core™ i3-N305, Intel Atom® x7425E, Intel® Processor N50, and Intel® Processor N97, the EPIC-ADN9 strikes a balance between efficiency and performance. This selection of processors also provides support for Intel® UHD Graphics, enhancing the improved display interface configuration integrated by AAEON into the board. This configuration includes HDMI 1.4, DP 1.2, VGA, and 24/48-bit Dual-Channel LVDS. Read more ...


ACS 500, the New Compact Embedded Box PC with Powerful Performance for Smart Manufacturing Solution
23 Aug, 2023
Aplex introduces a new embedded box PC for smart manufacturing, the ACS 500. Designed with compact, slim and space saving features, it is perfect for factory automation and applications with space limitations, such as kiosks and ATMs.

ACS 500 is powerful and high performance, equipped with 11th Gen. Intel Core i3/i5 processor. Constructed with aluminum heat sink and fanless design, it has great heat dissipation along with low power consumption. Apart from that, it is rugged enough to operate under 20°C~60°C and supports a wide power input range of 9~36V. Read more ...


Cervoz Launches New M.2 2230 (A+E key) NVMe PCIe Gen3x2 SSD
23 Aug, 2023
Cervoz presents the latest T425, a new M.2 2230 NVMe PCIe Gen3 x2 SSD. Designed with a compact M.2 2230 form factor (22mm x 30mm), it supports both A and E key configurations and utilizes PCIe Gen3 x2 lanes for high-speed data transfer. With impressive sequential speeds of up to 815MB/s read and 760MB/s write, along with storage capacities of 64GB, 128GB, and 512GB, the T425 is the ultimate solution for enhancing the performance of embedded computing systems with space constraints.
Read more ...


ET-M8194A - Ethernet Remote Unit with High-speed 4-axis Motion Control Module
23 Aug, 2023
ET-M8194A is a remote four-axis stepping/pulse-type servo motor controller and acts as a server in a Modbus TCP/IP network. This intelligent motion controller features a variety of built-in motion control functions, such as 2/3-axis linear interpolation, 2-axis circular interpolation, T/S-curve acceleration/deceleration, various synchronous actions, and automatic homing.
The controller is suitable for a wide range of remote motion control applications and can be integrated into any system where the host platform is built on the Modbus TCP protocol Read more ...


There are several other new product releases by ICPDAS. See them all here...

5G-enabled MB998 Micro ATX Motherboard Empowering Next-Generation Embedded Computing
23 Aug, 2023
IBASE Technology Inc. unveils the MB998 Micro ATX motherboard for industrial applications. Harnessing the power of 13th/12th Gen Intel® Core™ i9/i7/i5/i3 processors and up to 64GB of DDR5 DIMM memory, the platform delivers an unprecedented level of speed, responsiveness, and efficiency when tackling intensive tasks or demanding applications.The 5G-enabled MB998 is equipped with immersive graphics and display with HDMI (2.0b), DVI-D and two DisplayPort(1.4) (DP++) interface. Read more ...


Avalue unveils EMX-ADLP Mini-ITX, Compact and Highly Customized to Meet Comprehensive Industrial Control Needs
24 Aug, 2023
Avalue Technology Inc. unveils the latest Mini-ITX motherboard, EMX-ADLP, which fully supports Intel® 12th Generation H/P/U series processors and meets the power requirements of 15~45W for H/P/U series, as well as high-performance H series processors. (CPU by BOM option)
With a flexible CPU power range (12~45W) and highly customizable CPU options, the compact and complete design of the EMX-ADLP make it competitive in the small form factor computer market and an ideal choice for various industrial applications. When optimal efficiency is required, the EMX-ADLP can be equipped with high-performance H-series processors and support up to 64GB of DDR5 SO-DIMM memory.
Read more ...


The BOXER-8621AI Demonstrates Design Excellence, Bringing NVIDIA Jetson Orin Nano Performance to Key Vertical Markets
24 Aug, 2023
AAEON unveils the BOXER-8621AI, powered by the NVIDIA® Jetson Orin Nano™ module. Geared towards applications such as AMR, fleet management, and traffic control solutions, the BOXER-8621AI seamlessly combines the NVIDIA Jetson Orin Nano's impressive 20 TOPS of AI performance and NVIDIA Jetpack™ 5.0 SDK support with robust hardware, boasts an operating temperature range of -15°C to 60°C, complemented by enhanced shock and vibration resistance.
Read more ...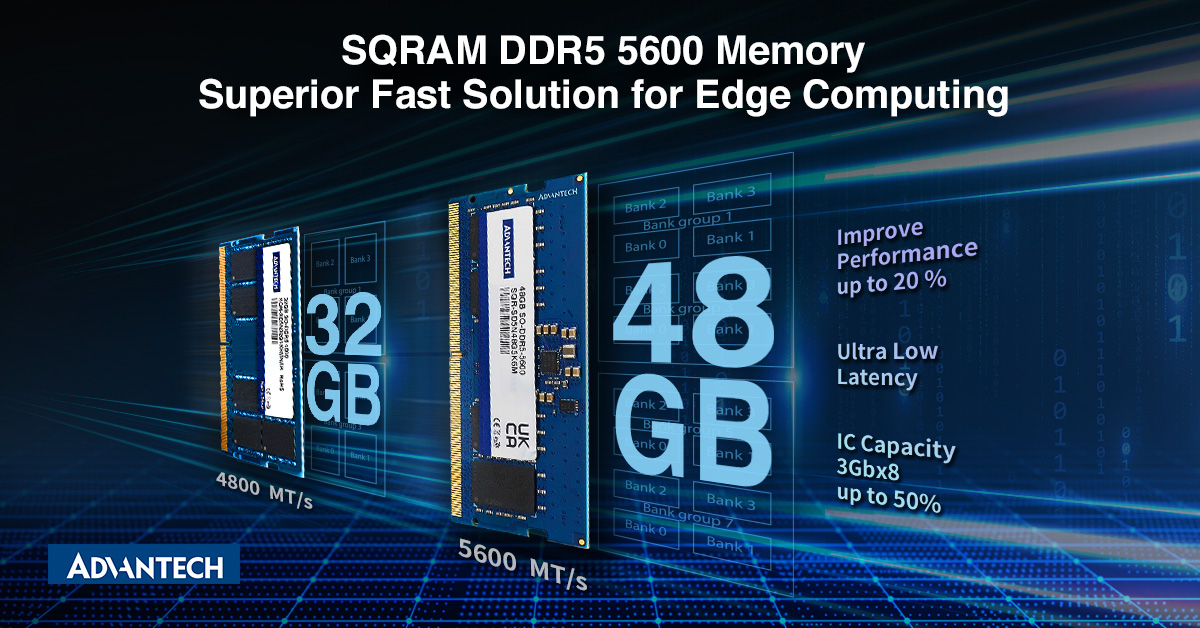 Advantech Releases SQRAM DDR5 5600 Memory with Unprecedented Speed at 48GB Capacity
25 Aug, 2023
With its unprecedented speed up to 5600 MT/s and bandwidth capability from 8GB to 48GB and beyond, the SQRAM 5600 series delivers astounding data transfer rates that far surpass the industrial benchmark. In addition, it has undergone strict laboratory testing to ensure reliability in mission-critical applications, supporting a -40 to 95 °C operating temperature range.
Read more ...


Innodisk Introduces the First PCIe nanoSSD 4TE3 with Compact Size, Reliability and Performance
29 Aug, 2023
Edge AI devices often demand efficiency and substantial capacity within a minimal space and are positioned in rugged external environments. These devices installed at, for example, 5G base stations, aerospace and in-vehicle systems require a small size to save space in devices with large capacity to support AIoT applications. Innodisk's nanoSSD PCIe 4TE3 emerges as a solution designed in M.2 type 1620 BGA form factor with a height of only 1.65mm but with large capacity reaching up to 1TB, which is suitable for the needs of space-limited devices and increasing design flexibility. Beyond this, the nanoSSD offers high performance with a transmission speed of up to 3.6GB/s and a bandwidth of up to 8GB/s catering to high-speed computing needs. Read more ...


Optimizing Industrial Automation and Financial Self-Service with Jetway LM26 Series Motherboard
29 Aug, 2023
Jetway, a world-leading Industrial PC (IPC) manufacturer, is excited to introduce the LM26 Series motherboard. The LM26 series is a versatile Micro-ATX motherboard supporting Intel® 12/13th Gen (Alder Lake-S/Raptor Lake-S) processors. The LM26 series is based on the Intel® H610 embedded class chipset providing long term availability and supports DDR4-3200 memory up to 64GB total. Read more ...