11 Sep
Posted By
0 Comment(s)
66 View(s)
Welcome to our latest Industrial PC news roundup!
Cincoze Unveils Latest Industrial Computers and Monitor Module, Infusing New Vitality into Industrial Automation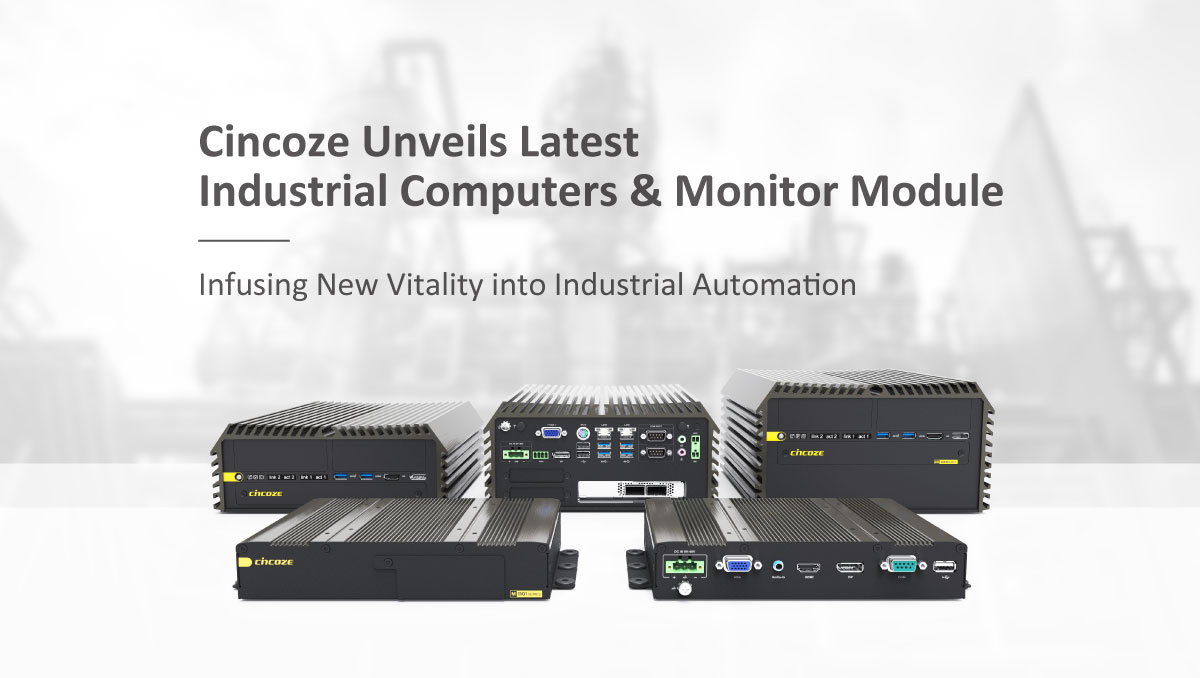 31 Aug, 2023
Rugged embedded computer brand - Cincoze, has launched two new products under its Rugged Computing – DIAMOND (DS-1400 Series) and Display Computing – CRYSTAL product lines (M1101). The DS-1400 series (DS-1400, DS-1401, DS-1402) has significantly upgraded performance and features, meeting the demands for large-scale and real-time image processing and computation required by the rapidly emerging Edge AI. And the newly introduced M1101 monitor module, with its high reliability and optimized performance, injects powerful new energy into Cincoze's range of industrial-grade touch monitors.



PCOM-B705GT: A COM Express® Type 7 Basic Size Module Featuring Intel® Xeon® D-1700 Processor Series Advancing Real-Time Performance for Edge AI Computing and Software Defined Networking (SDN) Applications

31 Aug, 2023
Portwell has designed and developed PCOM-B705GT, a COM Express Type 7 Basic Size module (125mm x 95mm) featuring Intel® Xeon® D-1700 series processors providing server-grade computing power with extended temperature support on a small-form-factor platform featuring from 4 up to 10 computing cores. The Portwell PCOM-B705GT is designed to empower a multitude of IoT computing devices from the edge to data center, and cloud, delivering AI capabilities and optimized real-time, high-performance computing power. Moreover, PCOM-B705GT's modular design concept helps accelerate the development and deployment of scalable infrastructure and applications.
Advantech Releases the I/O Intensive Mini-ITX - AIMB-208 with High Scalability and Reliability
1 Sept, 2023
Advantech, a leading provider of embedded IoT computing solutions, is proud to unveil the AIMB-208, a Mini-ITX balance of performance and functionality. Engineered to handle high volumes of data input and output, the AIMB-208 incorporates multiple I/O ports, including 6 COM and 10 USB, ensuring seamless transmission between various devices, sensors, and systems. This module offers 9x enhanced computational performance from 6th Gen to 13th Gen Intel® Core™ desktop processors (max. 24 Core) to bring excellent processing efficiency. Read more ...
ECAN-240-FD - Modbus TCP to 2-port CAN FD Gateway

1 Sept, 2023
In order to provide additional access to IoT applications related to industry based on the CAN bus, ICP DAS has developed a new Ethernet product, the ECAN-240-FD. The ECAN-240-FD module is a Modbus TCP to 2-port CAN FD gateway (CAN with Flexible Data-Rate). It provides communications via the Ethernet based on the Modbus TCP industrial protocol, meaning that the module can be easily integrated with an industrial network. The ECAN-240-FD module includes two CAN bus interfaces, allowing support for a wider range of CAN applications. Read more ...

IEI Medical Embedded System ̶ The Key to Digital Healthcare Solution
4 Sept, 2023
IEI launches its medical embedded system, HTB-150-N6210, to help the healthcare industry find cost-effective solution for transforming digital devices.
The HTB-150-N6210 is powered by Intel® Celeron® N6210 high-performance low-power processor. It also includes multiple I/O such as HDMI, RS-232, dual LAN and four USB 3.2 Gen 2 ports providing up to 10Gb/s speed for effective data transfer.
The Embedded Multi Media Card (eMMC) is usually used for storing medical image files. Through a network connection, it can quite quickly transmit data to servers and multiple devices in hospital, and the consolidated data can be uploaded to the cloud.
AEWIN SCB-1741, 1U Network Appliance Powered by Intel 13th /12th Gen Core Processor
6 Sept, 2023
The SCB-1741 is AEWIN Mainstream 1U Network Appliances powered by 13th/12th Gen Intel Core Processor. Taking advantage of the advanced Intel 7 process, the increased CPU cores & threads (up to 24 cores/ 32 threads) of Raptor Lake-S CPU offers remarkable performance to handle a huge amount of data in a shorter period with better power management.

The SCB-1741 is equipped with 10x on-board 1Gbps LAN ports (optional 2x SFP ports) with 3 pairs Gen3 Bypass. In addition, there are two Network Expansion Module slots which can install a wide range of AEWIN NICs from 1GbE to 100GbE with optional Bypass function for flexible configurations. Read more ...


Low-Power IB838 Single Board Computer Powered by Intel Core i3 N-series (Alder Lake-N) Processor

7 Sept, 2023
Fortified with intelligent power handling and a 9V~36V DC input range, the IB838 ensures reliability and consistent operations in transportation applications that may encounter variable power conditions. Versatile connectivity makes it ideal for automation processes and data acquisition systems. The SBC offers Type-C, DP++, and eDP or LVDS display options, along with a rich set of I/O interfaces, including two Intel® PCI-E 2.5G LAN ports, two USB 2.0 ports, and four USB 3.2 ports (1x Type-C + 3x Type-A). Read more ...

Acrosser Technology Unveiling the Future of Edge AI Computing: NVIDIA® Jetson Orin™ NX and Jetson Orin™ Nano Modules- AES-ORNXE / AES-ORNOE

11 Sept, 2023
Acrosser Technology is thrilled to introduce the latest marvels in edge AI computing – the NVIDIA® Jetson Orin™ NX and Jetson Orin™ Nano Modules. These powerful modules, AES-ORNXE and AES-ORNOE, are poised to redefine the way we perceive AI-driven edge computing.

NVIDIA® Jetson Orin module can achieve 275 TOPS, its performance is 8 times that of the previous generation, which can provide multiple parallel artificial intelligence inference processes, plus a high-speed interface supporting multi-sensor interface。

NVIDIA Jetson Orin Nano series modules deliver up to 40 TOPS of AI performance in the smallest Jetson form factor, with power options between 7W and 15W. This gives you up to 80X the performance of NVIDIA Jetson Nano and sets the new standard for entry-level edge AI. Read more ...

Introducing Neu-X303mini: Revolutionizing Retail with State-of-the-art Edge AI Computing
12 Sept, 2023
The Neu-X303mini is powered 12th Gen Intel® Core™ processor, enabling retailers to process and analyze vast amounts of data at the source itself by cutting-edge Edge AI computing. This real-time data processing minimizes latency, ensures instantaneous decision-making, and empowers retailers to gain actionable insights like never before. As a result, businesses can leverage IoT technologies and retail analytics to transform inventory management and create a lightning-fast checkout experience that removes barcode scanning, shortens lines, and delights customers.